Chambers County AlGenWeb - Photographs
************************************************
Copyright. All rights reserved.
http://theusgenweb.org/al/chambers/
************************************************



Dr. Albert H. R. Frederick 1835-1901
(Obituary below photo)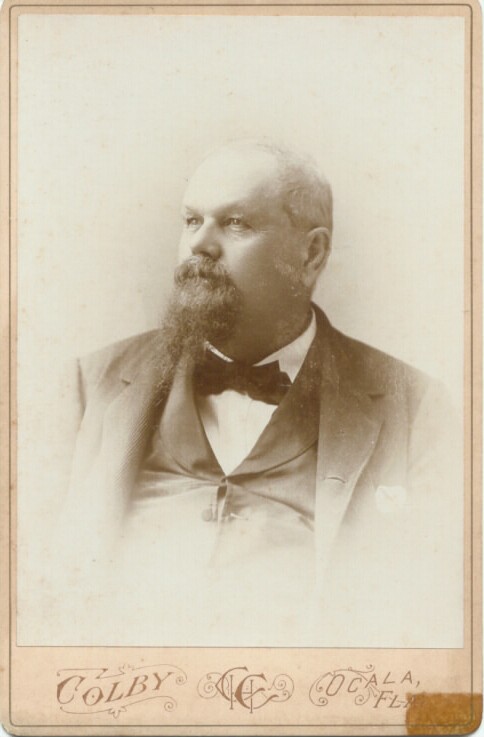 From the September 25, 1901 issue of The LaFayette Sun.

Dr. Frederick's Death.

The immediate family, as well as the whole community, was shocked
last Sunday to learn of the sudden death of Dr. Frederick at Ocala, Fla. The
remains reached here on Tuesday and the funeral services were held at the
Baptist church in the afternoon, Dr. Thompson, the pastor, conducted the
services, assisted by Drs. Bledsoe, Dobbs and Faust. Dr. Frederick leaves a
widow and the following children: Mesdames F. P. Brock, G. E. McGehee, A. J.
Driver, Miss Hattie May and Messrs. Robt. and Jim Frederick. They have the
sympathy of many friends.

In Memory of Dr. Albert H. R. Frederick.

The subject of this brief notice was born in Keenonville, N.C.,
April 27, 1835, and died in Ocalia [Ocala], Fla., Sept. 22, 1901. His father came to
Alabama in 1839 and he lived until 1890 in Chambers County, when he took up his
residence in Ocalia [Ocala], where he died. For many years, Dr. Frederick lived at
Cusseta and practiced his profession and then for some years lived in LaFayette.

Dr. Frederick was a man of strong convictions on all moral and
religious questions. He was a great friend to temperance and always let in
every movement that favored the cause. He loved his church and took most active
part in all her enterprises. He was a skilled and honorable physician and did
much to alleviate suffering among the poor. In the home he was tender, devoted
and affectionate. His influence for good will long be felt. A Christian man has
gone to his reward, leaving his children the best of all inheritances – a good
name. May they follow in his steps as he followed Christ.


Tombstones in LaFayette Cemetery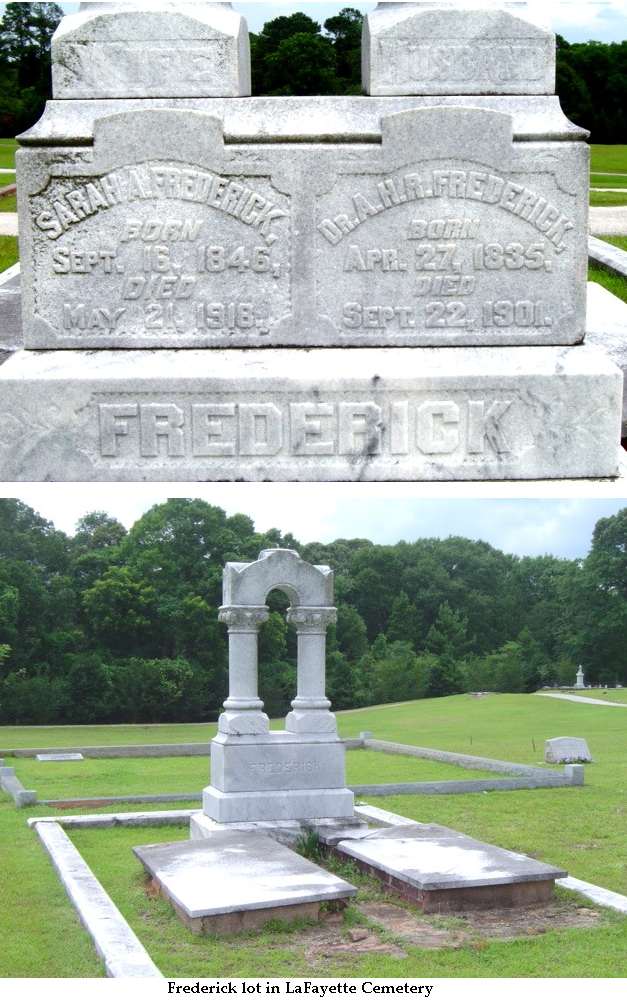 Contributed by Don L. Clark Jun 2004 http://www.genrecords.net/emailregistry/vols/00014.html#0003384

Back to Chambers County AlGenweb