Chambers County Alabama Photos......Hunter Brothers (Buffalo Postmasters)
************************************************
Copyright. All rights reserved.
http://theusgenweb.org/al/chambers/
************************************************
Contributed by Don L. Clark Jul 2004 http://www.genrecords.net/emailregistry/vols/00014.html#0003384


Hunter Brothers (Buffalo Postmasters)
Webster D.A. Hunter & Charles Nathan Lee Hunter Photographed ca. 1891
The post office at Buffalo, AL was established in 1872. William H.H. Hunter (1819-1903) was appointed first postmaster and served this position until 1900. At this time his youngest son Webster D. A. Hunter (1875-1925) was appointed and served until his death in 1925. Then his brother Charles Nathan Lee Hunter (1865-1960) was appointed and retired as postmaster in 1941. Upon Lee Hunter's retirement, his niece Rosa Lee Spence (1889-1991) received the appointment and served until Buffalo Post Office was closed on July 31, 1958. For 86 years the postition of Postmaster at Buffalo remained in the Hunter family. Webster Hunter is buried at Macedonia Primitive Baptist Church Cemetery at Marcoot. Lee Hunter is buried at LaFayette Cemetery.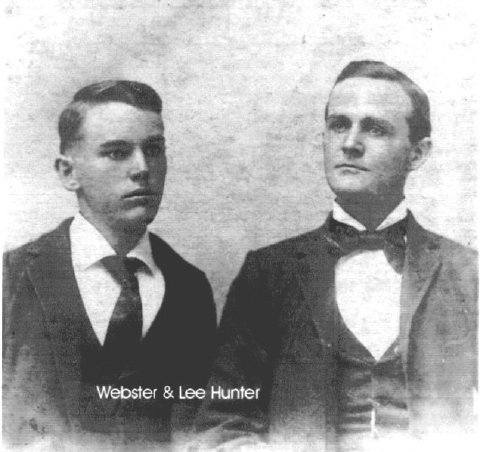 Back to Chambers Co. Al Photos
Back to Chambers Co. AlGenWeb