Chambers County AlGenWeb - Photographs



George W. Jarrell Home & Family
Photographed ca. 1900
Located nine miles northwest of LaFayette and One mile west of Marcoot, on County Road 62

(House Picture) From the March 19, 1884 LaFayette Sun:
"Mr. G. W. Jarrell who recently returned from Arkansas, has purchased the farm of Mr. S. A. Still,
eight miles above town for the sum of $5,200. This is one of the most attractive homes in the county.
Mr. Still will move to Talladega."
This house has been continuously owned by descendants of G. W. Jarrell since 1884.
(See below for family information)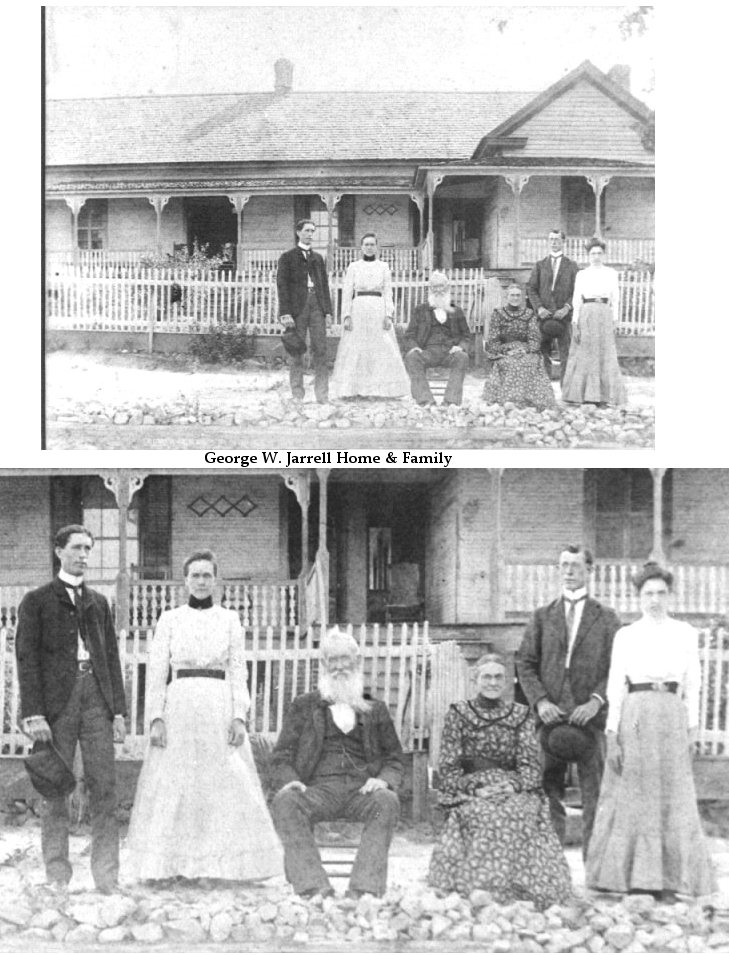 (Family Picture) Pictured from left to right:
Dr. Ernest Jarrell (1880-1912)
Odessa Aldorah Jarrell Trammell (1870-1904)
George W. Jarrell (1832-1905)
Malissa Sutton Jarrell (1838-1903)
Seaborn A. (Lon) Jarrell (1862-1948)
Ada C. Jarrell (1878-1950)
All of the above are buried at Macedonia Primitive Baptist Church Cemetery at Marcoot, except Dr. Jarrell.
He is buried at Notasulga, Alabama.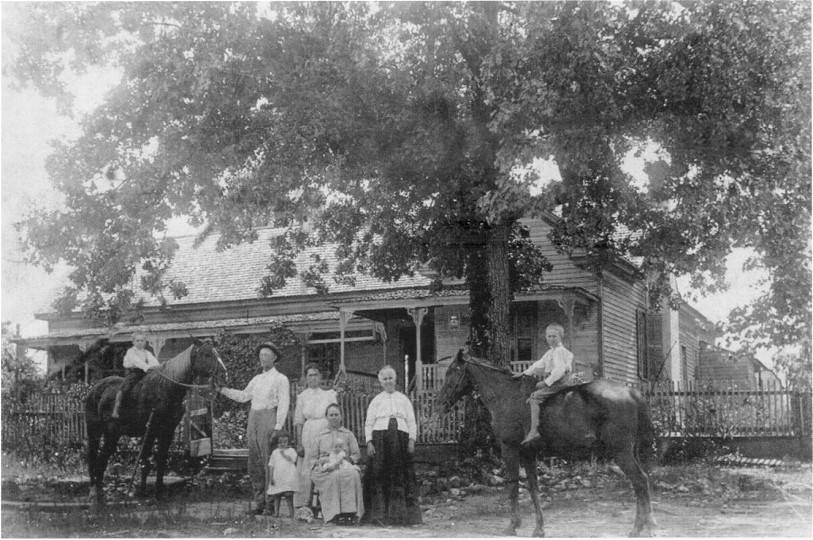 S. A. Jarrell, Sr. & Family, ca. 1913
After the death of his father G. W. Jarrell, S. A. Jarrell, Sr. bought the Jarrell home place and raised his family there.
Pictured from left to right:
Seaborn A. Jarrell, Jr. (1906 - 1975) on horse named Prince; Seaborn A. Jarrell, Sr. (1862 - 1948); Mary Ernest Jarrell; Ada C. Jarrell (1878 - 1950); Georgia B. Humphrey Jarrell (1877 - 1957), holding Lela Jarrell (1913 - 1981); Mary Elizabeth Whatley Humphrey (1845 - 1926); and George H. Jarrell, on horse.
This photo contributed by Don L. Clark Feb 2008
Contributed by Jimmy Jarrell 2003 jhjrrll@bellsouth.net
This email address for Jimmy is dead as of Feb 2008 I do not have an updated address for him.
For Jarrell information try contacting Don L. Clark

Back to Chambers County AlGenweb