Chambers County Alabama Photos......John T. Lee, Sr. House
************************************************
Copyright. All rights reserved.
http://theusgenweb.org/al/chambers/
************************************************
Contributed by Don L. Clark Jun 2004 http://www.genrecords.net/emailregistry/vols/00014.html#0003384


John T. Lee, Sr. House Built ca. 1890s
John T. Lee, Sr. (1851-1926) and wife Frances D. Lee (1860-1948) had this once fine country home built ca. 1890s. The pryamidal-roof house was typical of houses being built by prosperous cotton farmers in the 1890-1915 period. The type appears to have been based upon earlier Georgian style houses. A study funded in part by the Alabama Historical Commission in 1975 stated that this house type was recorded in highest percentages in east-central Alabama, in Chambers and Tallapoosa counties, where it made up nearly 20% of the total dwellings.
A wide central hall divided the main body of the Lee House with two rooms on each side. The parlor was the front right room. The dining room and kitchen were in a wing located on the left side of the main body, separated by another central hall. Five fireplaces served by three chimneys built of rock and brick, heated the house. Interior walls were sheathed with good quality beaded, tongue & groove boards. Handsome mantles and wood trim were in each room with 12-foot ceilings. When photographed, the original front porch that wrapped around three sides of the house was gone. Turned wooden posts with gingerbread trim, porch railings and balusters were typical architectural elements found on this type house.
The Lee House was located 2 1/2 miles west of Stroud where County Road 245 intersects County Road 244. In 2003, the house was destroyed by fire.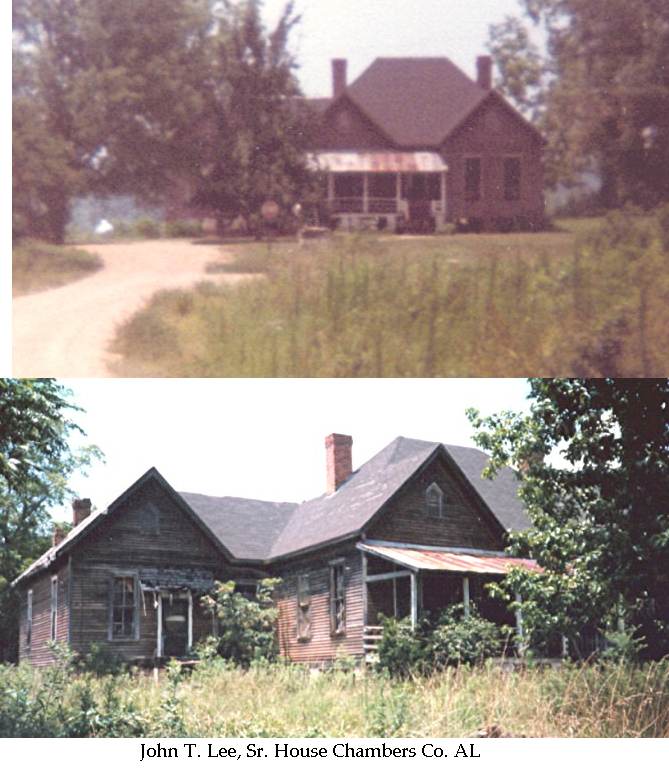 Back to Chambers Co. Al Photos
Back to Chambers Co. AlGenWeb