Chambers County Alabama Photos.....Megginson Cemetery - 1912
************************************************
Copyright. All rights reserved.
http://theusgenweb.org/al/chambers/
************************************************
Contributed by Don L. Clark Aug 2006

Megginson Cemetery - 1912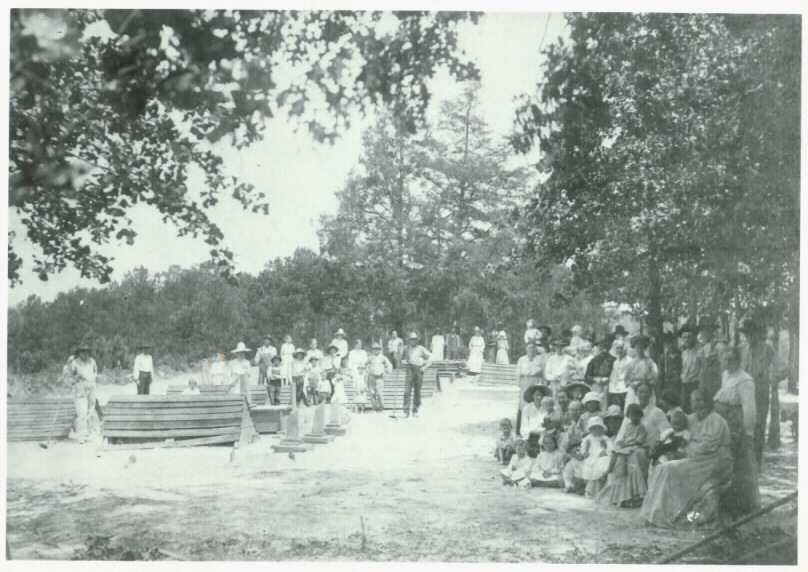 The above picture shows a group of people who were cleaning the Megginson Cemetery ca. 1912. It is possible that this moment in time was captured on Saturday before the 1st Sunday in July, 1912, as that date was set aside each year to clean the grave yard. The photograph was made by local Penton photographer Warner M. Phillips (1875 - 1961).
(Click on image for larger view)

Samuel Megginson (1785 - 1853) an early Chambers County settler is buried in this cemetery with approximately 55 other Megginson descendants that includes the surnames of Harris, Brewster, Patterson, Tucker and Miles. This rare picture from the past shows primitive grave coverings that resemble "chicken coops" found on the farm at that time. These coverings were typically placed over graves that did not have stone or marble slabs, to prevent animals from digging into the graves. Currently only the remains of one of these structures can be located in the old cemetery that is located about 1.5 miles west of Penton.
Back to Chambers Co. Al Photos
Back to Chambers Co. AlGenWeb