Chambers County Alabama Photos......James A. Wise House (2 photos)
************************************************
Copyright. All rights reserved.
http://theusgenweb.org/al/chambers/
************************************************
Contributed by Don L. Clark Jul 2005

James A. Wise House
Built ca. 1880
Located 9 miles NW of LaFayette on County Road 62, approximately 1/2 mile east of Trammell's Cross Roads.



James A. Wise ( 1855 - 1912), was the son of Parham Lindsey and Susan C. Harris Wise. He married 1st Willie M. Trammell (1860 - 1892), and 2nd Ella C. Trammell Headley (1857 - 1902). Both of these women were daughters of Dr. William M. Trammell and wife Sarah M. Turner Trammell. Trammell's Cross Roads is believed to have been named for Dr. Trammell.
In 1903, James A. Wise married 3rd Ida Elizabeth Jarrell, daughter of Henry Callaway and Hulda M. Carmichael Jarrell.
James A. Wise and his first two wives are buried at Rock Spring Cemetery.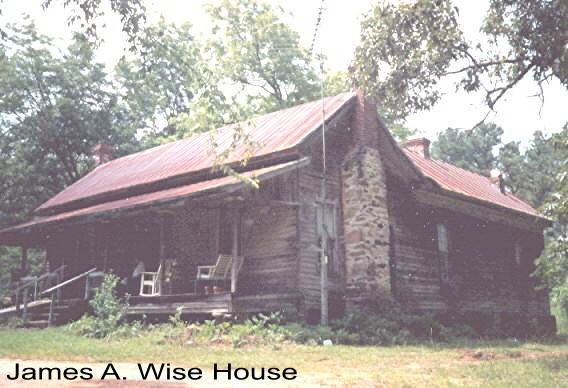 Photographed from the SE corner, the Wise House was probably built ca. 1880. Exterior chimneys were built by a skilled mason of rock and capped with brick. An interior stack chimney is visible on the rear roof line which served back to back fireplaces.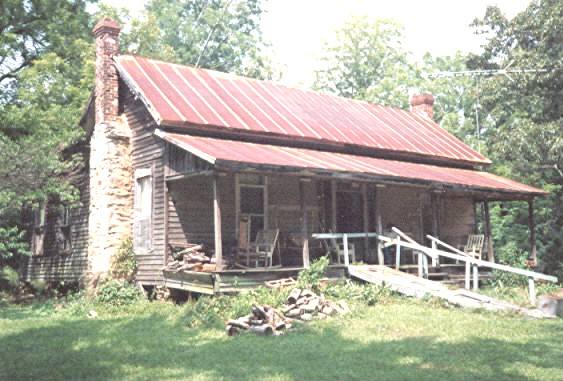 Photographed from the SW corner, the old house has seen better days but still remains sturdy after suffering from years of neglect. A remnant of scalloped scrollwork is still visible on the gable ends of the house. No doubt the house once had much fine Victorian trim which is now removed.

From an article that appeared in "The Columbus Ledger-Enquirer", ca. early 1970s, columnist Virginia Smith wrote of the Wise house:

"The James Wise house stands about two miles west from what is now the central part of Marcoot. Jim Wise, as he was better known, served as Chambers County Tax Collector and was the father of three pretty and talented daughters, one of whom - Marie Wise, married Ed Livingston, who became a member of the Alabama Supreme Court, and later chief justice.
Dr. Ben Frazer, who knew Wise and his children, which also included two sons, said Wise was a true extrovert and a large landowner, who also possessed an unusual talent in the design of a house and decoration. The original house had eight rooms and was built with a front porch extending the length of the house (and possibly down the sides).
A wide hall extended from the double front doors to the back doors. Rooms opened from the hall on either side, providing cross ventilation in the hot and long summers.
At one time Wise added an office at the front where he conducted county business, as well as his own extensive land interests. Also added was an elaborate girls room for the three daughters. These two additions have been torn away, as well as a back dining room, leaving a house with five rooms.
The house has the original wide, heart pine floors, most of the original mantles and the handmade molding and chair railing. The walls were once plastered from the wainscoting to the ceiling, and the ceiling was also plastered. Some of the plaster has been removed and replaced with 1x4 tongue and grooved pine boards.
One of the most interesting architectural points of the Wise house is the double front door. There are four glass frames, hand stenciled on either side of the doors, with matching glass panels overhead in the transom. Above the transom are three narrow wooden panels, with hand painted rural scenes. The panels show the trees, streams and the rolling countryside.
Of equal interest are the few remaining beaded boards which once lined the elaborate girls room. Hand painted on the boards, in color, are stenciled sprays of roses and the colours are still bright today, despite the years which have passed since they were installed. The center hall includes some of the hand painted rose sprays and around the top moldings are hand painted stencils.
Jim Wise and his family are no longer living, but they left an imprint in Chambers County. Wise built well and the house stands today as one of the once fine farm homes in East Alabama."


Back to Chambers Co. Al Photos

Back to Chambers Co. AlGenWeb