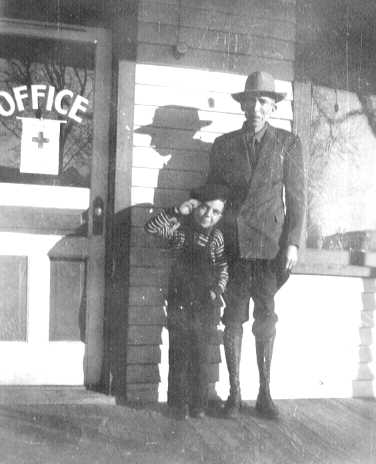 My grandfather, Harold Dailey, worked in the U.S. Vanadium Corporation office at Rifle, CO in 1943.
I Ďm not sure what position he held but he was a newspaper editor in his native Missouri and also a bookkeeper by trade. He kept this story from the Ford Truck Times Ė date published estimated to be early 1950s based on the war reference. The accompanying photo shows Harold in his working clothes, with his youngest son, Jimmy. They stand in front of the Montgomery Hotel in Eagle, CO; Harold would travel each week to work in Rifle while his family remained in Eagle. His sister-in-law, Cora Steele Jordan, was proprietor of the Montgomery Hotel.
VANADIUM HAUL
By Joyce Rockwood Muench
"Sometime when you want to have a nice family chat about Ford trucks, I suggest that you drop in to see Adolph J. Stampfel of the Rifle Auto Company in Rifle, Colorado. He can tell some stories that go to prove what you knew all along, on the matter of what Fords can take Ė and in this case, dish out as well. But let me explain why his word should have weight when Ford trucks are being discussed.
Rifle is on the shores of the roving Colorado River, far up in northwestern Colorado, where the stream is as blue as the sky, or sometimes crystal clear. Itís a farming country, with lush fields and orchards mounting low plateaus which eventually climb onto the forested slopes of Battlement Mesa on one side and the Book Cliffs on the other. In twisting canyons, with wide valley floors, where Rifle Creek comes through, cattle make picture-scenes among great mounds of hay, and irrigation ditches add their warm scent to a country which might otherwise verge on the desert side. Sage points that up by taking over wherever the farmer canít reach.
There would be need enough for trucks to haul out produce and bring in supplies for this rich agriculture region, but that isnít all that concerns Rifle. One of the largest single bodies of vanadium ore is packed under overlying cliffs, from where it is being mined and taken down for processing by the United States Vanadium Corporation. Hereís work that just suits the Fords.
Mr. Stampfel does all the hauling of the ore and during the war he had as many as thirteen trucks on the move, day and night. Vanadium has, as you know, several uses. It strengthens steel, fortifying the plates on battleships, to mention only one mighty important one. That, in turn, may suggest other ways in which it is an essential in war and peace.
The underground mine is reached by a gravel and dirt road which starts out at leisurely pace from above the town of Rifle, curving with valleys and brushing by farms and grazing land. Soon it makes for the hills, through great rocks standing on end, and skirts the Great Hogback before it attacks a hillside. Now the grade jumps to twenty-four percent, around several hairpin curves. When you haul big loads and keep it up in every kind of weather, sometimes over ice and snow, soft with rain, slick with freezing weather Ė you need power and reliability. So Stampfel uses Fords. He can tell you that he has tried other makes, but even those having three times the capacity were unable to haul as much ore in a day as the two-ton Ford trucks. He says that it just boils down to this Ė with a heavily loaded truck (they put over eight tons on the two-ton trucks) the motor has to turn over so fast, that no other make can stand up under it. He found that other trucks had to have chains for the hill work while the Ford truck drivers never bothered with them.