The next one to undertake the conquest of Florida was Ferdinando De Soto, a Spaniard, as greedy of gold as he was cruel, and as daring as he was greedy. He sailed from Cuba in the spring of 1539, with a force of about 600 picked men and over two hundred horses. It was "a roving company of gallant freebooters" in search of fortune. De Soto had provided bloodhounds and chains to hunt and enslave the Indians; finally, he had ordered a drove of hogs to be taken along, in order that his men might be sure of an ample supply of fresh meat.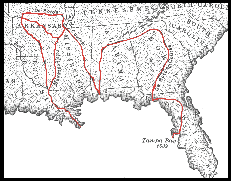 De Soto's Expedition, 1539-1542

The expedition landed at Tampa Bay, and began its march of exploration, robbery, and murder. The soldiers seized the natives, chained them in couples so that they might not escape, and forced them to carry their baggage and pound their corn. The chief of each tribe through whose country they passed was compelled to serve as a guide until they reached the next tribe. If an Indian refused to be a slave or a beast of burden, his fate was pitiful. They set him up as a target, and riddled his body with bullets, or they chopped off his hands, and then sent him home to exhibit the useless, bleeding stumps to his family.

For two years the march went on. During that time De Soto and his men traveled upwards of 1500 miles through what are now the states of Florida, Georgia, Alabama, and Mississippi. They found no goal worth mentioning, but in its stead, hunger, suffering, and death.

In the spring of 1541, the Spaniards, worn out, sick, disgusted, emerged from the forest on the banks of the Mississippi, probably at or near a place now called De Soto Front, De Soto County, MS. Cabeza De Vaca had seen one of the mouths of the Mississippi, but De Soto was probably the first civilized man that had ever looked on the main body of that mighty river.

The river, at the point where De Soto stood, is so wide that a person standing on the bank and just barely see a man standing on the opposite side. Here the Spaniards crossed. They made a long circuit of many months' march, getting no treasure, but meeting, as they declared, "Indians as fierce as mad dogs." In May, 1542, they came back to the great river at that point in Louisiana where the Red River unites with it. There he died, and was secretly buried at midnight in the muddy waters of the Mississippi River. He had made the Indians believe he was not a human being, but a "child of the sun," and that death could not touch him. When the chief found that he had mysteriously disappeared, he asked where he was. The Spaniards replied that their captain had gone on a journey to heaven; but that he would soon return.

The survivors at length reached the Spanish settlements in Mexico. Only about half of those that had landed in Florida were alive; they were a miserable band, half-naked, half-starved, looking worse than the savages they had gone out to subdue.