Tidbits from The Dickey County Leader Newspaper
Contributed by Lisa Richards of the Dickey County Historical Society
for additional information contact Mary Ann Kunrath


21 October 1891:
Mr. And Mrs. J. T. Barratt of Fullerton will give a ball at the Fullerton hall this Friday evening. Miss Grace Porter will furnish supper for those in attendance. A royal good time is expected. The good people of that burg have a happy faculty of enjoying themselves at their social gatherings, and their guests are sure to conclude that life is worth living, when a portion of it can be spent at Fullerton.
E. J. Moore and family will leave Ellendale this week, Mr. Moore going to Fargo to enter upon his duties in that city. Mrs. Moore and the boys, David and Eddie, expect to visit the old hearth stone at Fort Covington, New York, until spring, when the family will be at home in Fargo. That every good fortune may attend them is the wish of the Leader.
24 December 1891:
IN APPEAL. I desire to appeal to the philanthropic and liberal minded people of this county to extend a helping hand to Edward H. McEntee who lost his entire crop of all kinds the past season by hail. Mr. McEntee is an honest and industrious citizen and has not asked nor suggested that this appeal be made. The bountiful crops with which the people of the county have been blessed, will certainly enable them to lend a helping hand to this most worthy case of charity. Contributions can be left with J. W. Bishop in Ellendale, and anything in the way of wheat, money or provisions, will be accepted. L. D. Bartlett.
31 December 1891:
M. H. Puffer, and others went to the county seat as witnesses in the Morgan versus Rose Bros. Case.
Ernest Washner is happy, for this time it is a boy.
Ed Kittridge returned Tuesday from Jamestown, bringing with him his two children to remain here till more satisfactory arrangements can be made for their care and schooling.
14 April 1892:
We heartily congratulate our friend T. R. Shimmin and Mrs. Shimmin too, on the arrival of that new girl.
Rev. and Mrs. McCoy and T. W. Millham have been at Groton this week, attending a meeting of the Presbytery.
Dr. Swengel, dentist, of Aberdeen, will be at the Central house Wednesday April 20, to do dental work in all its branches.
Charlie Gleason was in from the farm Saturday. He wishes to dispose of his ranch, which he advertises in another column.
E. R. Miller arrived last week from St. Johns Michigan, and will spend the summer with his son, Isaac Miller, in Hudson township.
W. L. Church is back into his old territory, traveling for Jewett Bros., of Aberdeen, and was a familiar figure in town Wednesday.
Mrs. Eliza Waters of St. Paul is visiting her sister, Mrs. D. B. McDonald. Mrs. Waters is on her way home from Ft. Yates where she has been a guest for some time past.
28 April 1892:
C. W. Porter and family returned from Michigan last week. It is to be hoped that the salubrious breezes of Fullerton will mend the convalescent members of the family.
C. C. Shepard's familiar face beamed on us again last Saturday from the Carroll house. He announces that he has let his farm near Clement. Say, boys, I believe he's on the stump for some county office. How would county superintendent suit him?
Ed Porter was up from Ellendale Saturday night. He is quite the city mash and should captivate the heart of the fair sex when on the warpath.
---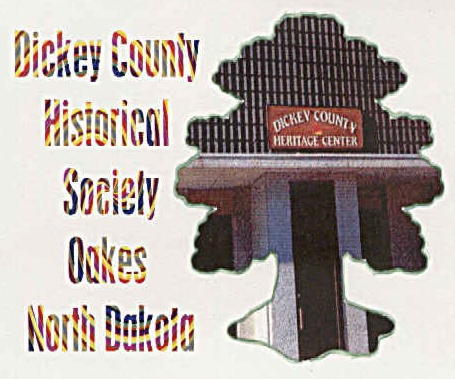 © Copyright 2002-2017
Dickey County Historical Society
For more information contact Mary Ann Kunrath