---
JOSEPH MARTIN TRAMEL

Surname spelled in some records as TRAMMEL and TRAMELL.


Born 1838 in Indiana; Died 1904. Some records indicate he died in Stockton North, San Joaquin County, California.


On 5 October 1888 he secured a homestead land patent in Section 14, in Township 136, Range 75 (Bradddock area).


He is living in Williamsport in the 1890 Veterans Census.


He enlisted as a Private (Records have his surname spelled TRAMMEL) on 28 August 1861 at the age of 23 into Company I, 10th Infantry Regiment Iowa. He mustered out on 27 September 1864 at Rock Island, Illinois.


He is buried at Stewart Creek Cemetery, Quincy, Columbia County, Oregon. Gravesite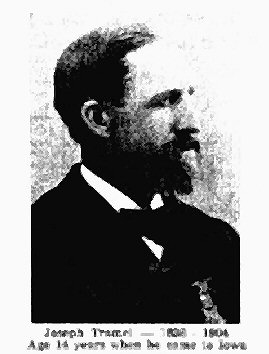 Photo is from ancestry.com History of the Tramel family; commemorating the 100th anniversary, Oct. 10, 1852-1952.