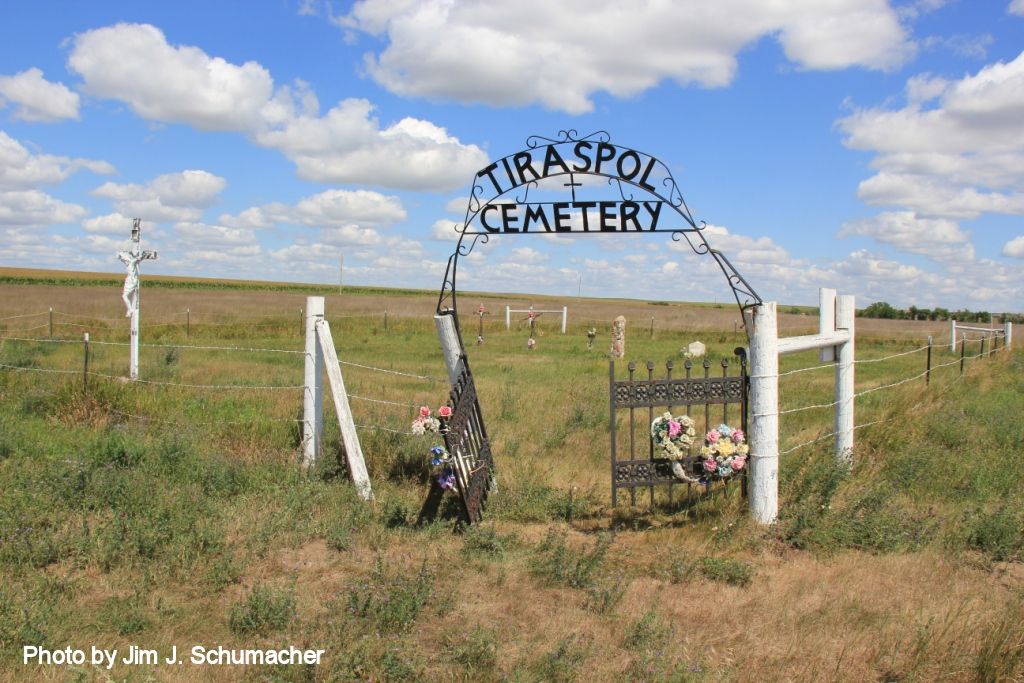 View Larger Map

Photos and Burial Names by Philip Weiss
Photos of Burial List (1897-1920) Posted at Cemetery
Various Photos of Cemetery

Ronald Kremer Cemetery Transcriptions

Transcriptions at North Dakota Gravestones

Transcriptions At Find A Grave

Notes on the Cemetery:



The following is partially quoted from an article written by Allen Burke, entitled, "Feist farm was homesteaded by one of first five German-Russians to settle in Strasburg area: Jacob Feist arrived in 1888."

".....Jacob Feist, was in the first group of five German-Russian immigrants to homestead in what is now south-central Emmons County, and Jacob donated the land for the first Saints Peter and Paul Catholic Church and Cemetery at what was then known as Tiraspol.......
........Many of the graves from the Tiraspol Cemetery were moved to the new cemetery in town, but the cemetery, with its iron crosses, remains a landmark on the Feist farm. .........."


Click Here For The Complete Article



The following is partially quoted from an article written by Jerry Klein, Jr., entitled, "A Brief History Of The People And Parish of Saints Peter and Paul Church, Strasburg, ND."

"....The old cemetery on the original church site east of town (known as the Tiraspol Cemetery) was then ordered closed, and the Bishop stipulated that no one else was to be buried there. Most of the remains of those who'd been buried in the old cemetery were eventually re-interred [Editor Note: see notes below] in the new cemetery. ...."


Click Here For The Complete Article



The following is partially quoted from an internet article by an unknown source from a trip to the area in 2003. "......After that we went in search of my Great Grandfather's old homestead, without success. However, we happened upon a magnificent find in the middle of nowhere in the farmland – a very small cemetery called Tiraspol Cemetery. Only about 8 graves remained, the rest had been moved to the cemetery we visited in Strasburg. Why these ones remained wasn't explained on the plaque there, but we did learn that an ancestor of ours was originally buried there, which was very exciting. Many of them had died of dyptheria. ...."

Editor Note: The available cemetery transcriptions of Ronald Kremer and Find A Grave of the cemeteries in the old Tiraspol Cemetery and the relocated cemetery are not clear as to what transpired. The transcriptions contained in the Ronald Kremer Cemetery Research are numbered at 161 in 1992 at Tiraspol and 1176 at Sts. Peter and Paul. In 2003, the unknown author records 'about 8' graves at Tiraspol. In 2014, Find A Grave, has a list of twelve. This writer spent some time researching Kremer's Tiraspol list to see if names were transferred to present day Sts. Peter and Paul on Find A Grave with only a very small number noted. To confuse the issue there may have been grave transfers from Tiraspol to other cemeteries besides Sts. Peter and Paul. People doing research in these two cemeteries should be very thorough. In the case of the Tiraspol cemetery those records are kept at Sts. Peter and Paul Parish in Strasburg. The best email contact for the parish is stspeterandpaul@bektel.com [updated October 2017].