Article from the Bismarck Tribune



June 12, 2010
Glencoe Presbyterian celebrates 125 years

With Lake Oahe brimming to the west, the gravel driveway off Highway 1804 leads to the front door of Glencoe Presbyterian Church, which, except for lack of a steeple, is the way most people imagine a white country church to look. Across the driveway to the south is the cemetery. Though separated by just a few yards, the church is in Burleigh County; the cemetery, in Emmons.

For the church's centennial 25 years ago, a history written by member Naomi Oder states that a condition of the gift of the land was that no portion of it was to be used for a cemetery. So the cemetery has a different governing board from the church, said member Karen Macdonald.

But the people buried there belong to Glencoe Presbyterian, families going back four and five generations from the dozen-plus people industriously mowing and trimming and sweeping both church and cemetery in preparation for its 125th anniversary celebration on Sunday.

Officially Sloan Memorial Church of Glencoe, a 16-mile southeasterly drive from the University of Mary, the church is named for the nearby town established by Scottish settlers. Members believe this may be the oldest church in the state — certainly the oldest Presbyterian church — still worshipping in its original building. Glencoe still holds Sunday services the bulk of the year, taking a break only in the coldest stretch from January to around Easter.

Lay ministers serve the 15 to 25 people who come Sundays, with the Rev. Ben Dove, longtime pastor at First Presbyterian Church in Mandan, as moderator and Casey Chapman, commissioned lay pastor. Six elders manage the day-to-day operations of the church.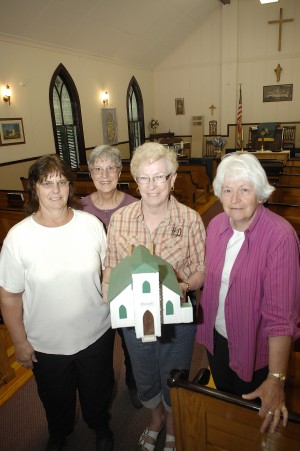 Celebration organizers stand inside the 125 year old church. Pictured from the left is Dorothy Bower, Betty Day, Nancy Laschkewitsch and Karen Macdonald. Laschkewitsch is holding a replica of the church that was built for the church's centennial celebration.

But Sunday, the organizers of the anniversary expect up to 150 people to fill the pews for 10 a.m. worship and the lunch and fellowship afterward.

Betty Day, Dorothy Bower, Nancy Laschkewitsch and Macdonald were among the mowing and cleaning crew on Wednesday preparing the church and grounds for the crowds, and are repositories of the church's lore.

The original golden pine floors and wooden pews from 1885 have been refinished to a high gloss. Among the furnishings, solid and well-cared-for, is the pulpit, which was made from the packing case that the pews were shipped in all those years ago.

Church members have secured the arched Gothic windows against vandalism, and the original cream-colored wallboard and wide wooden baseboards are straight and plumb. Portraits of the church — watercolors, photos, paintings by local artists — are hung on those walls, along with certificates signed by, among others, M.L. McCormack, secretary of Dakota Territory, dated Oct. 11, 1888. A small white model of the church on display is the cake topper from the church's centennial 25 years ago.

Members had a number of ideas about what to do with the donations and gifts given at the centennial — perhaps add bathrooms downstairs, or an elevator. Because of the high water table on the property, instead, members decided to use the money to build new outhouses. They are now appropriately named "Adam" and "Eve."

A photo in the entry shows the church at a time when it still had a manse, or pastor's home. The foundation is still there, but the building itself was moved northwest of Hazelton, Macdonald said. An old sepia photo shows the church against a treeless prairie landscape, with just one young tree in front. The tree, now a full-grown adult, still stands, and the church grounds themselves are sheltered with others.

The large cemetery holds a mixture of the old white marble obelisks and modern granite headstones. Some of the graves are simply marked "unknown." These may be some of those graves moved from the river bottoms when Lake Oahe was formed by the damming of the Missouri, Macdonald said. A simple marker reads "Infants Site." Others date back to the Civil War, with the soldiers' service branch incised. Children's graves speak of the days of influenza, whooping cough or diphtheria epidemics, when several children in a family could be stricken and die within mere days.

Whether their members are in the cemetery or the church across the road, have moved to Bismarck but still drive out for Sunday worship, or come back for major events such as this birthday, these deep-rooted communities are simple to describe.

In one word? All four women say the same thing almost simultaneously — "it's home."

(Reach reporter Karen Herzog at 250-8267 or karen.herzog@bismarcktribune.com.)



Article from North Dakota Horizons - Fall 1986

Glencoe Cemetery