HELP IDENTIFY THESE PEOPLE
This page contains pictures contributors sent to us for help in identification. These can be portraits, snapshots, group photos, and so on. If you have a picture and you are fairly certain it is of Emmons County people, then please send it to us. Include as much information you can to help in the identity.

If you have additional information for a photo below, please contact the County Coordinator.
---
Some of these people are known but one remains a mystery. Seated is Arthur Humann, born 12/12/1904. Standing, from left, Henry Humann, born 5/17/1906, unknown, and John Humann, born 8/7/1907. Do you recognize the unknown?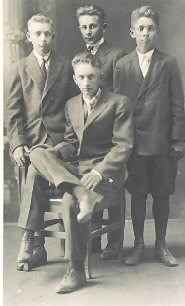 ---
The picture below has a page of it's own on our website. It is believed this is a Sunday School picture taken in 1910 and that possibly Ida Boyer is in the second row, second girl from the right. Her brothers William, age 15, and Eli, age 12, might also be in the picture. See the above page link for more information.