One of Col. George Custer's Army scouts in Dakota Territory later served as an interpreter for Sitting Bull and participated in Buffalo Bill Cody's Wild West Show.
William Zahn first arrived in northern Dakota Territory in 1870 to help expand the military facilities at Fort Rice. In 1873, he was transferred to what is now Fort Yates and began courting a Lakota Indian woman.
At that time, "an order was issued that all soldiers should discard or marry their Indian women." Since he did not yet have enough money to purchase the requested dowry items in order to marry his love interest and was also not willing to abandon her, Zahn, on Aug. 22, 1875, "took his discharge and stayed with his Sioux woman."
This decision also spared him from taking part in the Battle of the Little Big Horn one year later where many of Custer's soldiers were killed.
William Presley Zahn was born on Oct. 25, 1849, to John and Esther (Stambaugh) Zahn, on a farm near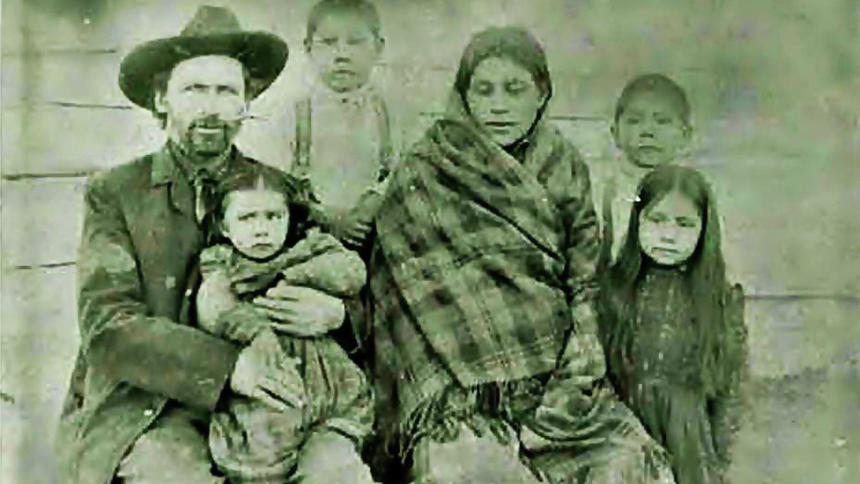 Fetterhoff's Mill in west-central Indiana. After receiving his basic education, William worked on various farms and also did carpentry work.
On Aug. 22, 1869, Zahn enlisted in the Army. He was assigned to Company G of the 17th U.S. Infantry and sent to Fort Sully in southern Dakota Territory. Soon after arriving at the fort, he was reassigned to Fort Rice to help with construction of the expansion of the fort. When that was completed, Zahn was kept busy raising hay, providing wood for the fort, repairing roads, and repulsing frequent Indian attacks.
On Sept. 9, 1873, Zahn was reassigned to the Standing Rock Cantonment (later renamed Fort Yates). For 66 days, he accompanied Col. David Stanley and the soldiers of the 7th Cavalry while they protected the surveyors of the Northern Pacific Railroad in western Dakota and eastern Montana. On June 8, 1874, Zahn and other members of company G were sent to Fort Abraham Lincoln to join Col. Custer. Custer was leading an expedition to the Black Hills to search for a site for a future fort and to check out rumors about large amounts of gold discovered in the hills.
When the expedition concluded in September, Zahn was anxious to return to Standing Rock to be with his love interest, Winyan-Waste/Pretty Woman. Winyan-Waste [Note: aka Wia Waste, married 1879] was the sister of John Grass, chief of the Blackfeet band of Lakota Indians.
In order for Zahn to marry her, Grass asked for a dowry of "one Henry rifle, an American (large) horse, and quite a lot of calico." It was not until 1879 that Zahn had acquired the requested dowry and was able to marry the woman he loved. After giving birth to three sons [Note: Joe, John, William, Jr.], Winyan-Waste died on Aug. 2, 1886. Following her death, Zahn married Princess Kezewin/Josephine Mary, the daughter of Chief Flying Cloud, a local Hunkpapa leader "and a relative of Sitting Bull."
Soon after leaving the Army in 1875, Zahn worked as an interpreter and "engaged in freighting with a bull team between Bismarck and the Black Hills." In 1879, he built a log cabin, becoming the first settler at the mouth of the Cannonball River.
Zahn established a trading post at his cabin and also spent considerable time instructing the Indians at the Standing Rock agency about various farming techniques. The Indians considered him one of their own people, and he became a trusted friend of Sitting Bull, Rain-in-Face, and many other Indian leaders.
Zahn established a close relationship with Sitting Bull and often served as his personal interpreter.
In the fall of 1889, the military became alarmed upon learning that Sitting Bull was conducting Ghost Dances off of the Standing Rock Reservation. They wanted him to return to the reservation so that his actions could be more closely monitored, and William "Buffalo Bill" Cody was sent to try and persuade Sitting Bull to return to Standing Rock. Before confronting Sitting Bull, Cody stopped by Zahn's cabin to ask him to go with him, but Zahn declined, stating that if they left Sitting Bull alone, he would return on his own accord.
After Sitting Bull was killed a year later, Cody convinced Zahn to join his Wild West Show. Zahn also remained active with the Lakota people until his death on Sept. 8, 1936.
Click on picture for a larger view. William is pictured with his second wife, Princess Kezewin, and their four oldest children.