IMMANUEL LUTHERAN CEMETERY EAST
Stanvanger Township
About 2.5 Miles East of Buxton on County Road 21 and 1.5 miles north.

The main entrance has an over-the-road sign of "IMMANUEL CEMETERY".
On the left side of road is a smaller sign entitled Immanuel Lutheran
Cemetery East. On the right side is a similar sign entitled Immanuel
Lutheran Cemetery North.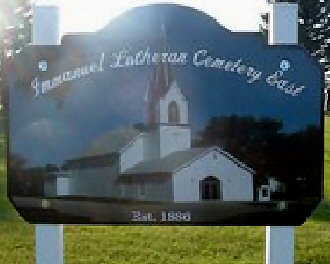 There are 4 Immanuel cemeteries in Traill County.
Be sure to check them all from this page.


View Map



Transcriptions At Interment.net
(Anderson, Berg, Bonlee, Breiland, Broe, Buer, Camrud,
Combs, Evanson, Foss, Gunderson, Hagali, Hagelie,
Halvorson, Hanson, Haug, Hettervig, Hetterving,
Hjortland, Jermeland, Johnson, Kloste, Knudsvig, Kvine,
Nesvig, Nettum, Odegard, Olson, Overson, Owen, Pederson,
Ramsfield, Riveland, Rogenes, Rolf, Solm, Stendard, Sundeen,
Sveen, Thompson, Westby, Wiken)

Transcriptions At Findagrave.com
There are over 150 tombstone transcriptions (some have photos) for
this cemetery on findagrave.com. Those surnames are too numerous to
record here so our site search is not picking them up.