SAINT OLAF LUTHERAN CHURCH CEMETERY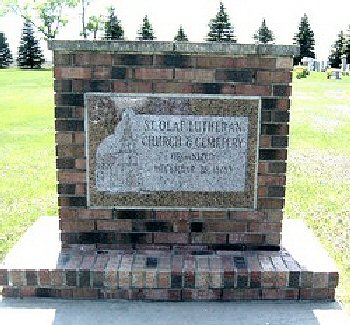 View in a Larger Map.



Transcriptions At Findagrave.com
There are over 100 tombstone transcriptions (some have photos) for
this cemetery at findagrave.com. Those surnames are too numerous to
record here so our site search is not picking them up.

Red River Valley Genealogical Society
Index Of Tombstone Transcriptions
Click Here To Request Lookup For This Cemetery.



The St. Olaf Lutheran Church dates to December 28, 1878. H. H. Strom donated the land to the congregation on which the church (at that time) and the cemetery are located. The monument on the north side of the cemetery grounds was erected in 1978, a gift to the church in memory of Mr. and Mrs. Ole H. Olson by their children.