GRUE LUTHERAN CONGREGATION
ORGANIZES IN MARCH, 1879
Rural Buxton, North Dakota



On March 17. 1879. a meeting was held to organize a congregation which was given the name of Grue Norwegian Evangelical Lutheran Congregation There were sixty-three charter members. Pastor 0. H. Bostad served this congregation from 1879 to August 8, 1880, meeting in the various homes and schoolhouses. The congregation covered a large territory and many had far to go to services, so later some of the members withdrew to form their own congregation. Travel at that time was by foot, horse and buggy or wagon - and some had eight or ten miles to go


In 1891, the Grue Church was built. The Grue Cemetery was also established that year, being located back of the church. Within the congregation, the Ester Ladies Aid (Kvindeforening) and the Mission Society were very active - supporting Mission work and also contributing to the support of their church. Throughout the years the Ladies Aid was instrumental in buying equipment and supplies for the church. The church bell was purchased in 1891.


A Parochial School was held each summer. Later other organizations were formed - The Pigeforening (Girl's Society), the church choir, Young People's Society and the Sunday School.


At the turn at the century a parish was organized by St. Olaf Church, Reynolds. North Dakota; North Prairie, Buxton. North Dakota; Buxton Immanuel. and Grue. This was called a Norwegian Evangelical Lutheran Parish and one Pastor served all four churches


In 1921, Grue seceded and was served by Free Church Pastors until 1936, at which time the congregation voted to become independent. Tney remained independent until 1952, when Grue Congregation became affiliated with the Lutheran Free Church and, hence, was served by the pastor from the Climax, Minnesota Parish


In 1963, the Lutheran Free Church merged with the American Lutheran Church, and since then Grue has been working in accordance with the A. L. C. program.


From 1880, to the present time, the following pastors have served the Grue Congregation: 1880-1889, Christian Saugstad; 1889-1902, Gustav Oftedahl; 1902-1905, 0 T Nelson; 1906-1921, T J Gronningen; 1921, H. A. Winther, 1921-1922. Nils Halvorson; 1922-1927, Ludvig Pederson; 1927-1936, C. J. Christenson; 1936-1951, Kart Stromme: 1952, Forrest Monson (Interim); 1953-1959, Carl J Carlsen, 1959-1960, L. B. Satern (Interim); 1960-1968, N C Anderson and 1969-1975, Ralph L Okland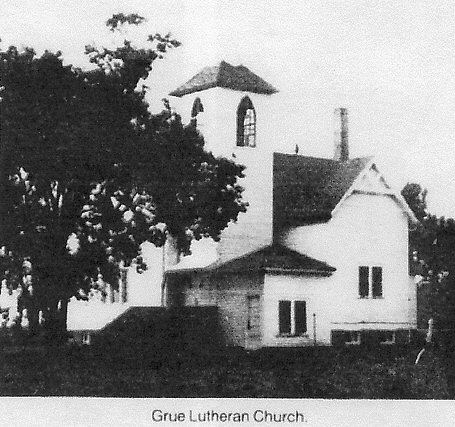 From: YESTERYEARS IN TRAILL COUNTY, A History of Traill County, North Dakota, 1976. Contributed by Gerry Forde Mohn




Grue Lutheran Church Cemetery - Contains Cemetery Registry