Reynolds City Centennial
1880-1980
Reynolds The Live Town
Download or Browse Book
Note: Exact image of the book. Can be searched by most PDF viewers and some internet browsers. Can be downloaded to desktop through internet browser.
---
This Great Northern Railroad station was founded in 1880 in the southwest quarter of section 31-149-50,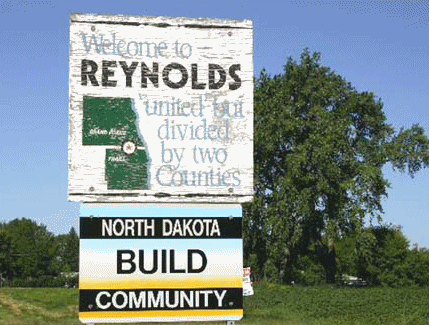 Americus Township, Grand Forks County and northwest quarter of section 1-148-51, Buxton Township, Traill County. Dr. Henry A. Reynolds, a temperance advocate, platted the townsite in 1880, and became the Postmaster when the post office was established May 26, 1881. The city, which has maintained a population of about 300 for most of its history, incorporated in 1892 with C. L. Taft as mayor. Main Street is the county line, and the population has been quite equally divided between the two counties. The elevation is 910, and the post office, Zip Code 58275, is located on the Grand Forks County side of Main Street.



---
Reynolds Website
---
Reynolds contemporary photos in Pictures of Small Towns in North Dakota
---
Please contact the County Coordinator if you have interesting additional items on the history of Reynolds.