---
CAROLYN S. DEAN



Source: Unknown
1966


Mrs. E. M. Kent




Funeral services for Mrs. E.M. Kent were held Monday afternoon, May 16 in the St. John Lutheran Church of Hatton. Mrs. Kent passed away Thursday, May 12 in a Grand Forks hospital. She had been in ill health for some time and for several years had lived at the Valley Memorial Home in Grand Forks.


Rev. Leonard Thompson of Hatton and Rev. R.S. Aanestad of Grand Forks officiated at the service. Mrs. Roland Young was soloist, Mrs. Leonard Thompson organist, and the pallbearers were Clarence Blecha, Millard Monson, Earl Mahlum, Elton Grina, Richard Larson and Duaine Gensrich. Interment was made in the St. John Cemetery.


Mrs. Kent, the former Carolyn S. Dean, was born July 10, 1889 near Holmes, daughter of the late Mr. and Mrs. W.S. Dean. She graduated from the Reynolds High School and the Valley City Teachers College.


She taught school in Seattle, Wash. and in Grand Forks County. She was assistant Grand Forks County school superintendent to the late M. Beatrice Johnstone and directed the first County Play Day in Larimore in 1920. She was instrumental in forming the first Grand Forks County Homemakers Club and was a past president
of the Holmes Homemakers Club.


Mrs. Kent was a member of St. John Lutheran Church in Hatton and an associate member of United Lutheran Church in Grand Forks. She was past worthy matron of Hatton Chapter OES. She was married to Mr. Kent on June 18, 1921 at Bemidji, Minn. They made their home in the Holmes community. Mr. Kent passed away in March 1953. Following his death, she made her home in Grand Forks.


Survivors include one son James N. Kent of Hatton; three daughters Mrs. Leslie (Dorothy) Hofstrand of Brinsmade, Mrs. J.R. (Audrey) Berrington of Honolulu, Hawaii, and Mrs. Robert (Ruth) Grina of Grand Forks; a brother Floyd S. Dean of Grand Forks; and two sisters, Mrs. V.J. Schwartz of Minneapolis and Mrs. E.K. Musson of Chicago. She also leaves eleven grandchildren and three great grandchildren.


Hanson-Anderson Mortuary of Grand Forks was in charge of the arrangements.

Contributed by Ardy Moe.
---
FLOYD S. DEAN



Source: Unknown
1966



Floyd Dean




Funeral services will be held at 10 a.m. Friday at St. Michael's Catholic Church for Floyd S. Dean, 69, 2010 Second Ave. N., who died Wednesday at a local hospital. Msgr. William McNamee will officiate and burial will be in Calvary Cemetery.


Dean was born Aug. 18, 1896 in Hatton. He was educated there and in Grand Forks. After attending North Dakota State Agricultural College, he served in the Army during World War I. He married Marguerite Fox on Nov. 24, 1920, at Walhalla. They farmed near Hatton until moving to Grand Forks in 1956.


In Hatton, Dean served as chairman of the Selective Service Board for 14 years. He was a member of Union Township school board, the township board and the American Legion. He is survived by his wife; two daughters, Mrs. C.C. (Doris) Martin of Washburn and Mrs. M. R. (Jeannette) Evenson of Oklahoma City, Okla.; a son, John S. Dean of Hatton; and two sisters, Mrs. Virgil (Mary) Schwartz, Minneapolis, and Mrs. E.K. (Olive) Musson, Chicago.


The body will lie in state Thursday afternoon and evening at the Grand Forks Norman Funeral Home. There will be a Rosary Thursday at 8:30 p.m.

Contributed by Ardy Moe.
---
CHARLES ANTON DIGNESS



Grand Forks Herald
April 12, 1921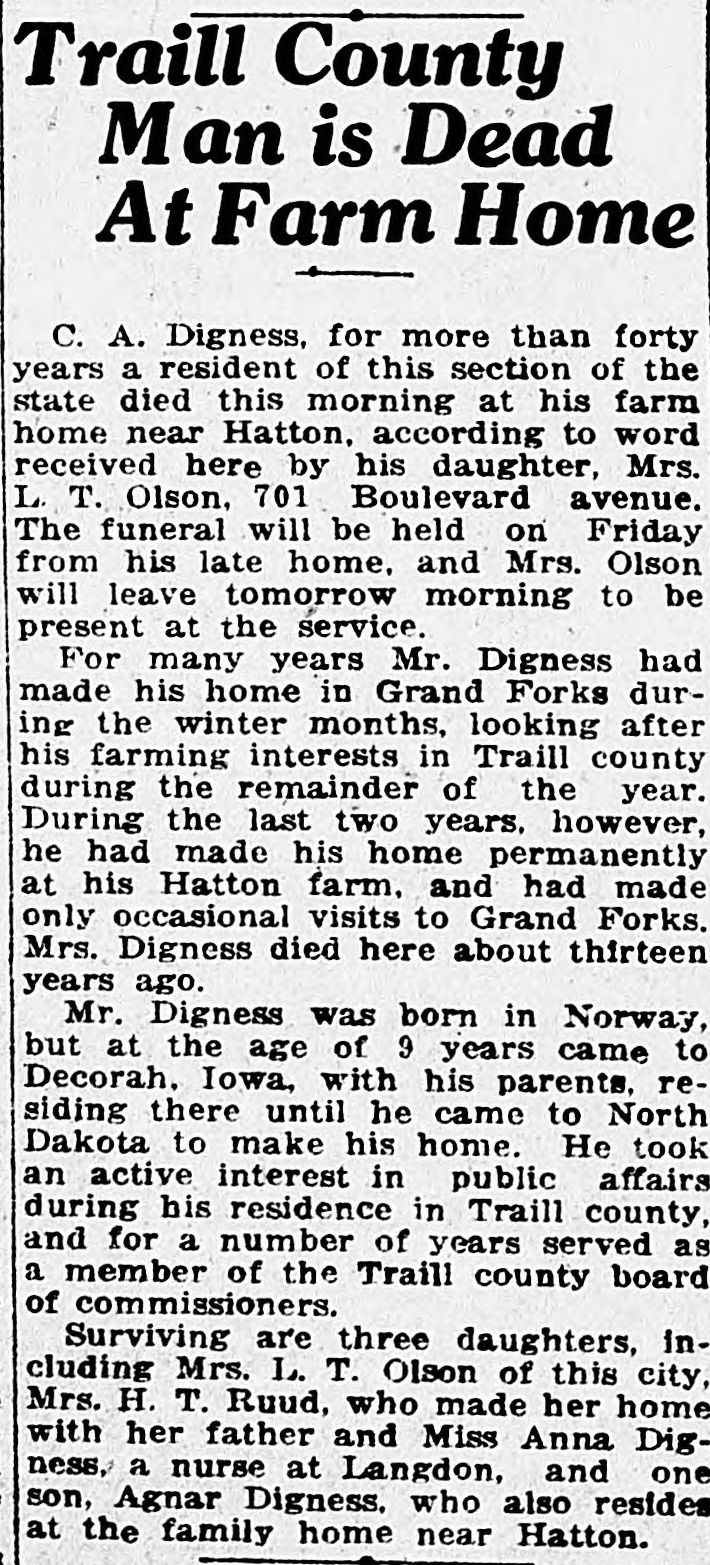 Note: Wife Mina, children: Selma O., Cornelia, Anna, and Agnar

Burial, Tombstone Photos

==========
Grand Forks Daily Herald
April 13, 1921

C. A. Digness Dies at Hatton




C.A. Digness, pioneer farmer of Hatton, N.D., and for ten years a resident of Grand Forks, died at 4 o'clock yesterday morning at his farm home, following an attack of pneumonia, according to word received here yesterday by his daughter, Mrs. Louis T. Olson. Mr. Digness was born in Iowa 68 years ago and 1878 moved to Hatton, being the second farmer to locate in that district. About ten years ago, Mr. Digness retired and moved to Grand Forks. He resided here until last year when he returned to his farm home. Deceased was an active member of his community, having held office as county commissioner and other similar positions in which he played an important part in building up the district. Surviving Mr. Digness are his thee daughters, one son and two brothers.

Contributed by Ardy Moe
. ==========
---
SAM DIGNESS
Sam Digness Dies of Heart Failure

Sam Digness one of Hatton's old settlers died Sunday night at the Commercial hotel of heart trouble. He was around and seemed as well as usual on Sunday evening, but when the girls at the hotel were fixing the rooms Monday morning he was found and an investigation proved he had died during the night. Mr. Digness would have been 51 years of age the 27th of March. He moved to North Dakota in 1881 and has resided here since then, during that time he has been engaged in farming and other lines of business. He prospered which placed him in comfortable circumstances, so that during the past few years he has been taking life easy and looking after his personal affairs. He leaves to mourn his death a wife and two children, besides an aged mother and three brothers, Martin and Eddie Digness both residing her and C.A. Digness who resides at Grand Forks. The funeral was held yesterday from the St. Johns church.
Grand Forks Herald, April 1911

Contributed by Ardy Moe.