PONY EXPRESS STATIONS
IN WHITE PINE COUNTY, NEVADA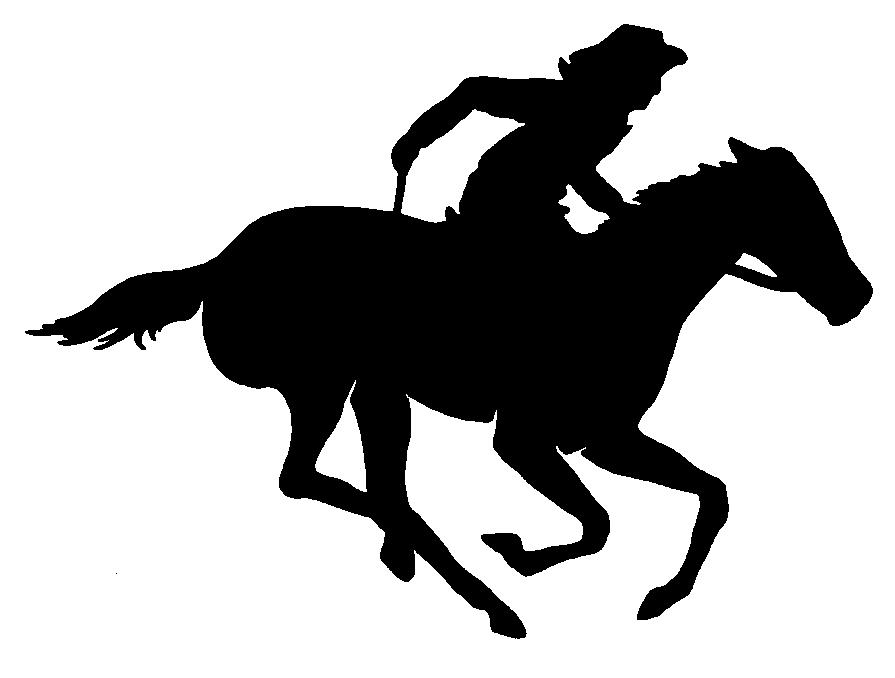 Most people believe the Pony Express lasted a long time but it was only in operation for a short 19 months 2 weeks and 3 days -- April 3,1860 to November 20, 1861. The trail through Nevada was called the Egan - Simpson Central Trail. The trail through the Ely District of the BLM was about 120 miles long and had up to ten stations.
Major Howard Egan, while scouting for the Mormon leader, Brigham Young, originally laid out the east - west trail which entered Nevada at Pleasant Valley. James H. Simpson, a Captain in the Corps of Topographical Engineers, was ordered to map a road from Camp Floyd in Utah to Genoa in 1859. He recommended that Egan's trail be used for future travel because it had a good supply of grass and water. This trail was later used by the Overland Mail and Telegraph Company from 1861 to 1869 using the old established Pony Express stations and the trail became known as the Overland Trail.

Pony Express stations in White Pine County, proceeding from the Eureka County line to the Utah border are:





Jacobs Well was a foundling way station for changing horses or mules on the Daily Overland Mail stage that started operations on July 1, 1861. John Butterfield's postal contract operations were relocated from the much longer southern Oxbow Route to the Central Route because of Civil War problems.

Although most of the history about this site is lost or not found yet in the sands of time, it is known the Station existed on July 13, 1861. This sole historic mention of Jacobs Well was made by Israel ben Joseph Benjamin, a German-Jewish traveler who was a passenger on one of the first scheduled daily overland stagecoaches.

A recent finding is that sometime between 1866 and 1869 Jacobs Well Station increased in importance and became one of the final division stations on the Overland Stage. Charles Haynes was assigned as the last Division Agent on the only remaining Overland Stage division between Jacobs Well and Schell Creek Station in Nevada. With completion of the transcontinental railroad in February of 1869, the Overland Stage ceased operations.

Jacobs Well Station was used for about the last five months of the Pony Express operation, but is especially noteworthy because it was used longer than any station of this era in Nevada! Jacobs Well's longevity was due to its' strategic location on the Central Overland Road within the South Fork Humboldt River drainage, also known as Huntington Valley.

With the discovery of the fabulous silver deposits in the White Pine Mining District, it also was used as a station during the worldwide 1868 "Rush to White Pine" on the only toll road from Elko to the new boomtown of Hamilton, Nevada. For a period of about six months unrecorded hordes of people visited this Station on their stampede to strike it rich at White Pine. Historical evidence indicates Jacobs Well Station was abandoned sometime after 1871 when White Pine mining operations had started their inevitable decline. Jacobs Well Station was gradually forgotten and faded away into the enveloping sea of sagebrush.

PROLOGUE

Through fortunate circumstances, as the result of an oil and gas exploration project and some detective work by government employees, Jacobs Well Station was found on public land in the Summer of 1992. The University of Nevada, Reno became interested in this almost pristine historic site, and with the joint commitment of the Federal and State governments, businesses, and volunteer workers an archaeological investigation program began in 1995 and continued in 1996 and 1997.

Other Pony Express and Overland Stage era sites that have been scientifically investigated have resulted in mere hundreds of total artifacts; the Jacobs Well collection, a perpetual public resource that will be available for display and scholarly research, numbers well over 5,000.

The artifacts at Jacobs Well Station represent the comforts of civilization that one could expect to find in a town in the 1860 to 1870 period. Until proven otherwise claim is made that Jacobs Well is and forever will be the most scientifically valuable station site of this era that has ever been studied! When a final year of excavation and subsequent study is completed at this site, enough information about this Station will be available to prepare publications for distribution to Pony Express enthusiasts and scholars.

The site sketch and photo shows the features at Jacobs Well Station that were investigated in the Summer of 1996. No well has been located on the site, but the bottom of a wood-lined earthen cistern has not been found yet. The main building was first thought to be a long, narrow structure built with rock; however, about midsummer as the archaeological excavation progressed it was determined the rock debris was from an immense collapsed fireplace.

The 16 by 25 foot building instead was constructed of vertical, wooden posts placed palisade-style that had been burnt off at ground level after the site was abandoned. There also is firm evidence that two blacksmith shops were located here at different times. The earlier blacksmith operation used charcoal produced in an earthen kiln at the site, while the more recent smithy had bituminous coal, most likely hauled in from the Elko railhead, to produce superior coke fuel for the forge.


"Uncle Billy" Rogers, a one-time scout and sheriff of El Dorado County, CA., built a trading post and planted a garden in Ruby Valley in 1859. The Ruby Valley post office was established in April 1862.

The Pony Express established their station here in 1860 and the Overland Mail & Telegraph Company also began using Uncle Billy's trading post as a station in 1861 until they ceased operating in 1869. The area has been referred to as "Fort Ruby" and "Camp Ruby."

Click on thumbnail picture for full view. It is very large and will take time to load

Ruby Valley, White Pine County, Nevada - Ruby Valley Pony Express Station - photo taken in 1944 - Only a small amount of ruins exist in 1998. Picture courtesy of Joe Nardone 5/2/98

Many Mormons grew barley, oats and grains, but charged prices that the Overland Mail Company chose not to pay, instead opting to grow their own grain for their stock on 1000 acres just east of the trading post. Potatoes, beets and other vegetables were grown on the company's farm for use of Uncle Billy's customers and the other stations on the east and west. Travelers were served baked goods, fresh meat, fish, fowl and vegetables and the Ruby Valley Station became one of the most popular rest stops between western Nevada and Salt Lake City.

The Overland Mail Company sold off the farm after 1869. The settlement of Hobson formed around the old Overland Mail Company's farm, which had become a large ranch and the Hobson post office operated between 1902 and 1914. Paher says the ranch uses a few buildings remaining from the 1860's for storage, but the barracks from the old fort were torn down, leaving only foundations to be seen. Rock ruins remain of the old Overland Stage Station and only a spring and historical marker show the site of the old Pony Express station.

A Pony Express Station added between Ruby Station and Butte Station in 1861 to support the Overland Mail and Overland Stage and the Pony Express. It operated 1861 to 1869. Rock foundation ruins and a well remain at the site.



There are two Butte Stations about three miles apart. The original Butte Station was built about 22 miles west of Cherry Creek by way of Egan Canyon. It was a station built by the Pony Express during the spring of 1860 and used until the route was changed by the Overland Mail in 1862. The site of the original Butte Station is known as Pony Springs on maps. The second Butte Station was constructed about three miles south of the original station.

The station's thirty-foot long walls were made of logs, sandstone and limestone compacted with mud. The roof was constructed by the use of split cedar trees. Porthole size windows supplied light. There was a corral made from rails and a shed of some kind.

While discussing the original Butte Station, Paher states, "A canvas partition cut the inside into unequal parts with one section containing two bunks, standing bedsteads of poles, all heaped up with ragged coverings, probably army blankets and buffalo robes. Underneath were saddles, harnesses and straps. Clothes and several sacks of grain and food kept off the floor by logs. The uneven unswept floor was a sea of mud in one corner because part of a spring oozed through one wall. A fireplace occupied half of another wall." Only the foundation remains.

The station was also used by the Overland Mail and Telegraph Company from 1861 to 1869.


EGAN CANYON - (1860-1893)


5 miles southwest of Cherry Creek. Named after Major Howard Egan. The Pony express station was located in the west end of Egan Canyon in T23N R62E Se1/4 of Section 15.

In 1865, Egan was a mining camp that contained stores, a blacksmith shop, post office, a school and several houses. In 1870, the town had 67 residents, including Andrus Davis, the telegraph operator.

Road building, recycling of building materials and mining operations have obliterated much of the site. The Egan Canyon Cemetery is located about one quarter of a mile away. Unique wooden grave fences joined with wooden dowels show the craftsmanship of the unknown builder. (see Ghost Towns) The Egan Canyon site is located on private property.

SCHELL CREEK STATION - Later called Fort Schellbourne (now known as the Schellbourne Ranch) -

Fort Schellbourne is located south of the Cherry Creek road at the junction of US 93 and S. R. 2, then 3 miles east. 39 miles north of Ely in Steptoe Valley.

The area may be named for Major A. J. Schell as Schell Creek was named before the Station was built by the Pony Express. This section of the country has a long history of Indian fighting, and first served as a Pony Express Station; later as a fort for the US troops. Many buildings were moved to Cherry Creek. Schellbourne now serves as the headquarters for a ranch. A small cemetery lies near the ruins of the town with Burke family members and three men who were murdered in 1865 interred in it. Pictures and picture links can be found on the cemetery page.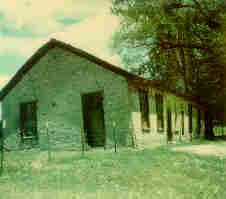 This building has been identified as perhaps being the old Schellbourne Post Office, far back right.
Photo courtesy of Sunny Martin.

ANTELOPE SPRINGS STATION
- This Pony Express Station is located on private land. A rock outline of the building remains.
A rock outline of the building remains. This Pony Express Station is located inside the present-day Goshute Indian Reservation.
---
Links to Pony Express related pages
Pony Express Home Station
by Tom Crews - an excellent, informative Pony Express site. It has information regarding all aspects of the Pony Express and should not be missed.
Pony Express Stations in Nevada
White Pine Cemeteries and Burials
---
White Pine Historical & Archealogical Society


White Pine Historical and Archaeological Society
P.O. Box 1117
Ely, NV 89301

webpanda.com
Pages designed by
Shaputis Enterprises