The Unfortunate Death of Charles Story
In West Exeter, Otsego County, NY
January 7, 1899
by Margaret Bornick
October, 1997
Charles Story was a man of known "intemperate habits." Orville Ford, a former landlord, testified that "he has seen him in a state of intoxication on several occasions. That when intoxicated he was rather talkative but not vicious, but still rather surly." Story was seen at Wolcotts Hotel on the evening of January 6,1899. He may have been drinking that night. When he left the hotel Story went to several nearby houses banging on doors and windows and asking for water or a lantern or for directions to the post office. As he stood near the home of my Great Great Grandmother, Charlotte Rose, Story was fatally wounded by a shot fired by Walter E. Geer. This tale is gleaned from testimony given to the Otsego County Coroners Jury convened on January 8,1899, to investigate the incident.

Charlotte Rose and her granddaughter, Aline Rose, lived alone in the house. Aline was badly frightened when a prowler began rattling the door and knocking at the windows of her home. While her grandmother was ordering the man away, Aline left the house and ran for help to the home of LaFayette and Irene Gates next door.

Mrs. Irene Gates had been disturbed several times by the prowler. She testified that she awoke her husband shortly before 11:00 p.m., telling him that a man was trying to get into the house. LaFayette Gates was quite deaf so he had not heard the disturbance. Mrs. Gates feared that her husband's deafness would prevent him from hearing a prowler approach in the dark. She went across the road to the Walter Geer home, tapped on the window and "called Mr. Geer up." She then crossed the road to Grandma Rose's house, and spoke with her briefly before returning to her home. Aline was still at the Gates home with their daughter-in-law, Hattie. After the gun shot was heard, Aline attempted to return home. She was so badly frightened that she ran back to the Gates house. Mr. Gates then accompanied her to her Grandmother's.

Mr. Gates saw a man sitting beside the road and "supposed" that someone had been shot because a gun had been fired. He went to the Geer home and said to Geer, "if that man has got hurt you had better go down and let Amasa know it and come up and take care of him." Mr. Geer replied, "Have I got to go down a foot?" So Mr. Gates returned home to get his horse and cutter. According to Mr. Gate's testimony, the horse was not willing to work at midnight on a cold January night. "The horse got away from us and went out of doors," Mr. Gates testified. "The horse went down to Joe Allen's and I caught it in back of Mr. Reed's house." Mr. Geer did not take part in the chase; he was waiting at his house when Gates and the reluctant horse arrived.

The two men drove to the home of Amasa G. Dyer, deputy sheriff and constable of the town of Exeter. At first Amasa Dyer was reluctant to go out at 2:00 in the morning chasing a drunken man. This was his third call in a week and both previous times, the disturbance had ended by the time he arrived. When he learned that a man had been shot, however, his attitude changed. The Sheriff testified, "I asked him if he left a man in the snow such a night as that was and come down there and leave him, I told him if he had and if he didn't have 'sand enough' to carry him in, I would go up and take care of him." Then he ordered the two men to help him hitch his own horse and followed them back to town.

By this time Walter Geer had become "scared and nervous." He was unable to help move the injured man, so Dyer and Gates lifted Story into the cutter themselves, and drove him to the hotel barroom. The hotel owner, Mr. Jerome Wolcott, helped the Sheriff take the victim into the hotel, where they built up the fire and covered him.

At 7:00 in the morning, Dr. L. M. Day was summoned. Dr. Day ordered the victim taken to a room, where he examined the wounds. The doctor administered some medicine, gave him an injection of brandy and removed two superficial shot. By Sunday evening, Story was dead. The doctor later testified that several of the shot gun pellets could have been lethal; one had entered his brain and another his heart.

Walter Geer was arrested and taken before the justice of the Peace on Saturday Morning. He waived examination and was committed to custody of the Otsego County Sheriff, in Cooperstown, to await action by the Coroner's jury. He freely admitted shooting toward the man and pointed out the spot. "Here is where I stood when I shot," he said. "This fellow was up there," and he pointed toward the school house ground," He said that it did not seem as though a shot would hurt him up there."

The coroners jury convened, taking testimony on January 8,10 and 11. They concluded that Charles Story, "then and there lying dead. . . came to his death on the 7th day of January,1899, at West Exeter, at the hotel of Jerome B. Wolcott, that the said Charles Story came to his death from wounds inflicted by shots fired from a gun in the hands of Walter Geer, which shots entered the head and heart of said Charles Story, deceased, and was the immediate cause of his death."

A transcript of these proceedings and the testimonies was given to me by Norma Parker of Burlington Flats. Both Aline Rose and Charlotte Rose were called to testify. This is the transcript of Charlotte Rose's testimony:

Mrs. Charlotte Rose, called and sworn, says:
I reside in West Exeter. I am a widow lady and am seventy four in March. My family is composed of myself and my granddaughter who boards with me, her name is Aline Rose. I remember what occurred on the 8th of January, relative to a man being injured. There was a man that came to my door about ten o'clock in the evening and stumbled around on the piazza for quite a while, then I spoke and asked what was wanted and he asked if I would not open the door and give him a drink of water. I told him that I did not have any water in the house for him. He was around for quite a while, he would be still for a (ittle while and then he would go away and come back again. He opened the screen door and then shut it again, could not say whether he did it on purpose or not. Then he was away for quite a little while, then he came back again, shook the screen door quite a little. I asked him what he wanted, and to go away that he had been there long enough. He did not make much of any reply, not that I could understand, he sort of rambled away at something, but could not understand what he did say. Then he came again and he asked where the post office was. I told him it was right straight ahead. He kept still a few moments and then asked me how far it was. I told him I had never measured the distance, but to go right straight ahead and he would find it. He then went away and not come back again. I should think the last time he went away was somewhere between eleven and twelve. My granddaughter, Miss Rose was there in the first of this, she was very badly frightened, she wanted to go for Mr. Gates and I told her no, that I am not afraid, the house is locked up and he could not get in and he did not act as though he would try to break in. I think when the screen door was shook she went without my knowing it, I did not know that she went until Mrs. Gates came over. I supposed she was in the bedroom. Mrs. Gates came in and said she was most scared to death, I asked her what she was afraid of. She said that she got Gates up that he was in bed, she wanted him to go after Geer, but he was so afraid that he would not go and wanted her to go. She said they came out and she went over to Mr. Geer's window and woke him up. Then she said she thought she would come over and see if I was afraid, I told her that I was not, I asked her where her daughter-in-law was and she said that Aline was over there with her, that was the first I knew that she had left the house. Mrs. Gates only remained a few moments and then went out. I did not see any man, but after Mrs. Gates had been gone a few moments, Mr. Gates came to the house to see if his wife was there. Mr. Gates went out and down to the road, l said to him that I had not seen the man, but guess he has gone and he says he stands down here in the gate. There was another man that stood down in the road. My grand daughter was not home then. When Gates said that, he was just going off the piazza. then I saw that there was a man out by the gate, and it looked as though there was a man in the gate and another in the road. I came in the house then and that is the only time that I had the door open only for them to come in. My grand daughter did not come home until twelve or after. She came back across and Mr. Gates came with her with a lantern, came to the back door. After Gates left my house and before my grand daughter came back I heard a shot fired. That was not but a little while after Mr. Gates went, perhaps five or ten or fifteen minutes. I don't think the shot was fired within five minutes. I think it was at least ten or fifteen minutes. I did not get up or look out when I heard the shot fired, but I heard three dreadful groans very soon after the shot was fired. It was not very long after I heard these groans that my grand daughter Aline came home, perhaps ten minutes. I did not get up, but set there in the chair. When my grand daughter came home I told her that I had heard a shot fired. She said that she had heard one too. She said that a man had been shot at, she did not say who told her that, she said that she was coming by the road but she heard that the man laid out there and so she came across. I did not see the flash of the gun that night. I think that I said that the man had no business in my gate way and had no business there that time of night. I think I said that when Mr. Gates went away. I did not hear any remarks made by any one else only as I have testified to, did not watch to see what was going on. I have stated all that I saw and heard that night. I never saw Geer that night or spoke to him. I did not identify the person in the road at the time that Mr. Gates went out of the house. I knew that they had been to call Geer.

Taken, subscribed and sworn
to before me this 11 th day
of January,1899
B. F. Bishop, Coroner

Charlotte( X - her mark) Rose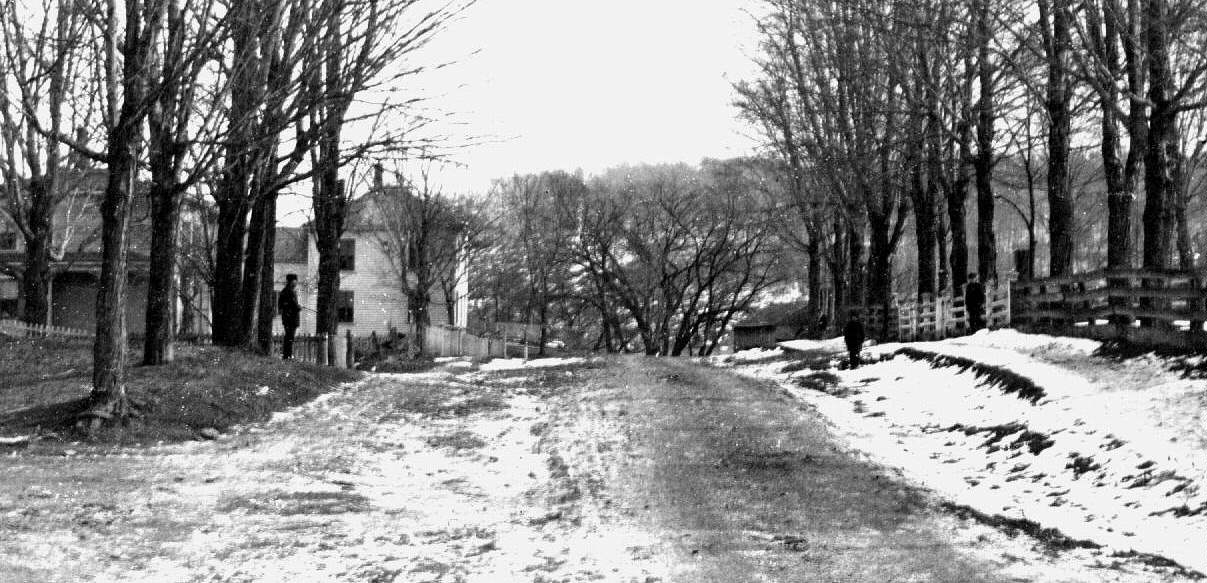 W.A. Morrison stands (left) where Walter Geer stood when he shot Mr. Story. Isaac Dyer stands at Charlotte Rose's gate. Florence McLaughlin stands where Mr. Story fell after he was shot.
Photo and story courtesy of Margaret Bornick, Clinton, NY
Return to Otsego Co page