Dewitt Clinton Colman
Biography
Contributed by Sara Campbell


 
Dewitt Clinton Colman was born in Springfield, Otsego County, NY about 20 December 1822.  
He was the only son of Horace Colman and Mary "Polly" Main.  His namesake, Dewitt 
Clinton, was prominent in New York State politics during that time.  He was mayor of 
New York City from 1803 to 1815; spearheaded the construction of the Erie Canal from 
1809 to 1825; was an unsuccessful candidate for President in 1812; was governor of 
New York 1817 to 1822 and 1825 to 1828; and was responsible for establishing the 
public school system throughout New York State. We don't know if one or all of these 
achievements appealed to his parents when the name was chosen.

Dewitt was of "Yankee" stock, the Colman family having been in Massachusetts since at 
least the early 1700's and the Main family in Stonington CT before 1670.  Dewitt's 
great-grandfathers, Job Colman and Peter Main, fought in the Revolutionary War.

Dewitt's sister Cynthia M. was born in 1828.  This is also an uncommon name in their 
families.  In 1830 they lived near Dewitt's grandparents Samuel and Abby Colman, who 
had settled in Springfield around 1794, along with his father and uncles Franklin, 
Hamilton, Homer, and Nelson Colman. His other grandfather, Joseph Main, appears on 
the same census page as well. 

The 1840 census indicates two young girls in the household. No information has been found 
on the other child, and names of children were not recorded on the census until 1850. 
 She does not appear on the 1850 census.

Dewitt's mother, Mary Main Colman, died on 23 January 1844, when he was 21 years old.  
She was buried in the Drake family cemetery on Thurston Hill, overlooking Otsego 
Lake.  Before the year was out, Dewitt married in November Mary Haith or Heath, a 19 
year-old Springfield resident, born in Lincolnshire, England.  They began their 
family in Springfield.  Children included:

	Mary				b. 1845
        Joseph			       b. 23 April 1847		
	John Herbert	 	    b. 5 October 1851
	Lucien & Lucius, twins	 b. 31 March 1854

By 1850 the extended family had separated as children grew up and moved on.  Some headed 
west to Ohio and beyond.  Dewitt was a "laborer" living next to his father Horace in 
Springfield, probably further south near Otsego Lake, according to the census 
records. Before 1850 Horace had remarried widow Nancy Delmater.  On one side of 
Dewitt's family were Horace, with his new wife and step daughters.  On the other side 
were sister Cynthia and her husband Erasmus D. Cotton, and their two children Mary 
and Richard.  Thayer families lived on either side of them.  

About 1854 the growing family moved to Cooperstown, in the town of Otsego.  The 1855 
census lists their five children, and Ann Heath, dressmaker, Mary's 17 year old 
sister.  She later married Tunnis V. Leroy.

More children were born in subsequent years:

 	Horace		          b. 4 April 1856
	Fenimore                 b. 2 May 1858
	Alice Worthington   b. 6 August 1860
	Ellen		            b. 22 November 1861
        Edith		            b. 22 November 1862		
	Charles Gregory      b. 15 May 1864

The children are listed in the records of Cooperstown's Christ Church (Episcopal.) Edith 
died as an infant on 14 June 1863 of scarlet fever.

The family operated a saw mill on the Susquehanna River at Mill Street.  Dewitt's 
occupation is listed on the 1860 census and following years as "sawyer."   The 1868 
DeBeers Atlas shows the family home on First Street, now River Street, near the 
Otsego town line, which had been bought from William Schmidt late in 1867 for $1,000. 

In 1870 Dewitt bought land from Dorr Russell in Middlefield, just across the river from 
the village of Cooperstown. His holdings included a 4.5 acre parcel on the east side 
of Brooklyn Avenue and 18 acres on the west side, abutting the Susquehanna River.  

Dewitt's oldest son Joseph died 17 June 1869 of inflammatory rheumatism.  At 22 years 
old, he was also working at the mill. 

In the 1870 census, mother-in-law Sarah Heath was living with Dewitt and Mary, upon the 
death of her husband George.  Daughter Mary had married George Becker in 1865 and was 
listed next on the census form with children Carrie b. 1868 and later Lucy b. 1873.  
Sarah Heath/Haith died in 1874 and was buried in Springfield Center.  

Dewitt is listed in the 1872-3 County Directory as head sawyer with Johnson Brothers.  
When the property was sold by Francis Johnson to the Cooperstown Aqueduct Association 
(water department) in 1879, the sale was subject to the lease to D. C. Colman.  

In 1880 sons Lucian and John were married and lived nearby, Alice had probably married 
and moved out, and the remaining four children still lived at home. One of the 
daughters became "Mrs. Nathan Smith."  The 1880 census includes neighbors Dorr Russel 
and Dennis Heath as well as son John Coleman and his family, which included Dewitt's 
father, Horace.  Dewitt and sons John, Horace and Fenimore all listed their 
occupations as "sawyer." Dewitt's father, Horace, died in 1884 and was buried in 
Lakeview cemetery on the east side of Otsego Lake.  

Baseball must have played an important part in their recreational life.  Son John was 
said to be the only pitcher in the county to throw a curve ball, and he and his 
catcher, Horace, were asked to try out for the Philadelphia Athletics in the 1880's.  
Fenimore was also on their team, which played games on the field adjacent to their 
homes.

In 1892 Dewitt and Mary lived with son Charles, his young wife Mattie and son Albert.  At 
that time sons John, Horace, and Lucius were all neighbors.

Dewitt and Mary celebrated their 50th wedding anniversary at a party in 1894.

Dewitt died on 13 July 1896 in Cooperstown at the age of 74. The cause of death was 
carcinoma of the face.  His occupation is listed as "farmer" on his death 
certificate. His land was transferred to his son Fenimore. He was buried in Lakeview 
cemetery. Mary died four years later.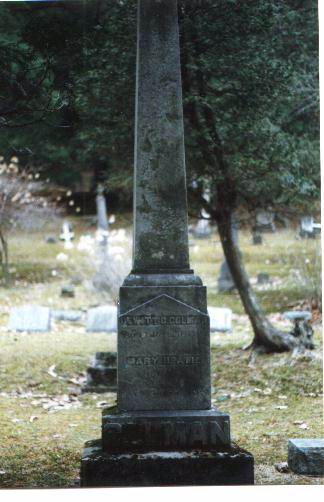 Photos courtesy of Sara E. Campbell