A Complete Surprise
From the Oneonta Star - 1903
Laurens, July 31 - (special) - No jollier party ever were up the line than the company of ladies from Oneonta and Laurens who went by trolly to Schuyler Lake, last Tuesday morning, upon invitation of Fayette Allen, to participate in a surprise party for his wife, who had been visiting her parents, Col. And Mrs. J.S. Kidder, and was to return home that morning.
Mrs. Fon Richmond Miller of Springfield, Mass., Mrs. Kit Barton Lane and Mrs. Lelia Mead Champlain of Oneonta, Mrs. Met Allen Strong of Los Angeles, Cal., Miss Ida M Babcock of New Rochelle, and Mrs Clara Kidder Ainslie and Edna Clark Johnson, Mrs. Nancy Wright Cooley and Mrs. Lizzie Darroch Pixley of Laurens were the laadies - all former schoolmates and chums of Mrs. Mate Kidder Allen. E.A. Strong of California and D.D. White of Kansas were allowed to accompany the party on sufferance, as they wished to go so badly, and Gib. Lane of Oneonta ventured to put in an appearance later for one square meal.
Fayette Allen originated and consumated the surprise. His wife arrived on the next car to find a table on the lawn covered with all the substantials and dainties for a feast which, her husband informed her, was for a Junior Leaque picnic. The guests had all retired to a rear room and no one appeared until she had seated hefself to inquire about the Junior League. Then, one by one, at intervals, they came into the room, each one a greater surprise, until Mrs. Allen could only gasp in astonishment.
As a caterer, Mr. Allen was a success, and the dinner and supper will go down into history. No one could resist the temptation to eat and eat until further eating became an impossibility. Then the ten ladies were weighed and the aggregate weight was nearly a ton, the champion light weight tipping the beam at 102 pounds and the heaviest lady weighed only 240 pounds before supper.
Fayette Allen set out to surprise his wife and he did surprise her so completely that we doubt is she has recovered from it yet.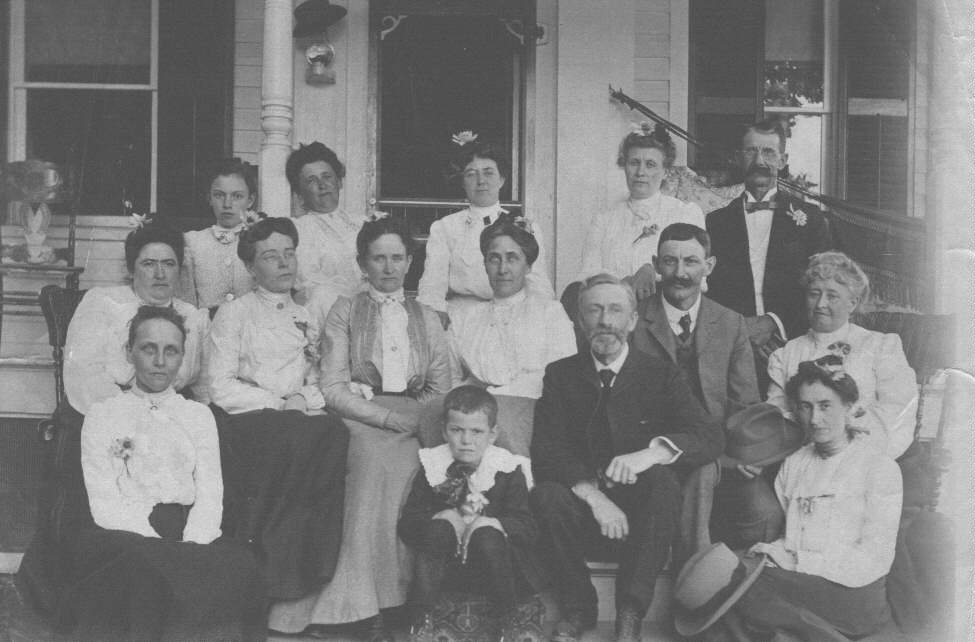 Back: Harriett Allen, Kit Barton Lane, Fon Richmond Miller, Nancy Wright Cooley, Duane D. White.
Middle: Lelia Mead Champlain, Met Allen Strong, Mary Kidder Allen, Ida M. Babcock, Fayette Allen, Clara Kidder Ainslie.
Front: Edna Clark Johnson, John Allen, Ed Strong, and Lizzie Darroch, Pixley.

Otsego County Home Page