SHACKELFORD COUNTY DATA
SHACKELFORD COUNTY HISTORIES
Shackelford County USGenWeb Archives

SHACKELFORD COUNTY LINKS
NEIGHBORING COUNTIES
SUGGESTED LINKS
County Pages are maintained by volunteers. We occassional have counties that are in need of someone to maintain it. To see a list of these Counties go to Orphans List If you wish to adopt one of these counties, please contact Shirley Cullum.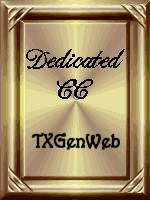 County Coordinator: Gayle Triller
TXGenWeb State Coordinator: Shirley Cullum
TXGenWeb Asst. State Coordinator: Elaine Martin
TXGenWeb Asst. State Coordinator: Jane Keppler
Copyright © 2011 to present by the TXGenWeb Team. All
rights reserved. Copyright of submitted items
belongs to those responsible for their authorship or
creation unless otherwise assigned.