TXGenWebProject

USGenWebProject


Texas County List


History of the TXGenWeb

---
My name is Gayle Triller and I am your county coordinator for Edwards County Texas. I do not live in Texas so don't have the ability to do research for you and any data I get my hands on will be placed on the site as quickly as I can. If you have information or data you would like to donate to this page please email me as I would really like to put as much data as possible here for the use of all ourresearchers. You will be given full credit for what ever you donate.
---
Queries
---
---
Edwards County Data
Confederate Pension Applications
---
Edwards County Information
Family Group Sheets/FamilyGroupSheets.htm - Submit and view Family Group Sheets
---
Edwards County Links
---
Please use our new search engine to search for your Edwards County Ancestors
You are our[an error occurred while processing this directive]
visitor, thanks for stopping by.
Search Engine Optimization Company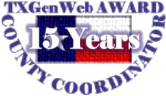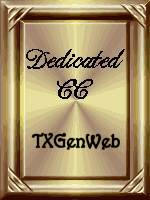 Last Update Friday, 09-Jun-2017 21:21:13 EDT
County Coordinator: Gayle Triller
TXGenWeb State Coordinator: Shirley Cullum
Copyright &copy 2016 by the TXGenWeb Team. All
rights reserved. Copyright of submitted items
belongs to those responsible for their authorship or
creation unless otherwise assigned.