Moran
"The Town of Three Names"
| | | |
| --- | --- | --- |
| Hulltown 1883 | Hicks 1890 | Moran 1892 |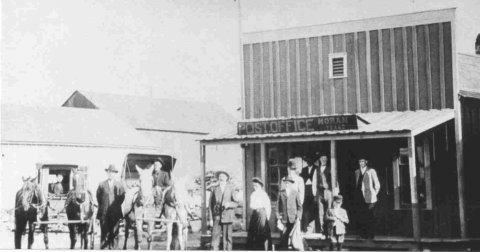 Moran is a small town located in the southeastern corner of Shackelford County at the juncture of Texas State Highway 6 and Farm to Market Roads 576, 2408, and 808. It is fifteen miles southeast of Albany, eighteen miles northwest of Cisco, and about fourty miles east of Abilene. Moran is sometimes referred to as "The Town of Three Names". The town's beginnings date back to 1883 when George Washington "Swope" Hull and Mary Maria (Devier) Hull, a pioneer couple from Highland County, Virginia, and their children, arrived at the future townsite, which was located on a small hill between Deep Creek and Post Oak Creek. The family had first moved to Greenwood County, Kansas in 1878 with Mary's parents, Mr. and Mrs. Ewing Devier. Five years later, the Hulls were in southeastern Shackelford County, Texas.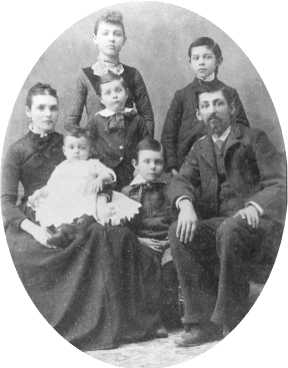 Moran's Founders: The Hull Family
No one yet knows the reason why the Hulls decided to settle there. They established a general store at the crossing of Deep Creek and the Texas-Central Railroad (which later became part of the Missouri-Kansas-Texas Railroad). As more settlers arrived in the area, Swope and Mary bought 160 acres of land on the hill near their general store, had the land surveyed, and began selling lots. Soon, there were enough people there to establish a post office and Swope was appointed postmaster. The new town was named Hulltown in honor of Mr. and Mrs. Hull. Although their business prospered at first, the Hulls began having problems with people who would purchase items on credit and never pay up. Their general store was supposedly closed later because of this, but in 1888 a store known as the Hulltown Farmer's Alliance Store may have been a continuation of the Hulls' store. According to land documents, Swope and Mary and their children continued to live in Hulltown until 1889, although Swope was replaced as postmaster by Thomas Jefferson Ground in 1884. Also in 1884, all the lots not yet bought in Hulltown were sold by the Hulls to Benjamin "Bem" and Frances De Wilton (Robinson) "Fannie" Scott, a couple from Missouri. After 1889, the Hull family first moved to Olympia, Washington and later to Oakland, California. Swope died in 1911 and Mary died in 1929, both buried in Mountain View Cemetery in Oakland.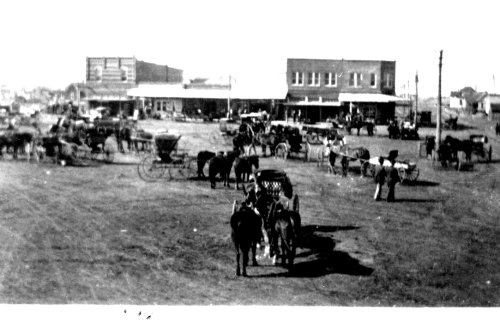 Looking north on Moran's Main Street in the early 1900's
Bem and Fannie Scott, along with their three young daughters: Imogene, Sallie, and Marguerite, probably lived in Hulltown for a couple of years after they bought the town lots from Swope and Mary Hull in 1884. In 1886, Fannie died and was buried in San Diego, California. Unable to properly care for his daughters, Bem decided to let them live with Fannie's parents, John and Sallie Robinson, both prominent lawyers from Columbia, Missouri. Bem was a wealthy man, having inherited the estate of his uncle, Job Nash, a real estate developer from Cincinatti, Ohio. According to Bem's grandaughter, Marguerite Whitecotton Galan, her grandfather wandered around the country the next few years. With the money he had, he made numerous investments, some good some bad. He would later buy a ranch in Uvalde County, Texas and, for a short time, even entered the business of raising honey bees.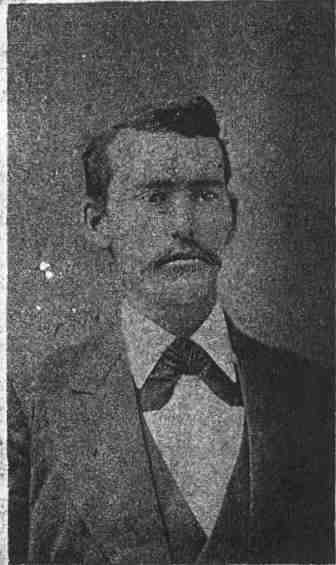 Bem Scott
In 1889, Bem was convicted of murder in Saint Joseph County, Indiana and was sentenced to five years in State Prison North in Michigan City, La Porte County, Indiana. Three years later, Bem was pardoned, suggesting that he didn't commit the murder after all. During the time of his imprisonment, John Robinson filed for guardianship of Bem's daughters and their one half interest in the town of Hulltown. The town was starting to grow and for some unknown reason, in 1890, the town's name was changed to Hicks. By the end of the year, Bem sold his remaining interest in the town to M. D. Bray, a well known citizen of the town. During this transaction, Bem was still in prison. After he was pardoned in 1892, Bem apparently traveled around the country some more and eventually bought his ranch in Uvalde County, Texas. After he sold the ranch in the 1920's, Bem returned to San Diego, California to be near his three daughters, who were all married and living there. By this time, his health began to fail. He later died in 1926 and was buried in San Diego's Mt. Hope Cemetery.
| | |
| --- | --- |
| | Looking south on Moran's Main Street in the early 1900's |
Once M. D. Bray had bought the remaining town lots from Bem Scott, it was decided that the town needed a new railroad depot. The Texas-Central Railroad agreed to fund the contruction of one if the town's name could be changed again. Hicks was apparently a name that was similar to another town along the route, which would cause problems with telegraph lines, mail, etc. The townspeople agreed and the name was changed a final time to Moran in 1892, in honor of John J. Moran, who was the majority stockholder of the Texas-Central Railroad. The railroad was pleased with the new name and the new depot was constructed.
Moran's Railroad Depot
Over the next few years, Moran remained a small, but growing, farming and ranching community. But in 1910, all that changed when natural gas was discovered in the Moran area. Known as Cottle No. 1, this gas well was the first natural gas discovery in the region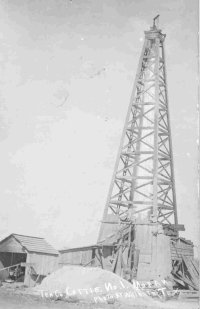 Cottle #1 Gas Well in 1910
and Moran became the supplier of gas to many area towns. Three years later, oil was discovered with the Edwards No. 1 well. The oil boom, which brought thousands of people to town, lasted through the 1920's and Moran became known as "The World's Greatest Shallow Oil Field". However, the boom was over by the 1930's and quickly Moran returned to being the small, quiet farming and ranching town that it had been before the oil and gas were discovered.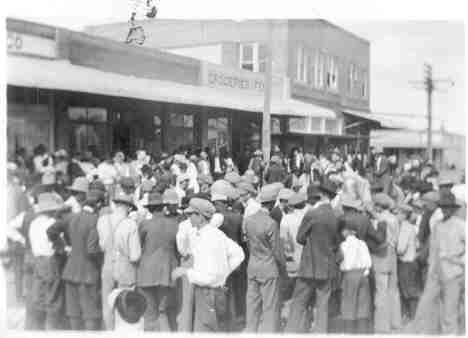 Downtown Moran in the 1920's
| | |
| --- | --- |
| Moran Jail | |
Last Update Saturday, 19-Jan-2013 13:22:18 EST
County Coordinator: Gayle Triller
Copyright &copy 2013 to present by the TXGenWeb Team. All
rights reserved. Copyright of submitted items
belongs to those responsible for their authorship or
creation unless otherwise assigned.