Philip Walker Hemphill
Submitted By Zoe Tom at zoetom@cox.net on October 24, 2006
Philip Walker Hemphill was born 25 Sep 1804 in Chester County, South Carolina, and he died 2 Apr 1862 in Carroll County, Mississippi. See the Myrtle Hill Cemetery. He and Elizabeth Cunningham had five girls, according to their Bible records: Margaret Jane Hemphill b. 17 Oct 1834 d. 3 Jul 1837, Esther Agnes Hemphill b. 2 Nov 1836, Nancy Rebecca Hemphill b. 13 Jul 1838 d. 6 Jul 1866, Cynthia Adeline Hemphill b. 27 Jun 1840 in Rome, Georgia, and Mary Elizabeth Hemphill b. 5 Sep 1842. Cynthia married Hobart Doane Shaw on 18 Jan 1866 and inherited the family home from her father in Carroll County, Miss., where they moved from Georgia. There is a picture of the home on the Internet. Hobart Doane Shaw, Sr., had two wives: 1)Matilda Celeste Drane and 2) Cynthia Adaline Hemphill. Hobart Sr. was born in 1836 and died in 1909, according to a descendant. I have a birth date for him of 6 Apr 1835, which probably came from the Bible records. The Myrtle Hill Cemetery may hold additional information. How can I access those records?
Zoe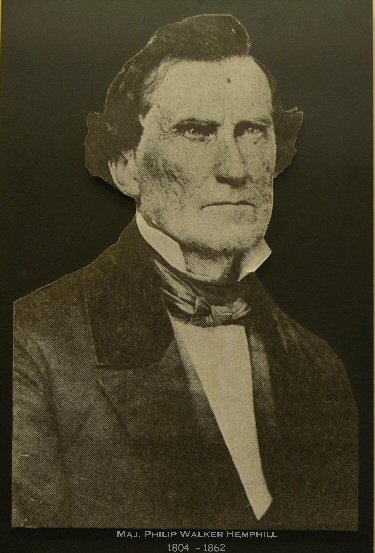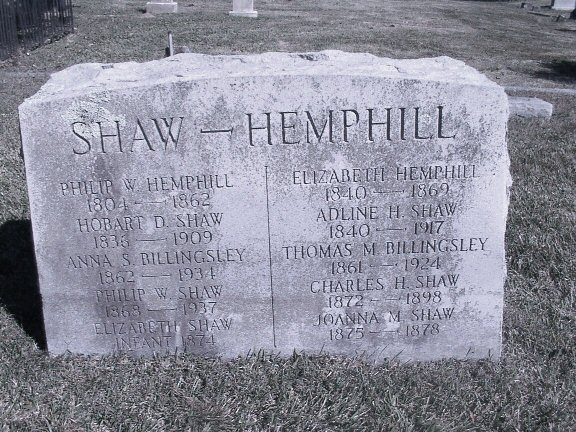 Photos contributed by Paul H. Shaw
Major Philip Walker Hemphill is buried in our family plot in the Evergreen Cemetery in North Carrollton. I've included a photo of the stone. Two of his daughters, Elizabeth and Adline (Adeline) Hemphill are also in that plot. Adeline married my great grandfather Hobart Doane Shaw I. He is buried in the plot. Thomas Martin Billingsley is the husband of Anna Shaw; both of their names are on the stone. The others are children of Hobart and Adeline.
I am sending Major Hemphill's photo because he was an influential person in early Mississippi and Georgia history, being a co-founder of Rome, Georgia and a planter of some success in the Mississippi delta country and a figure in early Mississippi politics.
The photo of Maj. Hemphill is one I took of an early daguerreotype which hangs in the Rome Area History Museum in Rome, Georgia.