Church and Cemeteries...

Church's and Cemeteries of Carroll County, Mississippi

---

McEachern Cemetery

McEACHERN, Daniel
b. Dec 9, 1800
d. Jun 6, 1860
Aged 59 yrs 5 mos 27 days

McEACHERN, Mary
b. Sep 27, 1811
d. Aug 17, 1903
Aged 91 yrs 10 mos 20 days

McEACHERN, John D.
b. Oct 29, 1830
d. Jun 30, 1897

McEACHERN, Robert S.
d. Jul 17, 1907
Cpl. 30 Miss Inf CSA

McEACHERN, Paul
b. Feb 1, 1876
d. Dec 11, 1877
Son of M.A. & F.E. McEachern

McEACHERN, William H.
b. Sep 5, 1878
d. Nov 17, 1884
Son of M.A. & F.E. McEachern



Large Stone erected in cemetery, engraved as follows:

Sacred to the memory of Mrs. Mary McDougal McEachern, born Tennessee Sep 27, 1811, died Carroll Co. Aug 17, 1903, married Daniel McEachern at Union Church, Jefferson Co. MS, 1827 and moved to Carroll County where she lived 74 years. Mother of five daughters and six sons. Was one of the organizers of Shongolo Presbyterian Church in 1837 and of seven other Presbyterian churches, in her day. Visited Shiloh battlefield, on horseback in 1862 and visited Vicksburg during the siege in June 1862.



Carroll County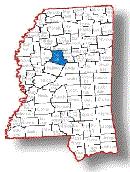 Coordinator:
I am John Hansen, volunteer County Coordinator for Carroll County, Mississippi. I have family lines from here and hence my interest in establishing as much information as possible on early Carroll County History.

Web Site:
The Carroll County, Mississippi Genealogical and Historical Web Site was brought online in 1998, and is sponsored by the MSGenWeb Project, a part of the USGenWeb Project.

This website has been developed to provide research and family history resources for Carroll County, Mississippi ancestry.

New resources are added as made available, so check back often for new content.