---
JAMES BENNETT GAYTON



From Linton Record [Currently Emmons County Record]
By D. W. Casey
Published date unknown but probably circa 1933



"Horsehead Valley [Note: in Emmons County] was named by the Sioux Indians, about one hundred and fifty years ago.


They tell the story of being camped in winter quarters on the east bank of the Missouri River, at a point now described as Sec. 36-133-779[sic] [Note: probably Section 36, Township 133, Range 79], the William MacNider Ranch. It was in the month of February as the story goes that they heard a great noise as of an approaching storm. The earth trembled and when they looked in the direction from which the noise, they saw what appeared to be a great cloud.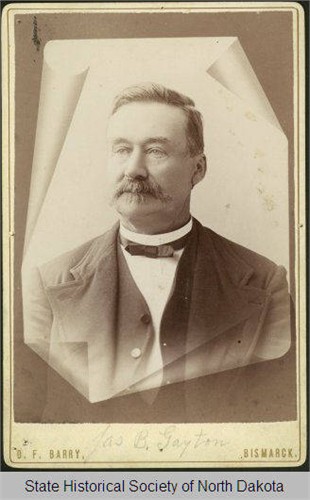 It was an ice gorge that had broken. As it reached the point where they were camped, the Indians climbed trees to get away from it. The water and ice rose to such a height that it overflowed the bank and drowned all their ponies and destroyed their belongings. Later after the water had receded, they picked the bones up and stood the horses heads around a large tree nearby and called the place "Horsehead."


James B. Gayton, one of the county's organizers and members of its first board of county commissioners, came into the territory as early as 1868. In 1883 he kept an Indian trading store at the same place where the Indians had camped a century before. He was one of the first white settlers in the Horsehead Valley, locating there in the seventies. Mr. Gayton was born in Cleveland, Ohio, Nov 10, 1833, was also educated there and while attending college was a classmate of James A. Garfield, who was elected president of the United States in 1880. After finishing his education, Mr. Gayton went into Iowa and helped survey the greater part of the state. He also worked at logging and lumbering in Wisconsin. He then went into Nebraska and was married to an Indian woman of the Sioux tribe and raised a family there, but only one of the children, a Mrs. Ross of Pine Ridge, So. Dak. [Note: probably Maggie Red Crow or Maggie Ross Croes, born 1858 in North Dakota] is still living. He came to Yankton and went up the river to Fort Rice, where he served as a commissary clerk in 1868. He was married again at Fort Rice to a second Indian woman of the Sioux tribe who raised him a family of eight children of whom six are still living.


In 1874 in company with Andy Marsh he operated a wood yard at Glanovan Emmons county to supply the steam boats. Later they had one below the mouth of the Cat Tail Creek and a third one on Horsehead Flat. Andy Marsh and James Gayton lived together in one house. Marsh married to a Ree [sic] [Note: probably Cree] and Gayton to a Sioux. One day while Mr. Marsh was out walking with his wife, unarmed, a Ree [sic] Indian sneaked up behind them and shot her off his arm. She was buried on a little knoll close to their home. More on Marsh.


After the Northern Pacific railroad had been built into Bismarck, a mail line was established from there to Winona, with several post offices along the way, one of which was named for Mr. Gayton. The school district and voting precinct was also later named for him.


Mr. Gayton lived in Horsehead for many years, and was always active in community as well as county affairs until his eyesight failed him so he could not see to read. He retired from his duties as commissioner in 1890 and moved across the river into Sioux County in 1902 and lived on land that had been allotted to his wife and family at the time the Sioux tribe severed their relations and became citizens of the United States. He died in 1909."

From Selfridge North Dakota, Golden Jubilee, 1911-1961 publication:
"JAMES BENNET GAYTON FAMILY
The Jarnes B. Gayton family perhaps were the first family in this vicinity, coming here as early as 1902. They settled 3-1/2 miles northeast of Selfridge. This was before the railroad came through or the town of Selfridge was started. In the above picture [Note: the publication with pictures is not available to this writer] are the children of Mr. and Mrs. Gayton. BACK ROW: William, John, and Charles. FRONT ROW: Jim, Alice, (Mrs. Charles Archambault), Sam, Abbie (Mrs. Benjamin White) and Amy (Mrs. Henry Lawrence). The only survivor is James and he still resides in Selfridge. In 1858 James B. Gayton married Mary Joy to the Nation. They resided in Emmons county for several years. Mr. Gayton was a member from Emmons County at the N. Dak. Constitutional Convention in 1889."

See Burial Location


---
HENRY GLUESING



He also used Heinrich as a given name. He is on the 1890 Veterans Census as living at Fort Yates. Born in about 1834, Henry enlisted 1 July 1861 at New York as a private. He reported to Company L, 1st Cavalry Regiment, New York on 22 August 1861. He was promoted to a Full Corporal but no date available. He was discharged on 22 August 1864 at Harper's Ferry. Virginia. At this writing no other information could be found on him.


---
CHARLES E. GODDARD



Charles was born on 24 January 1838 in New York City, New York County, New York. In 1885 Charles is in the Dakota Territory census in Morton County (pre Sioux County, Fort Yates).

From the Military Record of Civilian Appointments in the United States Army, Volume 1:
CHARLES E. GODDARD (Born in New York - Appointed from New York)
Military History. - Assistant Surgeon U.S. Army, May 1861.
With the Army of the Potomac, in the field, to November, 1862, At the Douglas Hospital, Washington, D.C., to February, 1863, and on hospital duty, Washington, D.C., to August 1863. In the Department of the South, to July, 1864. At Fort Delaware, Del., to September, 1865. General Hospital duty, Nashville, Tenn., to May 1866, and at Chattanooga, Tenn., to September, 1867. Surgeon U.S. Army, January, 1868. Brevet Captain and Major U.S. Army, for faithful and meritorious service during the war. En route to and at Fort Rice, D.T., from September, 1867, to -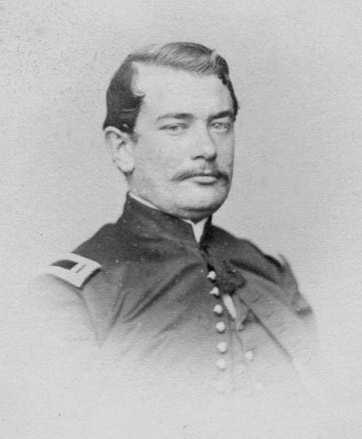 From the Armed Forces Journal, Volume 23:
Major Charles E. Goddard, surgeon, U.S.A., died at Fort Yates, Dak., his post of duty, Jan. 4, 1886. He was a native of New York, was appointed surgeon, with the rank of 1st lieutenant, May 28, 1861, promoted captain May 29, 1866, and major Jan. 6, 1868. During the war he held many responsible positions, and received the brevets of captain and major for his faithful and meritorious services. Surgeon Goddard was social in his nature and numbered a large circle of friends.

From The Washington Critic., January 09, 1886:
Major Charles E. Goddard, Surgeon, U. S. Army, died suddenly last Monday at his station, Fort Yates, Dakota, of apoplexy. He was borm January 31, 1838, in New York city, and entered the service in May 1861 becoming a surgeon January 6, 1868. He leaves two children. His death promotes Captain John H. Bartholf, who is now stationed at Fort McIntosh, Texas, to surgeon.

Charles was originally buried at the Old Post Cemetery Fort Yates at the time of his death. Because of the closing of the Fort, in about 1908 he was re-buried at Jefferson Barracks National Cemetery in St. Louis County, Missouri. Burial, Tombstone Picture
Click on photo for larger view.
---
CHIEF JOSEPH GOOSE "MAGA"



Chief Goose is recorded also as Jasper. His indian name is Maga. He was married to Mary who was born about 1847 with indian name of Paukeskawayangmain. They had a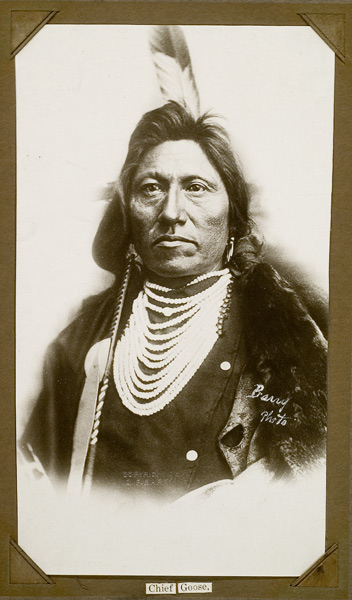 recorded daughter, Ada, born about 1876 who married an Endres. Noted author Kingsley Bray wrote in an american tribes internet thread that, "..He was born about 1836. He is named as headman of a small band of 15 lodges living at Grand River Agency in 1871. (Grand River Agency was relocated to the present Standing Rock location in 1873.) He served as a US Army scout throughout the period 1876-82. In the census of bands enrolled at Standing Rock in fall 1876 he is named as headman of the band including the recently surrendered Kill Eagle who had fought at the Little Bighorn... LaDonna Brave Bull Allard said to me in 2008 that Goose took in children orphaned in various battles and set up his own camp, Goose's Camp, at the site of modern Selfridge, ND. This community was then sometimes known as the Orphan band...

Photo by David F. Barry. Click on photo for larger view.


---
ALBERT GRASS
CHIEF HEHAKA MANI (WALKING ELK)



Albert was born at Standing Rock on 7 February 1897. He enlisted as a Private in Company A, 18th Infantry, 1st Division, American Expeditionary Forces and was killed in action near Soissons, France about 20 July 1918. He was originally buried in France and then re-interned here (Memorial, Tombstone Picture) with a very big funeral ceremony. Extensive Articles, Photos, Biography and Funeral. .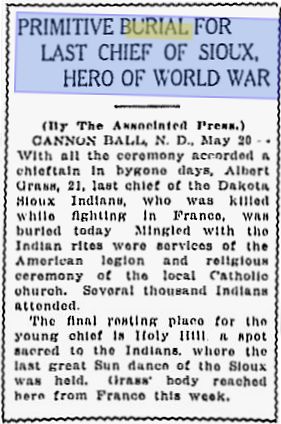 From Schenectady Gazette, 21 May 1921
---
JOHN GRASS
CHARGING BEAR
MATOWATAKPE - (MA-TOW-A-TAK-PE)
Memorial, Burial
Extensive Biography/Pictorial Information