---
WILLIAM J. PAMPLIN



William was born in West Virginia on 19 July 1844. On 12 January 1865 he entered, as a Private, Company C, 4th Regiment, U. S. Voluntary Infantry. As a result of the close of war that year he was released, as a Private, on 2 July 1865 at Leavenworth, Kansas. After the war, William resided in the Selfridge area for many years. He started receiving his pension on 8 December 1916. Pamplin Hills and Pamplin Township were named after him. William entered the Battle Mountain Sanitarium in Hot Springs, South Dakota and died there on 27 October 1931. He is buried at the Hot Springs National Cemetery. Burial, Tombstone Picture. More William Pamplin biographical information can be found in the Selfridge Golden Jubilee Book.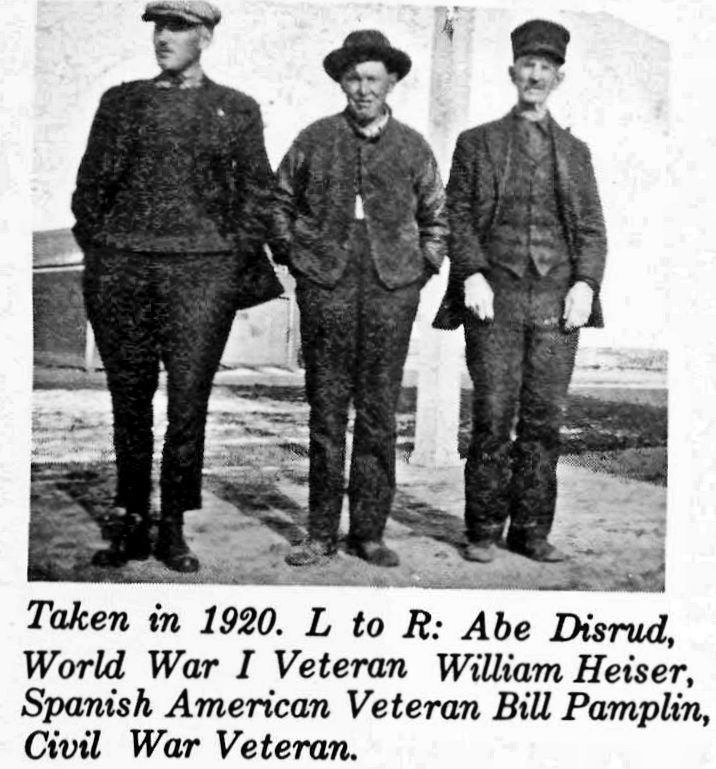 Click for Larger Photo
---
EBEN W. PHILPUT



From the Selfridge Golden Jubilee History, 1911-1961:
Mr. and Mrs. Eben W. Philput came to Selfridge as early as 1911. He started the first store here. On May 20th, 1912, he was appointed the first postmaster, at which time Sioux County was a part of Morton County. Mr. and Mrs. Philput were here but a short time when Mrs. Philput passed away. She was buried east of town in the Gayton cemetery. In 1913 after Mr. Philput's store burned, he returned to New York.

From the Courier and Freeman. (Potsdam, N.Y.) 1861-1989, September 3, 1930, newspaper:


EBEN W. PHILPOT - Eben W. Philpot passed away Aug, 21 after an illness of several weeks, at the home of Chas. Rainboth, Watertown, N. Y. He was born April 13, 1860 at Morley.


He was visting at the home of his daughter, Mrs. Harland Keener of Parishville, about four weeks ago.


Oct. 4, 1883 he was united in marriage with Rose Grant of West Posdam, who died May 20, 1912 in Selfridge, North Dakota. July 8, 1914, he was united in marriage with Mrs. Ida Crysler Merrill. He was a member of West Parishville Grange for a time, but on account of failing health, withdrew.


The funeral was held at the home of his daughter, Rev. Hamilton officiating. Burial was in West Stockholm cemetery.


He is survived by his widow and daughter and several grand children.


Among those attending the funeral were Mr. and Mrs. Beckstead, Mrs. and Mrs. Hill and Mr. Becker from Williamsburg, Ont.; Mr. and Mrs. Grant Cuyler and Mrs. Chas. McBride from Rennselaer Falls; Mr, and Mrs. William Cuyler from Fulton; Mrs. John Young and daughter, Marion and Mr. Frank Bickell of Black River; Mr; and Mrs. A. Forest and Mr. and Mrs. Charles Rainboth of Watertown.


Burial, Tombstone Photo



---
JOHN POWERS



John was born in Illinois on 12 March 1846. On 28 September 1861 he entered, as a Private, Company B, 64th Illinois Infantry Regiment. He was released on 11 June 1865 in Louisville. Later he also served in Company I, 7th U. S. Infantry and also Company I, 36th U. S. Infantry. In 1890 he was living as a civilian at Fort Yates; 1900 in Fort Yates as a farmer, and in 1910 in the Porcupine area. He started receiving his pension on 8 July 1892. He was married to Annie and had children John, Thomas, Nellie, Mary, and Albert. John died on 1 February 1920 and is buried in Saint Peters Catholic Cemetery.
Burial.