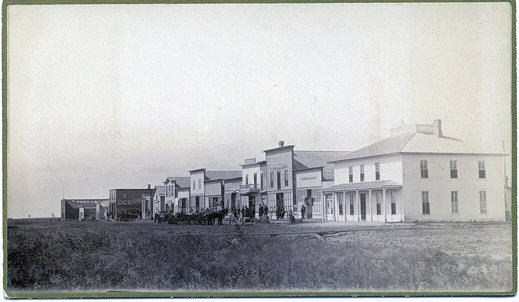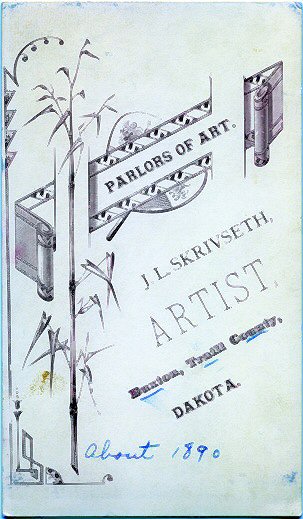 The above was contributed by Margaret Condy. The two are back-to-back on a card.
The card belonged to Effie Condy. The Condys lived in Traill County from about 1882 for about 20 years.
[ Click Picture for Larger View ]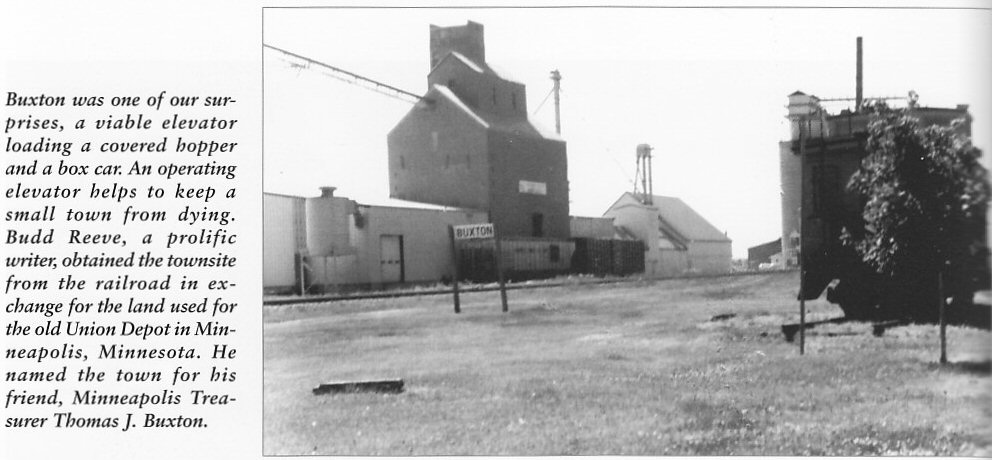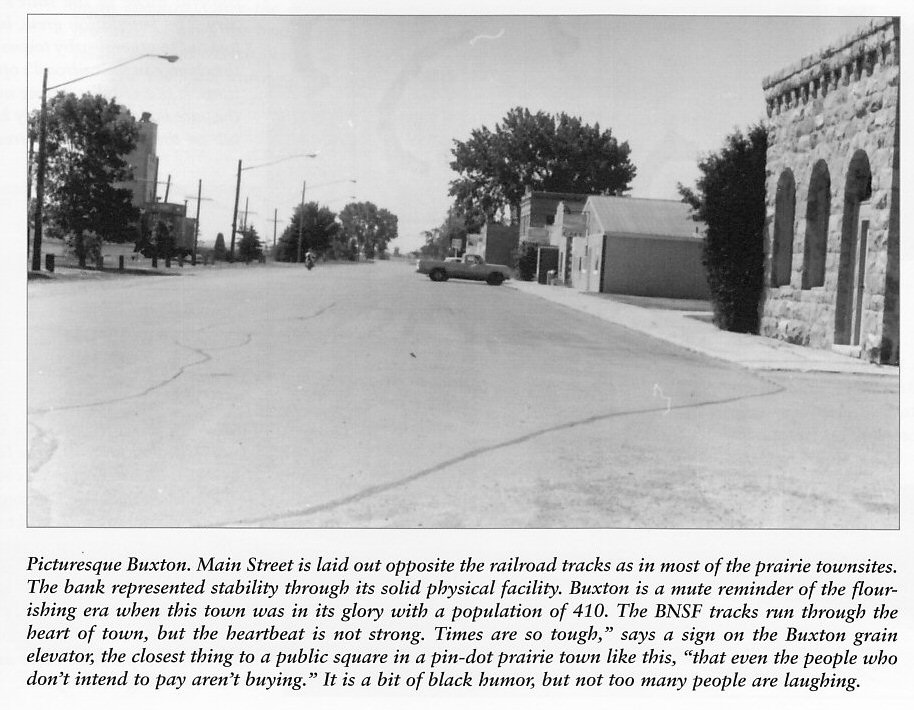 The above two pictures are from "Silent Towns on the Prairie" By Ken C. Brovald, 1999
[ Click Picture for Larger View ]

Index to "Buxton Centennial 1880 - 1980" is listed here

A 1963/64 Red River Valley History which includes Buxton history and biographies.

A Buxton History Webpage


Reeve Cemetery


---
Adapted from the History of First State Bank. Date written is unknown.

Some of the records for First State Bank are dated in 1879 when North Dakota was still a part of Dakota Territory. Opened by L. G. Phelps, the bank was sold to A. L. Hanson, A.L. Plummer and O. S. Hanson in 1884. They chartered it as the Bank of Buxton in 1885. It obtained a national charter in 1916 when it became First National Bank. In 1938 the name was changed to First State Bank of Buxton. This name was used until 1985 when it became First State Bank.

Several area banks became a part of this bank. Farmers State Bank in Buxton was added in 1927 and First State Bank of Thompson in 1936. The deposits and liabilities of the State Bank of Reynolds were assumed in 1939.

O. S. Hanson became its first president when he was only 22 years old. He remained in that office for 56 years. The Hanson family also had banking interests in many North Dakota and Minnesota towns.

A member of the early board of directors was Buxton's first physician, Dr. James Grassick. He later moved to Grand Forks, but continued to serve as a bank director. Dr. Grassick was known for his work in the fight against tuberculosis. Camp Grassick, located near Dawson, ND which serves handicapped children, is named in his honor.

Two armed robberies are part of the bank's history. The first occurred in 1928 when three men made off with $8,500 after locking a salesman, a customer and three bank employees in the vault. In the second robbery, three robbers entered the bank, took a woman and her daughter hostage and fired shots over the heads of some men who were across the street. Leonard Hanson, bank cashier and son of O.S. Hanson, apparently tried to activate the tear gas system that had been installed following the earlier robbery. He was shot and killed. The robbers made off with $1,000 spreading tacks and nails on the road as they fled. These armed robberies and a 1959 burglary at the Thompson branch remain unsolved. Fingerprints of a man found at the bottom of a well in Oklahoma matched those found at the Thompson bank. Apparently this man had been thrown into the well by his partners. He had been on the "Ten Most Wanted List".

The stone building in Buxton used from 1882 to 1976 was turned over to the Buxton Historical Society following construction of its new bank building. The bullet holes from the robbery are still evident.

Through its long history, there have been many changes, but the bank has had only three presidents. O. S. Hanson was president for 56 years. S. N Lommen followed him in 1940. He served until 1972 when the bank was sold to a group of area investors including current president, Paul H. Marchell.
---
Buxton contemporary pictures at Pictures of Small North Dakota Towns



Please contact the County Coordinator if you have interesting additional items on the history of Buxton.