---
ALBERTINA (UNKNOWN) BAHR



Source: Unknown



Former Holmes Resident Dies




Funeral services were held at 1 p.m. Tuesday in the United Evangelical Brethren Church in Grand Forks and at 3 p.m. at the Holmes Evangelical United Brethren Church for Mrs. Albertina Bahr, 89, a Grand Forks country resident since 1887. She passed away at her home in Grand Forks last Friday. The Rev. George Mittag of Grand Forks officiated and burial took place in Holmes Church cemetery. Pallbearers were Otto Gensrich, Art Fischer, Halvor Nygaard, Helmer Evenson, Henry Gunderson, and George Weston.


Mrs. Bahr was born in Germany September 22, 1863 and came to the Holmes community in 1887. She had been a resident of Grand Forks since 1916.


Survivors include two daughters Mrs. Ole Nygaard of Thompson and Mrs. Oliver Fischer of Lengby, Minn.; two sons Dr. H. J. Bahr of Grand Forks and Arthur Bahr of Northwood; a sister Mrs. Bertha Schuhz of Homestead, Mont.; eight grandchildren; and eight great grandchildren. Her husband and a son preceded her in death.

Contributed by Ardy Moe.
---
EDWIN P. BAHR



Source: Unknown



Edwin Bahr




Edwin P. Bahr, 86, 807 N. 5th St., died Thursday April 26, at the United Hospital. Mr. Bahr was a retired custodian. Funeral services will be Monday at Zion United Methodist Church, Grand Forks, with burial in Holmes United Methodist Church.


Mr. Bahr was born on February 10, 1893 in Union Township, Grand Forks County. He married Myrtle Schroeder on October 25, 1916 in Thompson. They farmed in Union Township until 1946 when they moved to Grand Forks. He was employed as a custodian at First National Bank until retiring. He was a member of Zion United Methodist Church.


Survivors include his wife; one son Myron W. Bahr, Thompson; three daughters Mrs. Elmer (Vivian) Rebsch, Thompson, Mrs. Leon (Arlene) Krueger, East Grand Forks, Mrs. James (Loretta) Stein, Evanston, Ill; one brother Clarence, San Mateo, Calif.; 15 grand children and seven great grand children.

Contributed by Ardy Moe.
---
WILLIAM F. BAHR



Source: Unknown
ND Death Index: William F. Bahr born October 3, 1863 and died April 4, 1951.



William Bahr




Services for William F. Bahr, 87, 505 Plum Ave., pioneer resident of Union Township, who died Wednesday at the home of his son, Edwin, 513 First Ave. N., have been set for 1:30 p.m. Saturday at the Church of God of which he was a member and trustee.


Rev. Ray L. Finlay will officiate, assisted by Rev. G.H. Mittage of the United Brethren Church. Active pallbearers will be Ward Wallace, Adolph Brick, Jack Beaulac, Calvin Hoy, Joseph Were and Ray Redmer. Honorary pallbearers will be O.G. Glaserud, T.C. Stewart, Jacob Were, Forest Sorrell, Alex Finley, John C. Boe, P.L. Johnson, O. Ohmdahl and Fred Wutzke.


Rites also have been set at 3 p.m. Saturday in the Evangelical Church at Holmes. Burial will be made in the Holmes Cemetery.


Pallbearers at the service will be Gunder Gunderson, William Meyers, Ole Nygaard, Arnold Nienas, Fred Schroeder and Arthur Fischer.


The body will lie in state this evening at the Hanson-Anderson Funeral Home and from noon Saturday until the time of the service at the church here.

Contributed by Ardy Moe.
---
MARY BEATRICE



Source: Northwood Gleaner
ND Public Death Index: Mary Beatrice born October 16, 1891 died August 19, 1981



Mrs. Alfred Gensrich




Funeral services for Mrs. Alfred (Beatrice) Gensrich were held Saturday, August 22, 1981, at the St. John Lutheran Church, Hatton, with Pastor Rudolph Berntson officiating. Organist was Mrs. Gary Nelson. Mrs. George Berg, Jr. sang "The Old Rugged Cross,'' and "How Great Thou Art.'' Mrs. Gensrich was born October 16, 1891, in Ottawa, Canada, daughter of the late William Sherwood and Sara Rowe. She came to the United States with her parents when she was 3 years old to Thompson, later moving to the Holmes community, where her father purchased a farm and she grew to womanhood. She married Alfred B. Gensrich May 10, 1911, at the Holmes Methodist Church (should Evangelical United Brethren) rural Reynolds. After their marriage the couple farmed east of Northwood until moving to Grand Forks in 1948. He died in July 1950. She continued to make her home in Grand Forks and for the past two years was a resident at the Valley Memorial Nursing Home in that city. She was a member of the St. John Lutheran Church, its ALCW, a 50-year member of the Order of Eastern Star, a Gold Star Mother, and had served on the school board in Union Township. She entered into rest August 19, at the United Hospital, Grand Forks.


She is survived by two sons, Leslie B. and Duaine Grensrich both of Northwood; two daughters, Mrs. E.L. (Ethel) Bye, Grand Forks, and Mrs. Frederic (Deloris) Ericson, Hatton; 11 grandchildren; 16 great grandchildren; and one sister Mrs. John (Maythe) Gardner, Winnipeg, Canada. She was preceded in death by two sons, Willy and Ernest.


Honorary pallbearers were all her friends and neighbors. Casketbearers were Richard Gensrich, Frederic Ericson, Jr., Ernst Gensrich, Jr., Wayne Gensrich, Gerald Ericson and Jack Kroke. Interment was in the St. John Cemetery. Northwood Gleaner 1981 ND Public Death Index: Mary Beatrice born October 16, 1891 died August 19, 1981.

Contributed by Ardy Moe.
---
LOUIS S. BEINE



Source: Unknown
Date: 1963


Louis Beine




Funeral services were held Friday afternoon March 8 at the Holmes EUB Church for Mr. Louis Beine who died unexpectedly at his home on the morning of March 5. Rev. Walter Schott officiated at the service and burial was made in the church cemetery. Organist was Mrs. Elmer Ollman and music was by Rev. and Mrs. Walter Schott and Erwin Nienas. Pallbearers were Arthur Fischer, Arnold Nienas, Ole Lee, Marvin Rydland, Hubert Von Rueden and Roy Olson.


Mr. Beine was born June 3, 1898 at Yates Center, Kansas, son of the late Mr. and Mrs. August Beine. In 1917 he came to North Dakota with his parents. He was married to Ruth Schroeder of Holmes on October 21, 1925. They have made their home on a farm near Reynolds. Mr. Beine had a vital interest in his church, having served on the cemetery board and also on the auditing committee this past year.


He is survived by his wife; three sons, Dale of Reynolds, James of Thompson, and Keith of Roselle, ILL; five grandchildren; three brothers Henry of Reynolds, Walter and August of Yates Center, Kansas; one sister, Mrs. Fred Mentzer of San Gabriel, CAL. He was preceded in death by his parents, one brother and two sisters.

Note: North Dakota Public Death Index: Ruth Barbara Beine born July 12, 1900 died January 12, 1975; Louis S. Beine born June 3, 1898 died March 5, 1963.

Contributed by Ardy Moe.
---
OLE BENSON
Hatton Farmer Dies In Blaze

The farm residence of Ole Benson, near Hatton, caught fire in the upper part of the building. Mr. and Mrs. Benson and a hired man combated with flames until neighbors and the Hatton fire department arrived and successfully put out the blaze. It was then discovered that Mr. Benson was missing, and a search of the house revealed his dead body in one of the upper rooms, where he had been overcome by the heat and smoke, causing his death.
Grand Forks Daily Herald, November 25, 1915

Contributed by Ardy Moe
---
JEROME BERG



Grand Forks Herald
January 16, 2011



Jerome Berg, 84, of Mayville, ND, died Friday, January 14, 2011 at Luther Memorial Home in Mayville





Jerome was born December 27, 1926 in Newburg Township west of Hatton, ND, to Oscar and Anna (Haugen) Berg. He was educated in a country school before attending Hatton High School. Following graduation he served in the U.S. Army during the final days of WW II. Jerome graduated from Mayville State in 1951. While at Mayville State he lettered in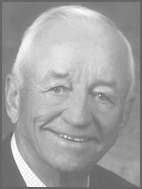 football, basketball, baseball and track. He received his Master's Degree from UND. Upon graduation from Mayville State, Jerome had teaching and coaching assignments in Finley, ND and Fertile, MN before returning to Mayville State in 1956 as head football coach. During 11 years he compiled an overall record of 62-20-2 including six conference championships. He was North Dakota Coach of the Year in 1961. During his tenure at Mayville State he also initiated the wrestling program and helped coach basketball and track. After 3 years in banking he returned to Mayville State as Director of Financial Aid. Even after leaving Mayville State to work in insurance and real estate, he remained a tireless supporter of the University through fundraising for scholarships. He created the Farmers Bowl weekend and was heavily involved in the Mayville State Classic golf tournament. He was a member of the inaugural class of the Mayville State Athletic Hall of Fame and was also named as a Distinguished Alumni. In recognition of his many contributions to Mayville State, the football field was renamed 'Jerome Berg Field' in 1997.


Jerome was also a dedicated civic and community leader. He touched the lives of so many individuals through his countless volunteer activities. Many still remember Jerome as Santa Claus, who he proudly portrayed at community events, the hospital and nursing home, and individual homes. He was a renowned public speaker, providing his unique blend of humor and wisdom as a banquet emcee and keynote speaker. He held many positions with the Veterans of Foreign Wars including a term as VFW North Dakota State Commander in 1987-1988.


Jerome was happiest when surrounded by family and friends. He had a lifelong passion for golf and eagerly waited for each spring to be able to tee it up again. He was proud to be Norwegian.


Jerome is survived by his wife of 59 years, Shirley (Hatfield); children Nancy (Bob) Zimney of Grand Forks, ND; Debbie (Jerry) Soholt of Sioux Falls, SD; David (Jackie) Berg of Rosemount, MN and Kari Berg of Fargo, ND; 10 grandchildren, 4 great-grandchildren; and sisters Verna (Brunsvold) of Hatton, ND and Amy (Crickmer) of Shoreview, MN.


He was preceded in death by his parents, Oscar and Anna Berg; brothers Obert, Ernest, Glenn, Selmer and Roy; sisters Harriet (Norgaard), Violet (Palmer), and Geneva (Tronson).


Memorials preferred to Mayville State University, Mayville Lutheran Church, Luther Memorial Home, or charity of choice.


Visitation: 5-7 pm Monday, January 17, 2011 with a prayer service at 6:30 pm at Luther Memorial Home Chapel, Mayville, and will resume one hour prior to the funeral service, at the church.


Funeral Service: 10:30 am Tuesday, January 18, 2011 at Mayville Lutheran Church, Mayville.


Interment: Mayville City Cemetery, Mayville.

Contributed by Christine A. Hill
See Mobeck-Rood Family Information

---
ALBERT BJERKE



Source: Unknown
1954



Albert Bjerke




Funeral services for Albert Bjerke, 78 will be here Tuesday at the St. John Lutheran Church with Rev. Leonard Thompson officiating. Burial will be made in the Norwegian Lutheran cemetery. Mr. Bjerke died Monday in a Northwood hospital. He had been in poor health for several years. Born near Northwood, Iowa, May 2, 1876. Mr. Bjerke came to Valley City, N.D. with his parents in 1881. In 1882 they moved to Steele County. He farmed in Beaver Creek township until 1904 when he moved to Golden Lake township.


In January 1904 he was married to Bergitte Paulsen of Northwood. They made their home in Golden Lake township until a few years ago when they moved to Hatton. Late this summer they moved to the Northwood old people's home.


Mr. Bjerke served in the state legislature during the 1935 session as representative from Steele Co. He also held school and township offices.


Surviving are his wife; seven sons, John, Hatton; Ernest, Yakima, Wash., Arthur and Gust, Reno, Nev., Wilbert, Spencer, Iowa; Herbert, Rockville, Md.; and Jeroy, Reseda, Calif.; two brothers Dan and William Bjerke of Hattton; 15 grandchildren and five great grandchildren.

Contributed by Ardy Moe.
---
CAROLINA BLOCK



Source: Der Christliche Botschafer
27 August 1887



Carolina Lenz




Carolina Lenz born Black (sic) died, as we trust, blessed in God on August 9, 1887, in Grand Forks County, Dakota Territory. She was 55 years, 11 months and 7 days old. She had suffered from dropsy. She was converted many years ago in Wisconsin by Brother M. Hauert and chose to remain a true member of the church. Her husband and two children look toward her, full of hope that they will be reunited with her on the side.

Contributed by Ardy Moe.
---
HULDA BLOCK



Source: Unknown
ND Death Index: Hulda Bahr born February 20, 1865 and died November 18, 1962.



Mrs. Hulda Bahr dies here at 97




Mrs. Hulda Bahr, who had resided in Grand Forks County for 82 of her 97 years, died Sunday at Valley Memorial Home, where she had been resident since March 1959.


Funeral services will be held at 1:30 p.m. Wednesday at the Church of God, of which Mrs. Bahr was a charter member. Rev. Cecil Evans will officiate and burial will be in the Evangelical United Brethren Church Cemetery at Holmes. The body will lie in state at the Hanson-Anderson Mortuary here Tuesday evening and at the church Wednesday for an hour before the service.


The former Hulda Block, Mrs. Bahr was born at Green Bay, Wisconsin, February 20, 1865. She was three weeks old when her father, the late Carl Block, left his home to serve in the Civil War. She came to Union Township, Grand Forks County in 1880, and was married to William Bahr there November 28, 1886. They farmed before moving to Grand Forks in 1918. He died in 1951.


Mrs. Bahr at one time was employed here at Mansard House, a hotel and restaurant, which formerly occupied the First National Bank site on DeMers Avenue, and at the Lakota Hotel, where she recalled having served the famed Indian chief, Sitting Bull.


She is survived by two sons, Edwin Bahr, Grand Forks, and Clarence Bahr, San Jose, California; six grandchildren and 13 great grandchildren. Thee children and a sister preceded her in death.

Contributed by Ardy Moe.
---
CLARA S. BOHNSACK



Grand Forks Herald
23 October 1916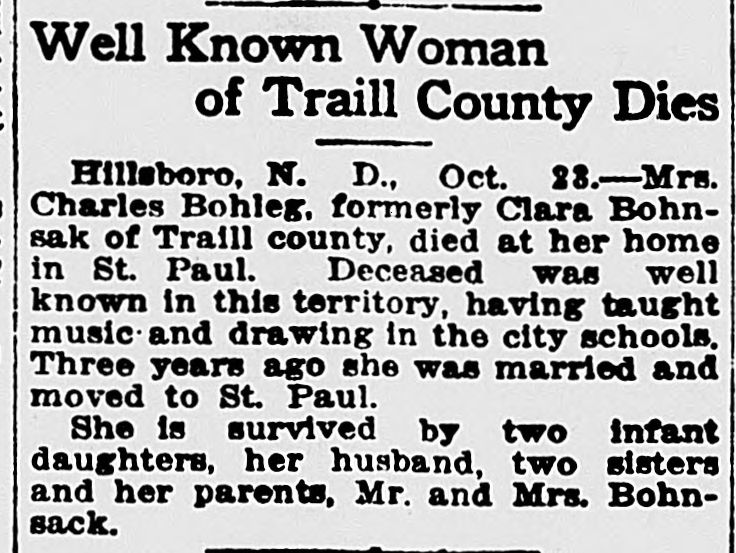 Clara was born in June 1887 in North Dakota and died 18 October 1916 in Ramsey County, Minnesota. Clara's parents were Charles and Hulda. Clara married George William Bohlig on 4 May 1912 in Cass County. Clara and George had two children; George C. born 3 April 1914 in Minnesota and Clara born 13 October 1916 in Minnesota.
Burial, Tombstone Photo.


---
ELIZABETH BOLLINGER



Source: Hillsboro Banner
3 February 1933 ND Public Death Index: Elisa. Mergenthal born March 1, 1859 died January 28, 1933 in Traill Co.



Mrs. John Mergenthal Passes Sunday
After Illness of Several Years




Mrs. John Mergenthal, for 47 years a resident of this country, died Sunday Evening January 28, at 6:30 p.m. at her home in this city. Death came after an illness of double pneumonia, although that was not the cause of her demise. Mrs. Mergenthal had been ill for a number of years from heart trouble.


Funeral services were conducted Wednesday afternoon from the late residence and from the Immanuel Lutheran Church, east of the city. Rev. M. T. Jank of Crystal City, N.D. officiated. Rev. R.T. Schuricht, pastor of the church, being under quarantine and unable to officiate. Rev. Jank is a former pastor at the German Church here.


Mrs. Mergenthal was born in Germany and came to the United States nearly half a century ago. She married John Mergenthal September 30, 1886.


For the past 15 years, Mr. and Mrs. Merganthal have made their home in this city. Survivors include Mr. Mergenthal and four children, Mrs. F.J. Otto, Conrad, Wisc., Ida at home, Mrs. E.D. Engel, Hillsboro, and John, Jr. Hillsboro. One child died in infancy. There are also eight grandchildren among the survivors.


Pallbearers were Julius Henka, Charles Hausman, Wm. Jahnke, Henry Meyer, Wm. Weber and John Buethner.

Source: Unknown
February 1933


Mrs. Mergenthal Rites Held Near Hillsboro




Funeral services for Mrs. John Mergenthal, 73 years old, a resident of this vicinity since 1886, were held Wednesday afternoon at the home here and at the German Lutheran church, east of Hillsboro. Rev. A. Janke of Dresden officiated. Pneumonia caused Mrs. Mergenthal's death Saturday.


Born in Germany, she resided on a farm near here from 1886 until her husband retired 14 years ago and moved to Hillsboro. In addition to her husband, she is survived by a son, John of Hillsboro, and three daughters, Mrs. Fred Otto of River Falls, Wisc., Ida and Mrs. Ed Engel of Hillsboro.

Contributed by Ardy Moe.
---
WILLIAM J. BOROVSKY



Source: Unknown
Date: 1956


W. J. Borovsky




Services for William J. Borovsky, 20, University of North Dakota student from Grand Forks, who was killed in a traffic accident west of the city on U.S. Highway 2, at the Great Lakes Pipe Line crossing will at St. Thomas Aqunas Catholic Church. Father Robert Mullins will officiate and burial will be in Calvary Cemetery. Mr. Borovsky resided with his parents at 2611 Fifth Ave. N. Active pallbearers will be Terry Paoletti, Peter and James Carney, Dennis McGurran, Ron Hill, Orville Hodge, Dean Dullum and Jack McCann. Honorary pallbearers in addition to all members of the University Hockey team of which was a member will be George Marchart, East Grand Forks and Don Ottenweller, John Newkirk and Thomas Hall of Minneapolis.


Accident Report from Grand Forks Herald: Borovsky was driving a 1951 model car toward Grand Forks and apparently stopped at the crossing as the Wallhalla local freight moved north across the highway crossing. The truck, which Roberts was driving for Coca-Cola Bottling Company, struck the rear of the Borovsky machine smashing the vehicle against a gondola of the slow-moving freight, which numbered 93 units, including two loads. The accident occurred shortly after 10 p.m. The engine and seven cars had passed the crossing before the collision forced the gondola off the track approximately 20 feet. The impact set fire to the car and truck severely burning Borovsky, trapped in his car. Roberts was thrown from the truck and was found lying beneath the truck box, according to Highway Patrolman S.D. Knutson.


The coroner's office had no explanation for the accident since the night was clear and railroad flasher signals were working. There will be no inquest, State's Attorney Gordon Caldis announced. The crash strewed beer cans and other containers from the truck. The contents of the Borovsky car, which included clothing was destroyed with the crumpled car.


Mr. Borovsky resided with his parents at 2611 Fifth Avenue North.

Note: North Dakota Death Index: William J. Borovsky born August 31, 1936 died October 4, 1956.



Contributed by Ardy Moe.
---
BYE



Source: Unknown 1958


Mrs. Howard Ostlie




Funeral services for Mrs. Howard Ostlie of Northwood were held Saturday afternoon June 14, at the Evangelical Lutheran Church of Northwood with Rev. A. H. Rholl officiating. Mrs. Ostlie passed away at the Northwood Hospital after a long illness.


Mrs. Ostlie was born at Hatton on October 2, 1898 and was the daughter of the late Mr. and Mrs. Arne Bye. She grew to womanhood here and was married to Mr. Ostlie in Grand Forks on March 15, 1930. Since that time she had made her home at Northwood.


Survivors include her husband, three daughters, Mrs. Gerald Engen of Finley, Mrs. Harlan Wocken and Anna Mae Ostlie of Northwood; three brothers, Olve Bye of Northwood, Carl Bye of Hatton, and Carelius Bye of Aneta; three sisters, Mrs. Fred Enger and Mrs. Knute Aasen both of Hatton and Mrs. Alfred Gallack of Venice, Cal. She also leaves three grandchildren.


Her parents, five brothers and four sisters preceded her in death.

Contributed by Ardy Moe.
---
AUGUST E. BYE



Source: Unknown


A. E. Bye




One of Hatton's best known citizens passed away Monday afternoon, August 23 at 5 p.m. August E. Bye, better known as "Jens'' died suddenly of a heart attack at his home. He had not been in the best of health for some time, but had been up and around and had made a trip up to the school the same morning of his passing.


Funeral services will be held tomorrow, Friday, at St. John church at 2 o'clock. Rev. R.S. Aanestad will officiate. The body will lie in state at the church from 11 a.m. to 1 p.m. Friday. Interment will be made in the Norwegian Lutheran cemetery.


Active pallbearers will be J.E. Pearson of Wheaton, Minn., F.L. Bucher, Knute Aasen, O. M. Burud, C.S. Anderson and G. M. Olson. Honorary pallbearers will Vernon Johnson, H.G. Wambheim, Elmer M. Bjerke, Elmer Bjertness, Julius Kornell, Clarence Sanda and E. H. Knalson.


Mr. Bye was born in Solar, Norway on August 14, 1870 and came to this country at the age of 19. He homesteaded at Hampden, N.Dak. and farmed there until he came to Hatton in 1909. In March of that year he was married to Hilda Olson. Four children were born to this family.


"Jens'' began his work as janitor of the Hatton City School in 1909 and served in that capacity for 39 years. Every child and teacher who knew him liked him. His willingness to do any favor asked and his cheerfulness made him a favorite of all. He was also an honorary member of the Hatton Fire Department, being retired several years ago, after many years of faithful duty. Mr. Bye was recently given a gift from the graduates of Hatton High School, former and present faculty members and a large host of his friends.


Survivors include his wife and children, Elmer of Watertown, S.Dak., Mrs. Omer Dronen (Lillian) of Hatton, Mrs. Orville Berg (Hazel) of Grand Forks and Orion of Hatton. There are also six grandchildren.

Contributed by Ardy Moe.
---
CLARENCE BYE
Heart Failure Fatal for Clarence Bye

Another sudden death occurred near the city of Hatton, when Clarence Bye, a son of Mrs. A.C. Bye, passed away at their home. He had been around attending to duties as usual on Tuesday and retired in good health, but at 3 o'clock in the morning something was seen to be ailing him and before medical aid could be summoned he passed away.

Clarence Bye was a promising young many and had just arrived at the age of 21. He was staying at home helping his mother take care of the farm.

This makes the third death in the Bye family from heart failure. Clarence's cousin, Ed Bye, passed away in the same manner only two weeks ago, and his father died about three years ago in the same manner.
Grand Forks Herald, July 11, 1914

Contributed by Ardy Moe