This first map below shows the current counties in North Dakota -- all color-coded.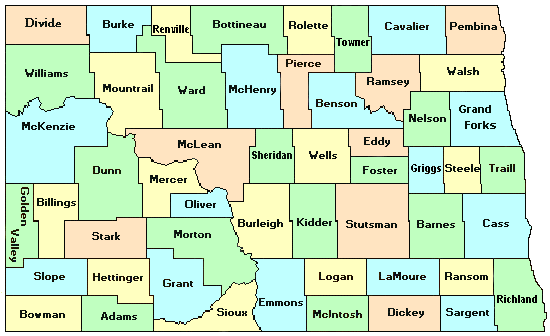 This map shows the counties that existed in 1888 and their boundaries. Current counties are still in the background by colors.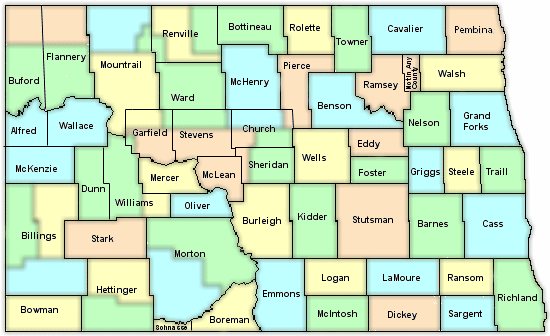 The 1888 Territorial Map was used as a guideline for creating this map.
Please note that on the Territorial Map, Stutsman is split, and the other half called Stanton.
After checking several sources, we believe this is an error. Stutsman was created in 1873 and has remained unchanged.
George Barron, County Coordinator for Stutsman has stated, "The 1884 DT Atlas shows that history and also shows the map of Stutsman to be as it is currently, with the exception that the NW corner of the county had not been surveyed yet for sections and roads. The 1886 RR map of the Northern Pacific shows the county as it is now. I've been indexing obits and looking for [the deceased] in the newspapers of the county that started in 1878 and have not once run across any kind of western part that was divided or that had ever been some county called Stanton. It doesn't show up in any of the many history books of the county, and the county officers are listed by name from 1883 on in 'Century of Stories'."
Joe Zsedeny concurs, giving this map listed in the Stutsman Archives:
1873 map
The County Histories page of the DiscoverND site makes no mention of the county ever being split once formed:
DiscoverND -- County History

Thanks to George Barron and Joe Zsedeny for setting the record straight.