---
HARMON W. ALLEN


History of North Dakota
The Bismarck Tribune - 1910



"Harmon W. Allen, of Braddock, was born at Raisinville, Monroe county, Michigan, June 6, 1861.


His parents were Carlos and Maria VVinslow Allen. His father was a veteran of the Eighteenth Michigan Infantry during the Civil war, and is now deceased. His mother is still living in Michigan, age 76 years. He is a descendant of the Allens of Vermont and the Winslows of Massachusetts.


Mr. Allen received a common school education in the district in which his father lived, and concluded his studies in the high school of Ann Arbor, Michigan. His boyhood was spent on the paternal farm and in attendance at school during the winter months. Prior to coming to Dakota his principal place of residence was on his father's farm near Milan, Michigan.


He came to Dakota in 1883 and settled in Emmons county, soon after the organization of that county. Here he located on unsurveyed land, and a year later when surveys were made, he lived on a homestead and a tree claim near the present town of Braddock and for many years was engaged in agricultural pursuits. In 1896 he was elected county treasurer and re-elected in 1898, serving two terms. In 1902 he became identified with the Emmons County State Bank, at Braddock, the first bank organized in the county, and of which he is now the cashier, and one of its principal stockholders. He has become a careful, conservative banker, and his advice in business matters is frequently sought. He was married in March, 1886, at Milan, Michigan, to Miss Bertha J. Clark of that city, and one daughter, Lucile Maria, has been born to the union.


Mr. Allen is of Protestant faith, a member of the Modern Woodmen of America, and in politics an ardent Republican.


His experiences as a pioneer in Emmons county were rugged and strenuous. The country was practically at that time an untamed prairie and the hardships of the early settlers were prolonged and severe. The first team owned by Mr. Allen was a yoke of oxen which he purchased of a farmer near Hurley, South Dakota, and drove them overland to his home in Emmons county. He was two weeks making the trip and camped at night on the prairie wherever darkness overtook him. For several years this yoke of oxen was his only team. With them he "opened up" and tilled his farm, hauled his fuel from the Missouri river bottom lands twenty miles away, and marketed his grain at Steele, the nearest railroad point, twenty-five miles distant. His dwelling for a number of years was the regulation sod walled shack of the pattern so familiar to all early settlers on the Dakota prairies. He was true, however, to the country of his choice, and with his faithful wife, who in the darkest hour never wavered, has now fairly weathered the storms of early adversity and can look back with equanimity on the trials of those first years of his settlement. He had faith in the possibilities of the country and early added to his holdings in real estate. Besides being the owner of residence property and town lots in Braddock, he is the owner of 1,400 acres of land in Emmons."


Harmon died in Stutsman County on 21 February 1951. Bertha was born 17 February 1860 and died in Burleigh County on 5 May 1939. At the time of their deaths they maintained a residence in Emmons County.

There is another biography in 1976 Emmons County History, Page 111.
---
JOSEPHUS ALLEN

Josephus was born 23 August 1849 in New York and died 22 August 1912.


There are two records on Josephus' enlistment. It looks like he mustered on 1 November 1861 as a Private into Company C of Minnesota Brackett's Cavalry Battalion from Olmsted County, Minnesota. Another record has him mustering on same date into Company K, Iowa 5th Cavalry. Apparently Brackett's Cavalry eventually part of Iowa's 5th as Companies G, I, and K. The records show two muster out dates; 24 May 1866 and 25 February 1864. He started receiving his pension in North Dakota on 8 November 1890 and it records he belonged to both of the above companies. His wife, Susan M., started receiving a widow's pension 22 October 1912 in North Dakota.


In 1900 Federal Census he is living in Glenavon and in 1910 Census in Glencoe.


Josephus had a land patent in Section 21, Township 129, Range 78 (Ashgrove area).


He is buried in Dale Cemetery.


Burial, Tombstone Picture
---
HALVOR THOR ANDERSON

Given name is sometimes spelled Halver.


Birth year records vary for Halvor from September 1841 to 1846.


On 27 February 1864, Halvor enlisted as a Private in Company D, Minnesota 10th Infantry Regiment. He mustered out on 19 August 1865 at Fort Snelling, Minnesota.


In 1900 Census, widowed Halvor is living in Winchester with his children Orphena and Willie.


At some time Halvor acquired land in Section 25 of Township 130, Range 74 (Hague area). In later years he spent time with his son Elmer in Sioux County and eventually lived with daughter Orphena and her family in Spokane, Spokane County, Washington.


On 2 March 1908, his daughter Orphena secured a land patent for 160 acres in Section 32, Township 133, Range 77.


Halvor died on 20 April 1926 in Spokane, Spokane County, Washington.
---
HARMISDAS A. "SHAMBO" ARCHAMBAULT

Shambo worked and lived in both Emmons and Sioux Counties


He was born about 1841 in Canada and died on 15 March 1923 in Walworth County, South Dakota.


In Emmons County he owned land in 1889 on Township 132, Range 79, Section 14 and in Sioux County in 1921 at Township 129, Range 82, Section 4.


Shambo was named the Emmonsburg Postmaster on 17 Oct 1883.


In 1884 he paid $10.00 to be given the license to establish a ferry to cross Big Beaver Creek. He also had the toll bridge over Beaver Creek along with a store and road house. An interesting story about him along with some history can be found on Page 109 of the Emmons County 1976 History on page 109.


Except for a short time period in Thunder Hawk, Carson County, South Dakota, he primarily lived in either Emmonsburg or the Standing Rock Reservation in Sioux County.


In the Cemeteries of Sioux County, North Dakota by the James River Genealogy Club, it indicates that Shambo does not have a tombstone in St. Peter's Catholic Cemetery but records indicate he died 15 March 1923 at 82 years old. See St. Peters's Catholic Cemetery for more information on burials.

See more biography information within the James McGee Bio.
---
HENRY A. ARMSTRONG




History of North Dakota, Published 1910
HENRY A. ARMSTRONG.



"The name of Henry A. Armstrong, of Hazelton, will always be inseparably connected with the organization, growth and present prosperity of Emmons county. He was the first lawyer to cast his lot with the fortunes of the new county in 1883 and since that time has been a consistent and unwavering believer in and advocate of its resources and possiblities. He has been honored by many public offices and has represented the county in the state legislature, and in return has given the public faithful and painstaking service.


Henry A. Armstrong was born at Elkton, Ohio, April 20, 1856. He was the son of Andrew and Elizabeth Bowman Armstrong —now both deceased—the father being of Scotch-Irish and the mother of Dutch descent.


Mr. Armstrong studied in the public schools of Ohio, later taking a full course at the Paola, Kansas, Normal School. These studies were further supplemented by a course in the law department of the University of Michigan, of which he is a graduate.


He came west to Dakota in June, 1883, and assisted in the organization of Emmons county, taking up his residence at Williamsport, the then county seat. Here he at once engaged in the practice of law which he has followed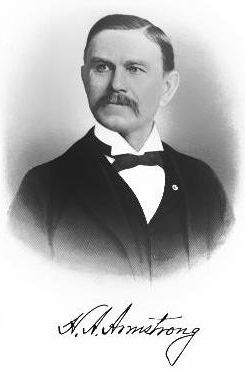 consistently ever since and in which he now enjoys the most extensive practice in the county. He has also been an extensive dealer in real estate and now owns some 1,720 acres of land, all in Emmons county.


At various periods in the county's history he has held the offices of state's attorney, county auditor, register of deeds and numerous local positions in the public service. In 1894 he was elected to the state legislature and served with credit to himself and profit to his constituents. The firm name is Armstrong & Cameron, with offices at Linton, the county seat, and Hazelton.


Mr. Armstrong is a progressive Republican but his progressiveness is not confined to politics for he was the first man in Emmons county to build and equip an up-to-date modern home. While he has been fairly successful from a financial point of view he is not afflicted with the money madness, altogether too prevalent, and he is noted as a public spirited citizen.


He was married March 15, 1888, to Miss Libbie A. Kurtz, of Emmons county, the marriage occurring at Bismarck. The bride was a daughter of John Kurtz [1976 Emmons County History, Page 130] , one of the pioneers of the county. One daughter, Edna L., has been born.


Mr. Armstrong is a believer in the value of fraternal organization and is a member of the Knights of Pythias and Modern Woodmen of America."

Source Unknown:
HON. HENRY A. ARMSTRONG.



"Hon. Henry A. Armstrong, an attorney of law of Hazelton, prepared for his profession as a student in the State University of Michigan and since his graduation has continuously resided in Emmons county. North Dakota, being among those early settlers who reclaimed the wild land and converted it into productive farms. He was also called to public office and likewise engaged in the general practice of law, in which connection he is now enjoying a good clientage. He was born in Elkton, Ohio, April 20, 1856, a son of Andrew and Elizabeth (Bowman) Armstrong, both of whom were born in Columbiana county, Ohio. In that county they spent their entire lives, the father following the occupation of farming as a life work. His political support was given to the republican party and he was prominent as one of its local leaders, serving for six years as county commissioner, and in other offices.


After mastering the branches of learning taught in the common schools of his native county Henry A. Armstrong continued his education in the Paola (Kas.) Normal School, having become a resident of that state in 1879. When nineteen years of age he entered upon the profession of teaching in Ohio and he afterward taught for one term at Enterprise, Kansas, following the completion of his normal school course. In 1881 he returned to his native state, spending that summer on the home farm, and in the following fall he entered upon the study of law in the University of Michigan at Ann Arbor, from which institution he was graduated in the spring of 1883. He was then admitted to practice at the Michigan bar and in the following June came to Dakota territory, settling in Emmons county. He took up a homestead near the old town of Williamsport, then the county seat, and proved up on his claim, at the same time practicing law. He served as states attorney for several terms and was called to other public office by the vote of his fellow townsmen, who elected him county auditor and afterward register of deeds. He also served as deputy treasurer for several years under different administrations and in 1894 he was chosen to represent his district in the state legislature, his fellow townsmen being willing to entrust their interests to his hands, for he had given full evidence of his public spirit and devotion to the general welfare.


In 1906 Mr. Armstrong removed from his homestead to his present farm of four hundred and eighty acres, which adjoins Hazelton, and thereon he has since resided. He continues actively in the practice of law as senior member of the firm of Armstrong & Cameron, maintaining law offices in both Linton and Hazelton. Without invidious distinction this may well be one of the leading law firms of Emmons county, for their practice is very extensive and of a most important character, connecting them with the leading litigation of the district. Mr. Armstrong is felicitous and clear in argument, strong in debate and logical in his deductions and is seldom if ever at fault in the application of legal principles. At the same time he prepares his cases with great thoroughness and care and he enjoys, moreover, the respect of his professional colleagues. He has been an extensive buyer and seller of farm lands and now owns eleven hundred and forty-two acres. He is a stockholder in the Farmers State Bank of Hazelton and is its attorney.


On the 15th of March, 1880, Mr. Armstrong was united in marriage to Miss Libbie A Kurtz [John Kurtz (1976 Emmons County History, Page 130)], of Emmons county, and to them has been born a daughter, Edna L., the wife of O. M. Garber, of Ashland, Ohio.


Mr. Armstrong is well known in lodge circles, holding membership in Hazelton Lodge, No. 64, K. P., Hazelton Lodge, No. 135, I. 0. 0. F., and the Modern Woodmen of America. For a third of a century he has been a resident of Emmons county and from the beginning has been accorded a position of leadership, his activities contributing in large measure to its material development and to the upholding of its legal and political status."

Both Henry and Libbie are buried in Hazelton Cemetery.

There is another biography along with another portrait in 1976 Emmons County History, Page 110.