---
JAMES S. McGEE
County Sheriff

James McGee was elected the second Sheriff of Emmons County from 1889-1892. He replaced William Wade, who served out a five year term. McGee was born in Virginia in 1839, and had come to Emmons County, Dakota Territory with John Smith in 1873 as a teamster for the 7th Calvary with General George Armstrong Custer. In 1874 he had been on the Black Hills Expedition, searching for gold, despite the federal government's promises to keep miners out of the sacred Sioux lands. The Bismarck Tribune in August 1874 listed the claimants of a gold find in Custer's Gulch, listing James McGee as one of them.


The Emmons County Record reported that James McGee and Hormisdas Archambault owned a ranch together In the Emmons County by the mouth of Beaver Creek as early as 1875. In the 1885 Dakota Census McGee is enumerated with his wife, Wincega "Little Woman" Bullhead, also called Mary. She was the former wife of Hormisdas Archambault. She was born in 1854 in Dakota Territory. Wincega was a Standing Rock Blackfeet Sioux whose parents were Mary Brocell and Tatankapa or Peter Martin Bullhead (1823-1901). Henry Bullhead, Wincega's brother, or Matokokipapi, or Bears Afraid of Him, was one of the Indian Police, or Akicita, killed at Sitting Bull's arrest on the Grand River in December 1890.


Wincega and H. A. Archambault had one son, Samuel, born in 1877. In fact, Hormisdas Archambault had been previously married to Wincega's sister, Catakawin, Left-Handed Woman, then divorced her, and married Wincega. After divorcing her, Archambault went on to marry Unpansapa, Black Elk, or Susan, another sister, as well.


Wincega's son, Samuel, is listed in many censuses as Sam McGee, and used that name as an adult. James McGee and Mary also had a son Peter, born 1888, but who seems to have died by 1892.


When James McGee ran for Sheriff in October of 1888, some newspaper accounts feared electing "a rebel sheriff." This might suggest that Virginia-born McGee fought in the Civil War for the South. McGee served as Sheriff until 1892, only three years. Michael Mahaney of South Prairie served the remaining years of his term. McGee moved to Grand River at Standing Rock Agency, around 1892. Wincega continued to live at Standing Rock with her sons, and is listed in the Standing Rock Indian Census in 1899. Wincega probably died between 1899 and 1900 at Standing Rock Agency. In 1900 James McGee is living with the Louis "Chatka" Agard family and their six children. He is listed as "Uncle," and a widower. Also listed in the census with the Agard family is Louis Catka Agard's widowed mother, Sungleskayahawin, Spotted Horse, or Mary Agard,( 1840-1916) who lived very close to James McGee in the 1880 Emmons County Dakota Census, when married to Louis Agard, Sr., a well-known French trapper and interpreter.


James McGee continued to live on or near the Standing Rock Agency, where he "wintered" cattle herds for Emmons County ranchers on reservation land. In the fall of 1905, James McGee became ill, and was taken to Sturgis, South Dakota where he died in November 1905. It was reported that he was in his late eighties, but he was actually around 66 years of age. His son, Samuel (Archambault) McGee continued to live at Standing Rock where he married Benedicta Ramsey, then later, married Molly Cochran (1921-1959) in Montana. He died 13 July 1946 in Montana.
Contributed by Mary Corcoran


---
WILLIAM VOSE WADE
County Sheriff



William Vose Wade (1851 Plymouth Co, MA-May 07, 1927 Mandan, Morton, ND) was the first Sheriff of Emmons County.


Wade was a frontier scout, hunter and trapper, worked for Standing Rock Agency. He was at Fort Rice in 1872 when the Stanley Expedition left for the Yellowstone to survey for the Northern Pacific Railroad. The Sioux called him "Paha-sa-pa"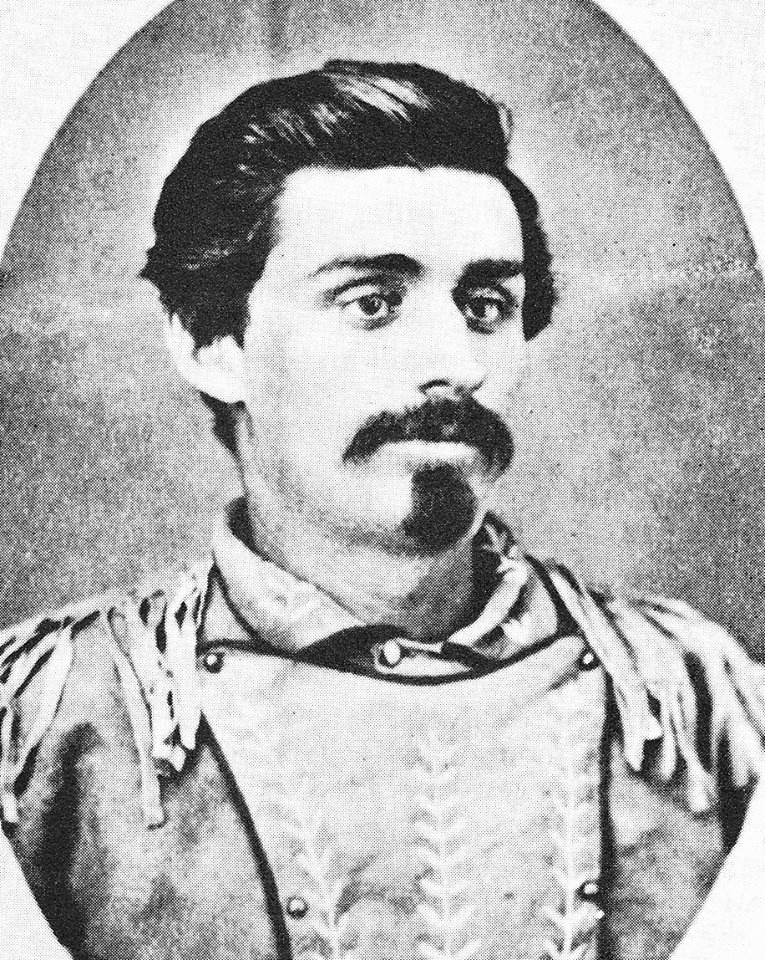 which means "Black Hills" as he once led a group of 800 Indians near the Black Hills. He was a special friend of Sitting Bull's, and when young Sioux men stole his horses, and Sitting Bull saw the Lazy Anchor brand, he always sent them back. He was there at the building of many of the forts and agencies along the Missouri River such as Fort Yates and Standing Rock Agency.


In 1878, on a cattle trip to Minnesota, he met a young school teacher Ordelia Malinda Parks. Later, he guided the Thomas Parks family out to the Dakotas. In 1884 Wade and Ordelia married.


He established the Anchor Ranch in Grant County on the Cannonball River, and raised cattle. He became a U.S. Deputy Marshall for Emmons County. In 1900 and then again in 1902 he served in the legislature from Oliver and Morton Counties. He was one of the first County Commissioners for Grant County.


Ordelia Parks Wade was a school teacher in Winona, and she spent winters there so their children, Frank Lisle Wade (1887-1955) and Mamie Laura Wade (Weeden) (1893-1975) could attend the Winona school.
Contributed by Mary Corcoran
Click picture for larger view

Wade, Grant County, North Dakota

Land Patent - Land Patent

Burial Memorial


---
PETER SHIER
County Sheriff



Peter Shier (1856-1925) was the five term Sheriff of Emmons County. He was born in Minnesota Territory to German born parents,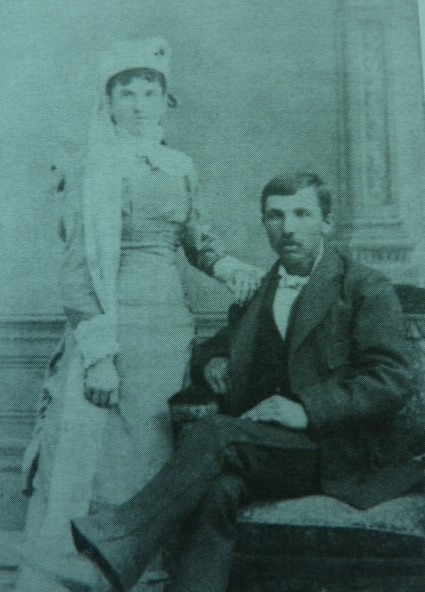 with the original name of Schuer, who immigrated from the Rhine region of Germany in 1849.


Peter Shier marred Anna Burbage (1860 Ireland-1937) in Bismarck, Dakota Territory on September 24, 1883. The Shiers owned The Dinner Ranch in Gayton, which was the stopping point for the Kupitz Stage Coach on its way to Bismarck.


Known for his honesty, generosity, and loyalty, Shier was a popular lawman, greatly respected by Emmons County residents.The Shiers had five children, Mamie (1884-1951); Lucy Ellen (1887-1966); John Peter (1890-1903); Peter Vincent (1892-1986) and Albert Joseph (1898-1961.


Peter Shier later operated a small store in Linton, ND and served as the town constable. The Shiers were known for their St. Patrick's Day parties.
Contributed by Mary Corcoran
Photo courtesy of Michael W. Huttner
Click picture for larger view

Emmons County Land Patent

Burial Memorial


---
BALZAR WALD
Strasburg Police Chief


---
SEVERENE ANDREAS "SHORTY" MIKALSON
Deputy Sheriff