---
WESLEY BAKER

U.S. Civil War Soldier Records and Profiles records age at enlistment was 18 and enlistment was 10 April 1864. Enlisted as a Private in Company D, Ohio 25th Infantry Regiment and mustered out on 20 October 1865 at Charleston, South Carolina.


U.S., Civil War Pension Index: General Index to Pension Files, 1861-1934 has Wesley starting an invalid pension on 7 October 1890 and widow Helen starting to receive pension on 16 August 1929. Both pensions issued in North Dakota.


In 1880 Census he is a soldier at Fort Abraham Lincoln, North Dakota and the 1890 Federal Veterans Census shows him in Emmons County. In 1894 he was appointed the Livona Postmaster.


In the 1900 Census he is in Burr Oak, Emmons County with wife Helen and family of William, Mary (Mamie), James, Joseph, Peter, Josephine, Helen, Lucy. Wife Helen is born in Indiana about 1853.


In the 1910 Census he and family is still in Burr Oak, Emmons County.


In the 1920 Census they are living in Bismarck, Burleigh County, North Dakota.


He is buried in Saint Marys Cemetery, Bismarck, Burleigh County, North Dakota. Born 31 January 1847, died 7 July 1929. Burial and tombstone pictures.


Another biography for Wesley is in the 1976 Emmons County History, Page 110.
---
WILLIAM M. BAKER



From the Compendium of History and Biography of North Dakota 1900


WILLIAM M. BAKER is one of the pioneer farmers of Dakota and he is now successfully engaged in that pursuit in township 138, range 78, in Burleigh county. He was born in Clinton county, Indiana, on a farm, in 1862.


The father of our subject, Andrew Baker, was born in Germany and came to America with his family and is an old settler of North Dakota. The mother of our subject, whose maiden name was Catherine Hengst, was born in Germany and her father was a farmer in Indiana and died in 1879.


Our subject was the seventh in a family of twelve children, eleven of whom grew to maturity, and when he was eight years of age he removed with his parents to St. Clair, Missouri, where the father engaged in farming and our subject grew to manhood. He had a limited education and at the age of nineteen years left home and worked in Illinois one year and in the spring of 1883 went to South Dakota and entered a pre-emption claim to land in the northern part of Brown county, thirty miles from Aberdeen, and there erected a claim shanty and began farming. He did carpenter work in that vicinity and in 1884, with a yoke of oxen, began farming his land and lived alone in South Dakota until the fall of 1885, when he disposed of his interests there and then, with a team of mules and a wagon and some farm machinery, went overland to Emmons county. North Dakota, where he took land as a homestead and thereon built a shanty and engaged in farming there until the fall of 1892, when he sold his farm and went to McKenzie, North Dakota, and farmed there five years and in the fall of 1897 purchased the farm on which he now resides, in township 138, range 78, in Burleigh county. He engages in diversified farming and has made a success of his calling and now has a farm of one hundred and sixty acres and operates three hundred and twenty acres and has a well improved farm.


Our subject was married, in February, 1888, to Miss Lucinda A. Clark, a native of Illinois. Her father, Samuel Clark, was a cooper by trade and also followed farming, and her grandfather was of German descent. Mr. and Mrs. Baker are the parents of four children, as follows: Wesley R., born in 1888; Edward E., born in 1890; Herbert G., born in 1891; Delia I., born in 1893. The home is a pleasant one and Mr. Baker is highly esteemed as a citizen of active public spirit. He is now township treasurer. Mrs. Baker is a lady of high character and has been a member of the Baptist church since she was sixteen. She is a good wife and mother and is much beloved by her friends. Mr. and Mrs. Baker are members of the I. A. H. church, conducted by D. C. Cook, of Chicago.


William is buried in the Fairview Cemetery, Bismarck. Burial, Tombstone Picture
---
WILLIAM L. BALES

William was born 22 March 1844 in Indiana and died 12 March 1920 in Emmons County.


He enlisted on 8 August 1862 from Iowa as a Private into Company H, Iowa 39th Infantry Regiment. He was promoted to Full 5th Corporal on 1 November 1864 and mustered out on 5 June 1865 in Washington, D.C. He started his pension in South Dakota on 4 September 1890.


William held a land grant in Section 2, Township 129, Range 78 (Dale area).


He is in Emmons County in the 1890 Veterans Federal Census and in the 1900 Federal Census he is in Glenavon then in the 1910 Census he is in Glencoe.


He is buried in Dale Cemetery.


Burial, Tombstone Picture.
---
WILLIAM BAXTER



North Dakota History and People - Outlines of American History
Volume II
The E. J. Clarke Publishing Company
1917 - Chicago



William Baxter, vice president of the Emmons County State Bank at Braddock, was formerly actively identified with farming and stock raising interests, which he conducted on an extensive scale. He came to the northwest from Pennsylvania, his birth having occurred in that state on the 8th of October, 1864 [Note: tombstone indicates 1865]. His parents, John and Esther (McCreary) Baxter, were also natives of the Keystone state and the father there followed farming throughout his entire life. Both he and his wife passed away in the year 1870.


William Baxter was reared in Pennsylvania and was also educated there. He worked out as a farm hand in the Keystone state until 1884, when he went to Ohio and was employed as engineer in a planing mill until 1886. In March of the latter year he arrived in Emmons county. North Dakota, where he took up a homestead which he improved, and after winning title to that property he bought more land from time to time as his financial resources increased until he is now the owner of over fifteen hundred acres, constituting a very valuable property. He was busily and successfully engaged in farming until 1913, when he removed to Braddock, where he also owns property. He is now in considerable measure living retired from the active conduct of business yet is the vice president of the Emmons County State Bank, in which he owns an interest.


Mr. Baxter has three children, Nellie, John Bernard and William Wayne. Mr. Baxter holds membership in the Presbyterian church, while his wife is of the Catholic faith. In politics he is a republican and for eight and one-half years he served as county commissioner of Emmons county, discharging his duties most promptly and faithfully, his efforts contributing much to the welfare of the county. Fraternally he is connected with the Knights of Pythias. For three decades he has lived iu Emmons county and throughout the entire period of his residence here has so conducted his interests and directed his life that he enjoys in the fullest measure the confidence and goodwill of those with whom he has been brought in contact.


He is buried in Saint Marys Cemetery, Bismarck, Burleigh County, North Dakota. Burial and tombstone pictures.
---
ISAAC G. BENTLEY

Isaac was born 1 June 1839 and died 10 July 1902 in Burleigh County.


He enlisted on 10 September 1861 as a Private into Company D, Wisconsin 7th Infantry Regiment. He was wounded with a gunshot to the head and mustered out on 4 November 1862. He started receiving a pension on 18 November 1875 and his wife, Alice started receiving a widow's pension in North Dakota on 8 December 1902.


In the 1890 Veterans Federal Census he is living in Williamsport.


Isaac held a land grant in Section 14, Township 134, Range 76 (between Linton and Hazelton).


He is buried in Fairview Cemetery, Burleigh County.


Burial, Tombstone Picture.
---
JOHN BIDDLECOMB

John served in the 7th U. S. Cavalry under General George Custer and was heavily involved in the Indian Wars.


Born in England he enlisted into the Army on 25 May 1883 at Detroit and was discharged on 28 May 1888.


In the 1890 through 1930 census reports his residence was in Emmons County.


John died on 14 April 1936. Burial, Tombstone Picture.


There is a informative obituary for John on Page 15 - Dale Cemetery Book
---
ARTHUR 'OTT' PERRY BLACK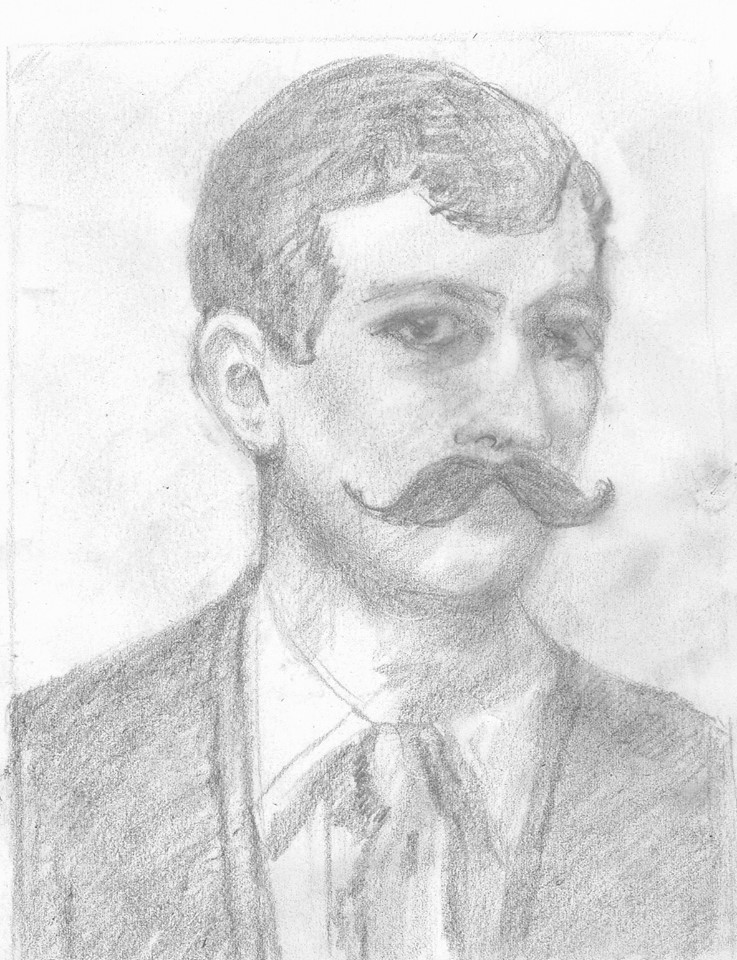 Click for Larger View

"Ott" Black (Arthur Pierce Black) was a cowboy who "wintered" in Winona for several years. Born in Waterford, Texas on November 5, 1868, he claimed he "fell in with bad company at age eleven." He helped to bring the last longhorn herds from Texas to a Montana range.He worked for several cattle companies, among them, The Continentals and the Turkey Track. Historian Edward Milligan interviewed him, and described him as a gambler and "outrider," one who has outridden his posses.In 1896, he came for the first time to Winona and paid his board at The Merchant's Hotel. He spent his nights gambling at the various saloons. Tall, blue-eyed, and handsome, he was a favorite of all the dance hall girls. But it was Mustashe Maude, (Clara Belle Rose) who ran a busy gambling saloon, who caught his eye. He and Maude married in 1898. After the saloon business dried up in Winona, they moved to Siam to ranch, eventually running one of the largest cattle ranches at that time near McIntosh.


Ott Black and Maude eventually divorced, and he dictated the book, "The End of the Longhorn Trail,." which was published.


He died at the home of Maude's niece in Denver, December 06, 1946 at age 78. He is buried in Denver, CO.

Written and contributed by Mary Corcoran
---
JOHN L. BOUTILLIER

John was born in May 1847 in England and died 30 December 1916 in Spokane, Spokane County, Washington.


His civil war records have him under an alias John L. Butler or John Butter. He enlisted on 4 May 1864 as a Private into Company B, Iowa 45th Infantry Regiment and mustered out on 16 September 1864 at Keokuk, Iowa. He has two pension records; one is under the name John Butter and the other under John L. Butler and both have him starting to receive his pension in North Dakota on 3 August 1890.


In the 1890 Veterans Federal Census he is living in Emmons County. In 1880 he is living in Kansas and in 1900 he is in Spokane, Washington.


He is buried in Greenwood Memorial Terrace in Spokane, Washington.


Burial, Family amd Tombstone Pictures
---
EDWARD BRADDOCK


EDWARD BRADDOCK
(Written by Anna Braddock Crain)

My father, Edward Braddock, was born May 22, 1856 in Philadelphia, Pa. After graduation from Central High School, with honors, he worked for the Pennsylvania Railroad as a civil engineer. While in their employ he married Sarah Gray on Oct. 17, 1876.


They moved westward and he was engineer for several railroads in Denver, Missouri, Oregon and South Dakota. He decided to quit railroading and went up into North Dakota to start a ranch 16 miles east of where Linton is now located. After ranching for a few years, he was elected County Auditor of Emmons County.


My father was instrumental in helping the railroad get the right of way in the county. The president of the Soo line, Frederick Underwood, was an old friend of my father, so he named the first railroad town in Emmons County "Braddock".


During World War I each town had a quota of War Bonds which had to be sold. As Braddock was behind in their quota, my father bought enough bonds for them to put them over their quota.


He helped organize the Linton State Bank and the German-American Bank of Linton. In 1916 he disposed of his interests here and moved to Minneapolis and was instrumental in organizing the First Joint Land Bank of Minneapolis. He passed away on June 22, 1920, being 64 years of age.

=================

Obituary
Emmons County Record - Thursday, July 1, 1920



Edward Braddock was born May 22, 1856, at Philadelphia Pa., was educated in Philadelphia, and commenced his career with the Penn Mutual Insurance Company, and later with the Enginnering Dept. of the Pennsylvania-Railroad at Philadelphia.


Afterward he was Assistant Engineer of Construction on the C. M. St. Paul at Milwaukee. Later he settled in Emmons county, where he was county auditor for several years. Later he was one of the organizers of the First National and City National banks of Linton.


Four years ago he moved to Minneapolis where he was one of the organizers of the Lincoln National bank and served as vice preseident. Later and at the time of his death he was president of the First Joint Stock Land Bank of Minneapolis.


He is survived by his widow and children Mrs. R. J. Crain, Miss Genevieve Braddock, and Edward Braddock, Jr., all of Minneapolis. Edward and Genevieve living at home.


Also three sisters, Mrs. J. A. Schofield and Miss Effie Braddock of Warren, Pa., and Mrs. J. M. Bell of St. Joseph, Missouri.


When a young man he joined the West Arch-Sreet Presbyterian church at Philadelphia, but in his later life he was a helper in building the St. Matthews Episcopal church at Linton, N. Dak.


Mr. Braddock passed away at his home in Minneapolis Tuesday, June 22d. The funeral was held from the home Friday at 2 p.m., the Episcopal services being held at the house and Masonic services at the cemetery. Interment was made at Lakewood Cemetery. The entire community extend their sympathy to the family who spent so many years in our midst.

Edward's Burial
Sarah's Burial
---
FLORANTINE J. BROWN

Some records have his first name as Florentine.


Florantine was born in 5 October 1828 in Livingston, New York and died 8 December 1895.


He enlisted as a Private on 2 December 1863 into Company M, New York 8th Heavy Artillery Regiment and mustered out on 5 June 1865. He started receiving his pension 30 June 1880 and his wife, Mary, started receiving a widow's pension on 31 December 1895.


In the 1890 Veterans Federal Census he is living in Exeter.


Florantine had a land grant in Section 30, Township 132, Range 74 (north of Exeter).


Both Florantine and Mary served as Postmasters in Exeter.


He is buried in Fairview Cemetery, Burleigh County.

==================

Bismarck Tribune, Monday
F. J. Brown, 65 years of age, died at his residence on Eighth street at about 8 o'clock last night, from the effects of a stroke of paralysis, which occured on Tbanksgiving day. He has been sinking gradually since that time, and the end came last evening. Mr. Brown came to this city from Emmons county in 1892, having lived in the state since 1883. He was an old soldier, having served three years of the civil war in the Eighth New York state heavy artillery also company G, Tenth regiment New York volunteers. He was discharged June 30, 1865, at the expiration of the war. He was born at Springwater, Livingston county, N. Y. A faithful soldier who has gone to his reward. He leaves a wife, and one son, C. H. Brown, now a resident of Hebron, this state. His funeral will occur at the Baptist church at 2 o'clock tomorrow afternoon.


Florantine's Burial
Mary's Burial
---
WILLIAM SPENCE BUCKNER

William "Old Buck" was born a free man 26 July 1836 [Note: Different recordings of his birth are 1832, 1835, and 1836] in Vickburg, Mississippi and died 2 September 1911 in Winona.


He went to Montanta 1856-57. In the Index to the Collections of the State Historical Society of North Dakota, it indicates William Buckner, a negro, was a porter on the Steamship Deer Lodge. In the 1880s he came to Winona. He was married to Christina Olivia Peterson in 1890. In the 1900 and 1910 Census reports the family is living in Winona. The reports indicate William was born July 1832 [Note: one has 1835] in Mississippi, Christina October 1863 in Denmark [an ancestry.com tree indicates she died in 1924], Olivia July 1890 in North Dakota, and Annie D. in February 1895 in North Dakota. He was a cook and barber in Winona.


This writer could not find a Civil War Record for William except for a Pension Record. The pension was issued to his wife Christena on 26 April 1922 in South Dakota. The record indicates he served in 1st Iowa Cavalry.


He is buried on the Jack McCrory Ranch in Emmons County [Note: The McCrorys owned a lot of land in Emmons County but more than likely the mentioned ranch was in Township 130, Range 79, in Sections 4, 8, or 9, just south of Winona].


See this article.
Thanks to Mary Corcoran (great great granddaughter of the Spicers) for providing much of the information above. One source was "African-Americans in North Dakota: Newgard, Sherman & Guerrero, 1994, p. 29" along with civil war records, census records, ancestry.com records, North Dakota and Emmons County records.
---
JOHN FRANCIS BURT

John was born 6 December 1844 in Wisconsin and died on 17 December 1904 in Burleigh County.


His civil war records have his name as Francis J. Burt. He enlisted as a Corporal on 2 January 1864 Company M, Wisconsin 2nd Cavalry Regiment and mustered out on 15 November 1865 at Austin, Texas. He started his pension in Nouth Dakota on 31 July 1892 and his wife Adaline started receiving a widow's pension on 10 January 1905.


He is buried in Glencoe Cemetery.


Burial, Tombstone Picture.