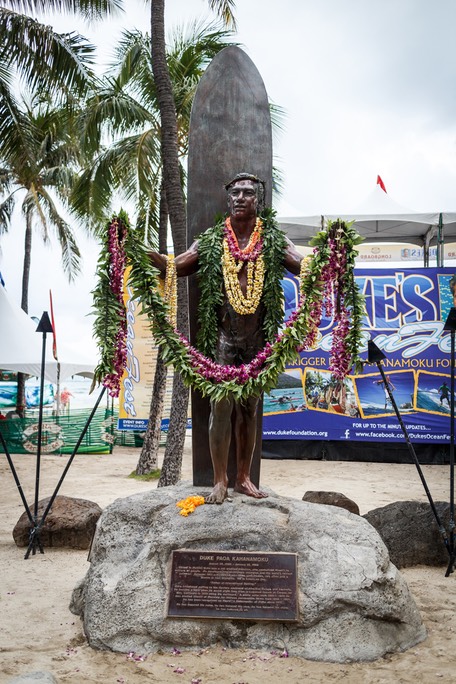 Duke Kahanamoku Statue on Kuhio Beach, Waikiki
Date of Birth:  24 Aug 1890 at the Royal Estates in Honolulu
Parents:  (Mother) Julia Paakonia Paoa; (Father) Duke Halapu Kahanamoku
Ancestors:  (Father) Duke Halapu Kahanamokuʻs family served as kahu, trusted advisers togenerations of Kamehamehas
                    (Mother) Julia Paakonia Paoa was a descendant of the "legendary Vikings of the Sunrise" who settled the Hawaiian Islands.  Paoa is still a famous name in the Marquesas, Rapa Nui, Tahiti, and New Zealand.  They are the most remarkable navigators the world has seen.
Date of Death:  22 Jan 1968 in Honolulu
In 1891, Jan 20 King Kalakaua died and the Hawaiians agonized whether the monarchy could survive as haole clamored for change.  In 1893, Duke Halapu and Julia Paakonia no longer able to live on the Royal Estates, took their family to live near Juliaʻs parents and her Paoa ʻohana in Kālia, Waikiki.  There were about a hundred Paoas living in Kālia and Duke had instant playmates of his own generation.  The sea in the back yard became Dukeʻs play ground.  He learned to swim, dive, body surf and surf.  He dropped out of high school to help support his family of three sisters and five brothers.
Following is from www.dukekahanamoku.com/about-duke/ site that gives a timeline of the accomplishments of Duke Kahanamoku:
1904 - 1932
1904-1910 Attended Kamehameha School for Boys
1908 Member of Kamehameha School's championship soccer team
1908 Early member of the Outrigger Canoe Club, resigned, and formed the Hui Nalu (Club of the Waves) with two friends
1911 Broke 3 freestyle world records in Hawaii's first ever AAU swim meet, and Duke's first races, in Honolulu Harbor
1912 Stockholm Olympics –swimming for the USA, he won Hawaii's first Olympic gold medal for 100-meter freestyle, and a silver medal for the 4×200-meter freestyle relay
1912 Popularized surfing on the USA Atlantic Coast
1914-1915 Won the Australian National Swimming Championship and popularized surfing in Australia
1915 Re-introduced surfing to New Zealand
1913-1929 Helped popularize swimming and surfing in California
1917 Rode a monster wave 1-1/8 miles at Waikiki on a wooden surfboard without a skeg or leash–one of the longest rides in memory
1918 Swam in exhibitions in about 30 US and Canadian cities to boost morale and raise money for Liberty Bonds for the US military in World War 1. Boosted swimming's popularity and reinforced Hawai'i's supremacy in water sports
1912-1922 Won countless races, set an unaccountable number of records amassing a trove of medals and trophies as the reigning world champion
1920 Recommended surfing as an Olympic event
1920 At Antwerp Olympics won two gold medals in 100-meter freestyle and 4×200-meter freestyle relay. He was 8 years older but his new world record was faster than his 1912 victory
1924 Paris Olympics; silver medal in 100-meter freestyle race won by "Tarzan" Johnny Weissmuller. Brother Sam won the bronze
1922-1929 Helped make Southern California a water sports mecca while living in Los Angeles and as a member of the Los Angeles Athletic Club. Worked for movie studios, playing minor roles in about 30 silent movies.
1925 Heroic surfboard rescue of 8 drowning fishermen at Corona del Mar, California
1930-1939 with the brilliant Tom Blake, experimented with re-creating old style boards, and hollow boards, including a 114 lb board modeled on Chief Paki's
1932 At Los Angeles Olympics won bronze medal as an alternate on the US water polo team, his last Olympics. His Olympic career spanned 20 years, a record at the time
1934 - 1968
1934-1960    Elected Sheriff of City and County of Honolulu; re-elected 12 times
1937   Duke Kahanamoku branded aloha wear introduced by Branfleet Sportswear
1940   August 2, married Nadine Alexander
1949   Duke Kahanamoku aloha shirts manufactured by Cisco Casuals
1956   Official Territorial representative at Melbourne Olympics
1957   Featured on hugely popular TV show, Ralph Edwards' "This is Your Life"
1960   When Hawaii became a State, the Sheriff position was abolished. He was appointed Ambassador of Aloha
1961   Duke Kahanamoku aloha shirts produced and sold by Kahala Sportswear, reflecting increased popularity of aloha attire. Duke popularized leaving the shirt tail exposed in a relaxed way
1962   Duke Kahanamoku's Restaurant/nightclub opened in Waikiki's International Market Place featured famous entertainers, such as Don Ho & the Aliis
1963   Third visit to Australia to judge surf races
1964   Official representative at Tokyo Olympics
1965   Duke Kahanamoku Surf Team made up of Fred Hemmings, Butch Van Artsdale, Paul Strauch Jr., and Joey Cabell participated in the Huntington Beach Surf Contest
1965   Van Doren Shoe Co. created the Duke Kahanamoku Surfers Collection
1965   First person inducted into both the International Swimming Hall of Fame and the International Surfing Hall of Fame
1965-1984 Duke Kahanamoku Invitational Surfing Classic, nationally televised event on Oahu's North Shore
1968  January 22, died in Honolulu; a traditional beachboy funeral returned him to the ocean
More information available in 
   A bibliography:  Duke A Great Hawaiian by Sandra Kimberley Hall, Bess Press, Inc, 2004 (6th printing in 2014)
—————————————— Published Nov 2015 ——————————————