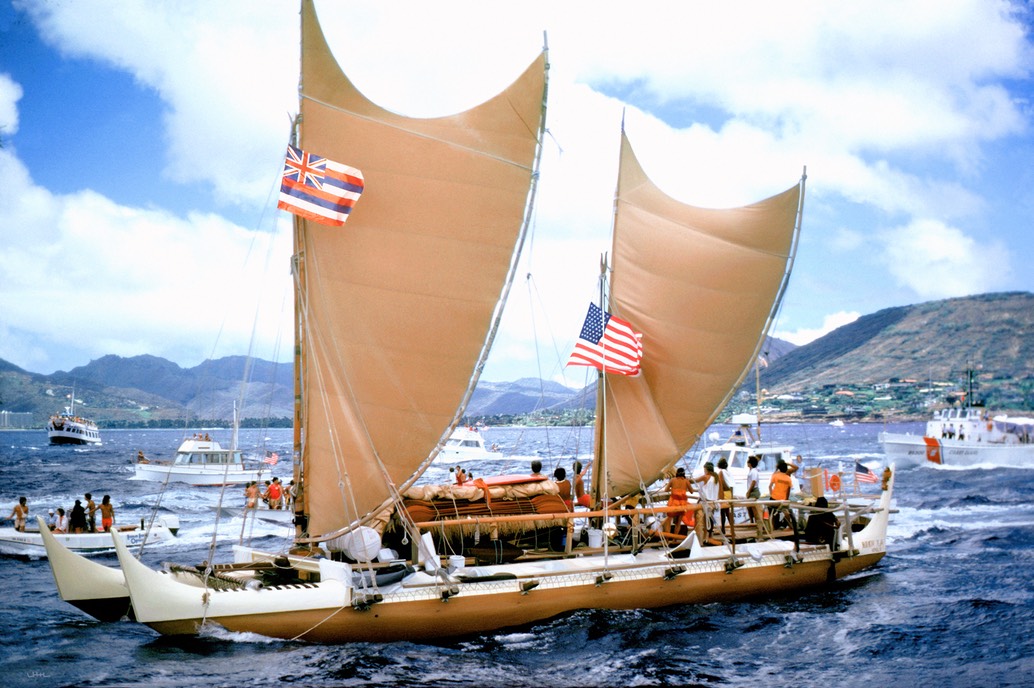 Wikipedia article on Hōkūleʻa, photo by Phil Uhi, posted 1976 Aug 26
Arrival in Honolulu from Tahiti
Jo-Anne Sterling in Voices of Wisdom, Hawaiian Elders Speak, "To understand the Hawaiian renaissance, you must understand the Hōkūleʻa."
There were two camps of archialogists.  One that said that the Polynesians traveled the Pacific Ocean in large canoes to discover the various islands.  The other who said that the Hawaii was populated by shipwrecked Polynesians who drifted into the islands. 
Hōkūleʻa was a replica of the ancient double-haulled canoes.  It was initially built to prove a scientific point.  The early Polynesians were capable of navigating from Tahiti to Hawaiʻi, a month-long voyage.
To the Hawaiians, Hōkūleʻa was more than a scientific discovery, she represented a great culture now nearly obliterated.  Many historical events caused the near obliteration of the Hawaiian culture.  The near extinction of the Hawaiian population due to foreign diseases (1778 population near a million to 1898 population of about 40,000), the loss of self-esteem caused by Western influence that abolished the centuries old Kapu system in 1819 and the many "laws" that were instigated to keep the Hawaiians from learning Hawaiian in schools, hula, ancient chants that related tradition and culture from one generation to another, etc.  
1970ʻs energized the Hawaiian cultural movement; however, how-to was not very easy.  Most of the old kahunas were gone and there were artifacts in the museums, but no one to teach the arts and traditions.
__________________________
Footnote:  
1.  Voices of Wisdom, Hawaiian Elders Speak, M. J. Harden, Aka Press, Kula, HI, 1999, Revised in 2013.
2.  Hōkūleʻa Wikipedia article
Links to Polynesian Voyaging Restarted in 1976 after about 600 years hiatus
Hawaiian Voyaging Traditions - Polynesian Voyaging Society
     Building and Naming Hōkūleʻa - Herb Kawainui Kāne
     In Search of the Ancient Polynesian Voyaging Canoe - Herb Kawainui Kāne
Hōkūleʻa - Hōkūleʻa.com Polynesian Voyaging Society site
Hōkūleʻa Mālama Honua Worldwide Voyage - Hōkūleʻa.com Polynesian Voyaging Society site
     ʻŌiwi Tv - Hōkūleʻa Worldwide Voyaga
Hōkūleʻa - Wikipedia site (very good)
LA Times CULTURE : Canoe Voyage Rekindles Pride in Old Polynesian Seafaring Skills, Susan Essoyan
National Geographic, Hōkūleʻa Worldwide Voyage, 2014 Jan 14
—————————————— Published Sep 2015 ——————————————