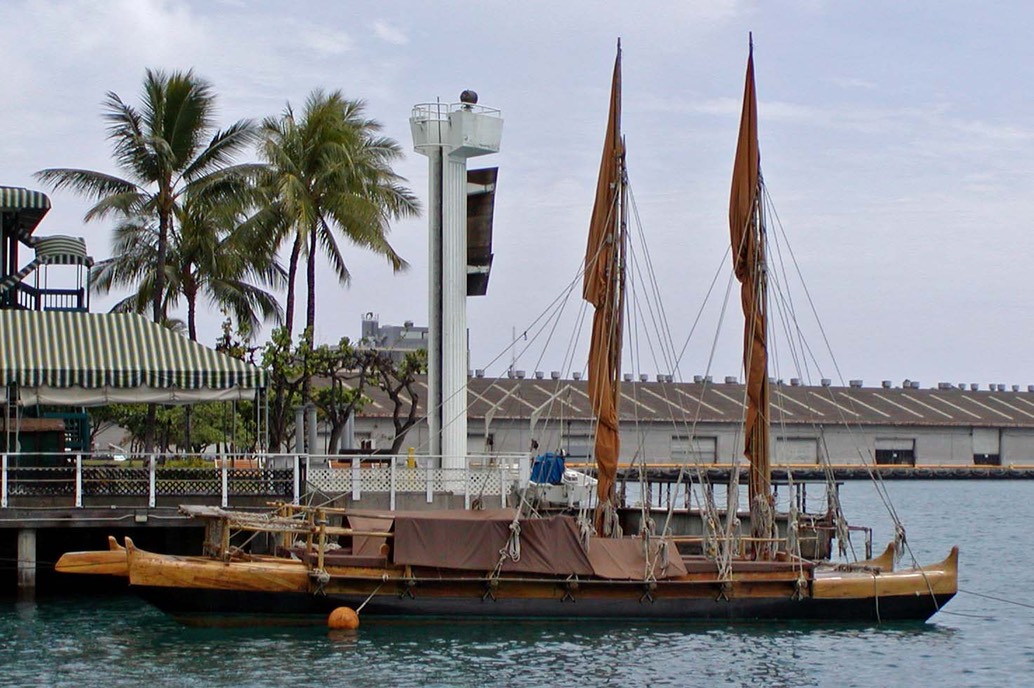 Hawaiʻiloa in Honolulu Harbor, photo by Stan Shebs, Mar 2002
Wikipedia article, Hawaiiloa
Celebration of Native Culture.
In 1990, the Polynesian Voyaging Society decided to create a new canoe, to be called Hawaiʻiloa.   The plan was to build a Hawaiian voyaging canoe, as much as possible, out of traditional native materials.  The purpose of the project was to recover knowledge and skills associated with traditional Hawaiian canoe-building.  
One of the first problems was the discovery that there were no koa trees large enough for the hulls of a voyaging canoe.  The koa forests have been ruined by forestry and cattle grazing.  The search for logs for the hulls of Hawaiʻiloa.
Quote from The Story of the Logs for the Hulls of Hawaiʻiloa:  Judson Brown (Chairman of the Sealaska Foundation):  "I am very grateful that the Hawaiian people would thank us for what the Alaskan people have done. But in truth, all we did was give you trees from our forest. What you gave was far more important - you gave us dreams.'"
Dreams for the Alaska people and the Polynesians.  
In February of 1995, Hawaiʻiloa departed on her maiden long distance voyage with Hōkūleʻa to Tahiti where they would join with 2 canoes from the Cook Islands, 2 from Tahiti, and 1 from the Marquesas.  For the first time in a thousand years that a fleet of Polynesian canoes sailed together over an ancient voyaging route.
The gift of the Sealaska trees prompted the replanting of koa trees in the Kilauea Forest Reserve.  In another 400 years or so there may be koa trees big enough to build voyaging canoes.
In 1996, Wright Bowman Jr. and his friends who had led the contruction of Hawaiʻiloa, seeing that an organization where the canoe builders could go to was missing, organized the Friends of Hōkūleʻa and Hawaiʻiloa, an organization separate from the Polynesian Voyaging Society and the Bishop Museum.  The organization would serve as caretakers for both canoes.  It would ensure that the knowledge needed to build such boats was carried into the future.  
__________________________
Footnote:  
1.  Hawaiian Voyaging Traditions articles:
     The Story of the Logs for the Hulls of Hawaʻiloa 
     The Building of Hawaiʻiloa 
     Hawaiʻiloaʻs Northwest-Alaska Journey / May-July 1995 
2.  Hawaiiloa article on Wikipedia.
3.  Hana Hou Magazine article Shaping History, Hawaiian Airlines, Vol. 8, No. 1, February/March 2005
Links to Polynesian Voyaging Canoe Hawaiʻiloa
Friends of Hōkūleʻa and Hawaiʻiloa
Honolulu Advertiser, Pier 60 boatyard is voyagers' 1st stop, 2004 Jun 16
LA Times CULTURE : Canoe Voyage Rekindles Pride in Old Polynesian Seafaring Skills, Susan Essoyan
—————————————— Published Sep 2015 ——————————————