From North Dakota Place Names by Douglas Wick:
Winona, dates from the 1870's and was founded primarily to cater to the off-duty wants of soldiers stationed at Fort Yates. It was located at the mouth of Cat-tail creek. The name is a Winnebago Sioux word meaning "first-born child, if a girl" This notorious town, known as "The Devil's colony" had an 1890 population of 150, with newspaper, hotel and at least nine saloons, complete with gambling and other attractions operating outside of the law. The Post Office closed in 1939, the town is now part of Lake Oahe.


---
History of Emmons County, 1976 - More History of Winona, Page 72

Excerpt From "My Dakota Land"

"Life In Old Winona"


---
Winona was surveyed by Ellery Channing Chilcott on Sections 5 and 8 of Township 130N, Range 79W and filed in December of 1884.


---
The Merchant's Hotel Around 1884
---
This map of Winona is from 1916 Atlas for Emmons County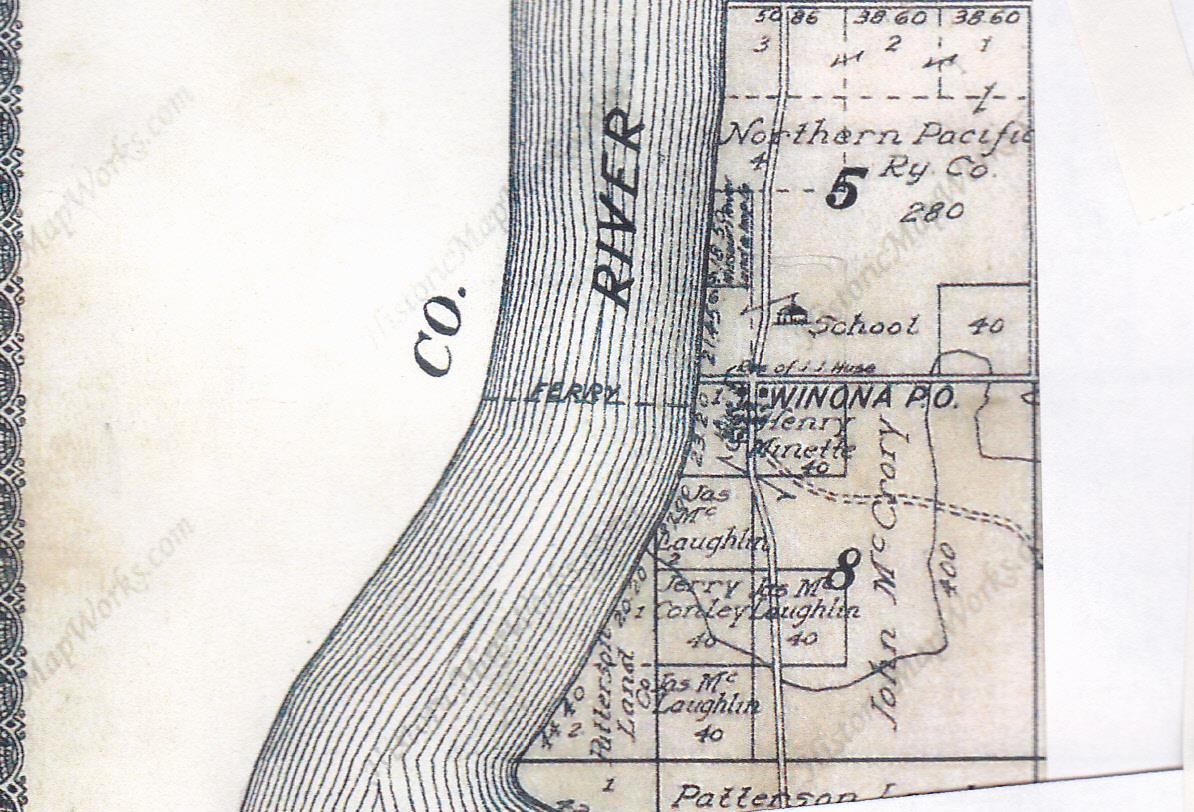 Contributed by Mary Corcoran
Click picture for larger view


---
CHURCHES IN WINONA



The Emmons County 1976 History, Page 100, mentions there was a Winona Catholic Church built in 1905 but was moved to St. Bernard's Catholic in 1933 near Katzenbach. Katzenbach is mentioned in some sources but where it was located is not known to this writer.


---
Schools in Winona
---
Winona Celebrates 4 July 1888
---
Cattle Brands Article
---
Richard Evan's Pool Hall in Winona
---
Present Day Arial View of the Historic Winona Area
---
Darwin R. Streeter and the Napkin Incident
---
Dance Hall Girls
---
Winona Postmasters
---
History rises: Low water exposes artifacts